Last Updated on May 23, 2023
Georgia Rep. Marjorie Taylor Greene has paid $100,000 in exchange for a used tube of cherry chapstick that until recently belonged to GOP Speaker of the House Kevin McCarthy.
During a Tuesday GOP conference, Republicans from the House of Representatives reportedly auctioned off the used tube of Kevin McCarthy's chapstick in a bizarre effort to raise money for the Republican Party. Georgia Rep. Marjorie Taylor Greene won the bidding, with an offer of $100,000, according to a Twitter report from Politico's Olivia Beavers, who writes that she confirmed the chapstick auction and Greene's winning bid with an MTG spokesperson.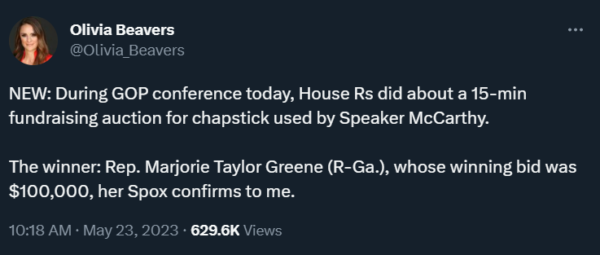 Also according to Beavers' reporting, numerous other Congressional members of the GOP bid on the chapstick,  and as the bidding went on, Kevin "McCarthy would sweeten the deal" by offering up district visits and donor dinners in addition to the used tube of his chapstick.
The chapstick is said to have originated from the campaign of Rep. Aaron Bean, who also bid on the tube but lost out to MTG.
Reps. Bean and Greene were photographed holding the $100,000 tube of chapstick, and the image was posted to Twitter.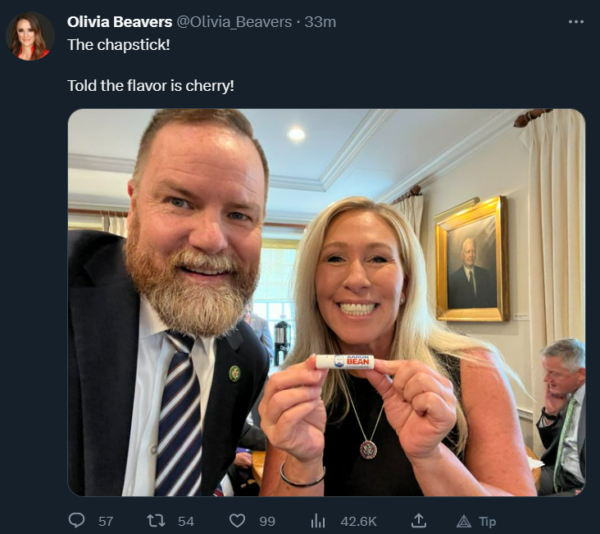 The bizarre auctioning of Kevin McCarthy's used chapstick to members of the GOP, while strange on its face, makes more sense when it is realized that there is a massive circular money train running around the Republican Party.
During the 2022 midterms, Marjorie Taylor Greene was one of the numerous candidates directly funded by Kevin McCarthy and his Congressional Leadership Fund political machine, with the help of money from the corrupt FTX crypto exchange.
What's more, is that the FTX money was used to target grassroots and America First candidates all over the country, including the likes of Laura Loomer in Florida and Jarome Bell in Virginia.