Last Updated on May 2, 2023
Following a set of changes to the House rules, and in contradiction to a clear campaign pledge, Rep. Marjorie Taylor Greene has submitted requests for pork barrel projects in her district totaling nearly $14 million.
In a series of social media posts in 2021, Marjorie Taylor Greene promised her constituents that she would oppose bringing pork barrel spending back after the inflationary spending disaster of Nancy Pelosi's tenure as Speaker of the House.
In one post she triumphantly declared, "I voted NO for Republicans to bring back earmarks. Too much pork! 🐷"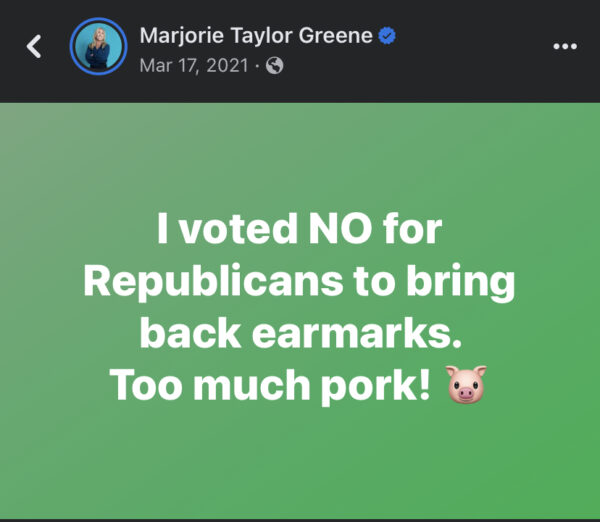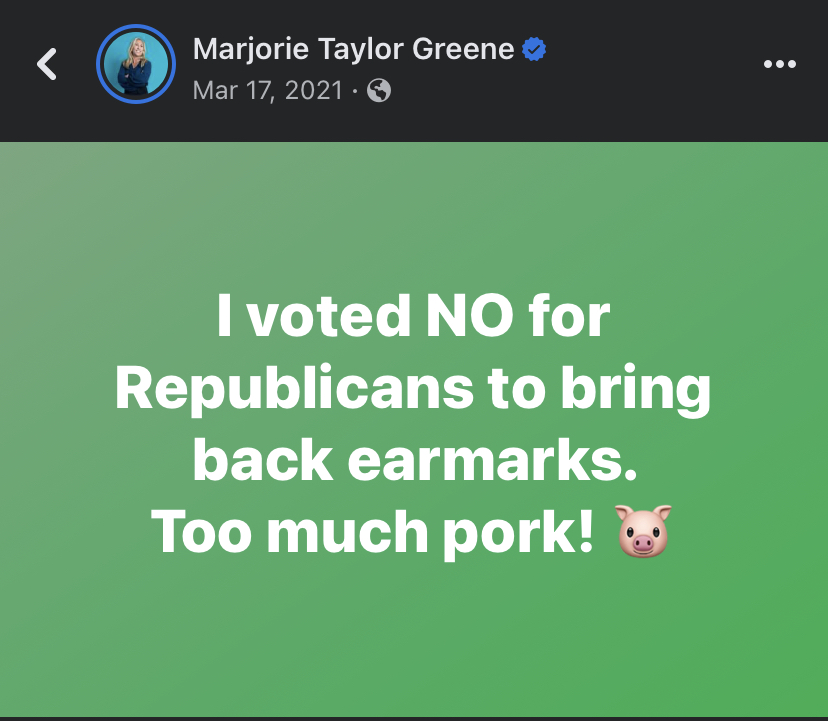 In another, she insisted, "I OPPOSE earmarks (pork barrel spending)! #DrainTheSwamp."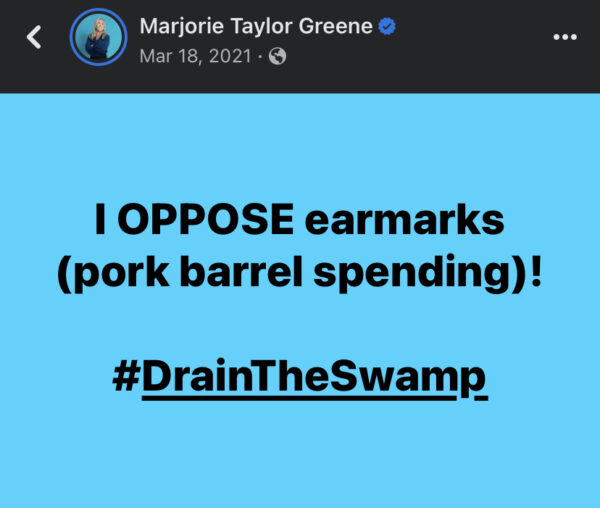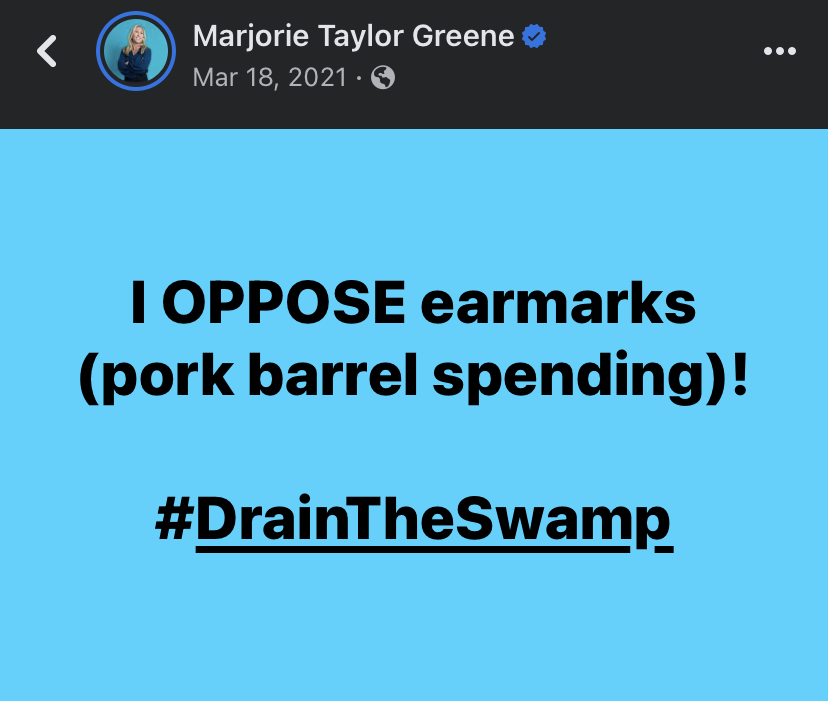 But that formal promise was broken under Kevin McCarthy's speakership, which Marjorie enthusiastically supported against the wishes of Matt Gaetz and freedom caucus members attempting to negotiate a fair rules package.

In the final hours, members flocked to file last-minute requests ahead of changes to the rules package negotiated by the House Freedom Caucus in exchange for electing McCarthy to the Speakership. 
Monday marked the due date for members to post their earmark requests online under the chamber's transparency rules.
Some of Marjorie's Pork Projects are described below: 
Project: Richard B. Russell Airport, Taxiway Bravo, Expansion Project
Recipient: Floyd County Board of Commissioners
Location: 12 East 4th Ave, Rome, GA 30165
Amount: $3,803,000
Justification: "The Taxiway Bravo expansion and improvements will correct existing drainage deficiencies at the airfield, eliminate potential points of conflict between taxiing aircraft, and free additional space for hangar construction and airport development – up to 6 box/commercial hangars, and up to 60 additional T-hangars."
Project: Historic Oostanaula School Community Center Renovation
Recipient: Oostanaula School Community Club Inc.
Location: 1595 Oostanaula Bend Road, Calhoun, GA 30701
Amount: $1,708,964
Justification: "The community center has been providing non-profit services for over 50 years, raising over a million dollars for medical bills, funeral expenses, and other major needs in the rapidly growing community. This structural and cosmetic renovation project will allow for the continuation of services and fostering of stronger community relations in the area for years to come."
Project: Austell-Powder Springs Trail Expansion
Recipient: Cobb County Department of Transportation
Location: 1890 County Services Parkway, Marietta, GA 30008
Amount: $ 1,600,000
Justification: The project would increase options for non-automobile transportation for County residents, businesses, visitors, and the general public to and from a variety of destinations, as well as to further connect two growing cities in Cobb County. The project is one of eight priority projects that are identified in Cobb County-adopted 2018 Greenways and Trails Master Plan. It will create a 12-foot-wide paved trail to run approximately four miles alongside Austell-Powder Springs Road from the Silver Comet Trail and Linear Park in the City of Powder Springs to Joe Jerkins Boulevard in the City of Austell.
Marjorie has come under fire for her abject betrayal of everything she campaigned for during Donald Trump's tenure in the White House.
Broadcaster and Political Talk Show Host, Stew Peters, previously told National File, "I want to know exactly, to the penny, how much money House Rep. Marjorie Taylor Greene raised in the name of "impeaching Biden." He continued, "Then, I'd expect her to refund that exact amount to the constituents that she scammed, now that she's voting for GOP Leader McCarthy, who will absolutely not impeach Joe Biden."
"We are getting ripped off by these fake, phone 'America First' imposters, and this shouldn't be okay with anyone," Peters said. "We're being taken to the cleaners by the UNIPARTY, globalist sell-out fakers!"
"I called this out over a year ago, when Marjorie Taylor Greene sent about $175,000 to the McCarthy-controlled NRCC after raising a bunch of money on some other nonsense grift. Disgraceful," Peters stated.