Last Updated on August 5, 2021
A man seemingly identified as LGBT activist Clint Alan Goss was captured on video during a child predator sting operation by a YouTuber named CC Unit who streamed the interaction. Goss claimed in the video and allegedly in explicit text messages to work for House Speaker Nancy Pelosi and other high profile Democrats, and appears to have been photographed alongside prominent Democrats including Rep. Sheila Jackson-Lee and Chasten Buttigieg, the husband of Biden administration Transportation Secretary Pete Buttigieg.
In the video, it is revealed that Goss allegedly solicited sexual favors from an individual he believed to be a 14-year-old boy online prior to being approached by the YouTuber in an apparent sting operation.
CC Unit approached Goss, who was apparently sitting on a chair outside his home waiting to meet the 14-year-old. "You're here to invite a 14-year-old to your house. That's what you're doing, and you chatted super graphically," said CC Unit. "Are you 14?" Goss nervously replied to the streamer. "You were talking to a 14-year-old, do you get that? Do you want me to call the cops, or do you want to have a conversation," repeats the streamer.
"To be honest, um, I don't understand where you're coming from," mutters Goss. "You don't understand? So why don't we have a conversation about it, cause I can get you some help, or I can get you locked up," said the streamer. CC Unit then states Goss's full name, and explains that he "knows everything about" him. Goss replies, "So you know I work for Nancy Pelosi, I work for Hillary Clinton," and denied any "sexual contact" during the chats apparently in the possession of CC Unit.
"You chatted graphically to him. You said 'I want to lick your hole,' you said so much graphic stuff to him. You said plenty of graphic stuff. So if I were to show the cops here today, and they see what you said to what you believe was a 14-year-old, that is sex-" said the streamer, interrupted by Goss who said "I was trying to help you out." Following a slight scuffle, Goss then tells CC Unit to leave, enters what appears to be his apartment, and the streamer indicates that he was going to call the police.
National File worked to confirm the identity of Goss and found a Facebook profile matching his description, which featured photos of him with prominent Democrats Sheila Jackson-Lee and Chasten Buttigieg. It appears that Goss is a LGBT activist and die-hard Democrat, who frequently posts liberal content online. Goss appears to be wearing sunglasses visually similar to those seen in a Facebook profile photo during the video. Additionally, the Facebook profile matches Goss's approximate physical location and physical description.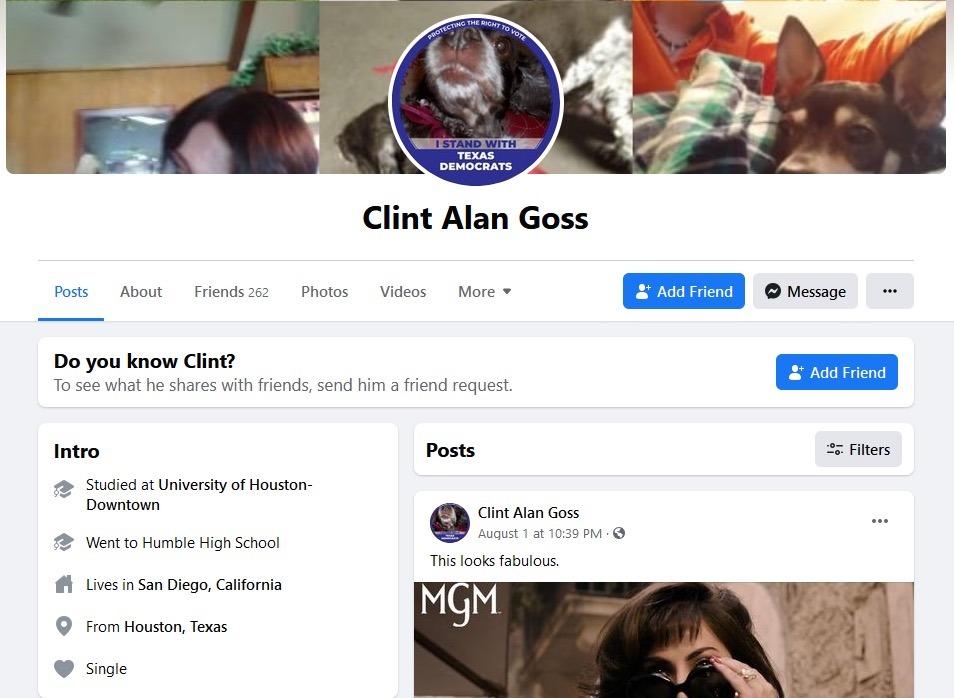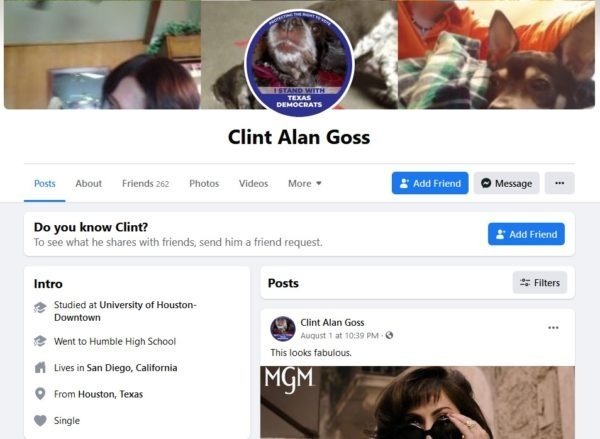 On Goss' Facebook account, there are photos of him alongside prominent Democrats like Sheila Jackson-Lee and Chasten Buttigieg, the husband of Pete Buttigieg.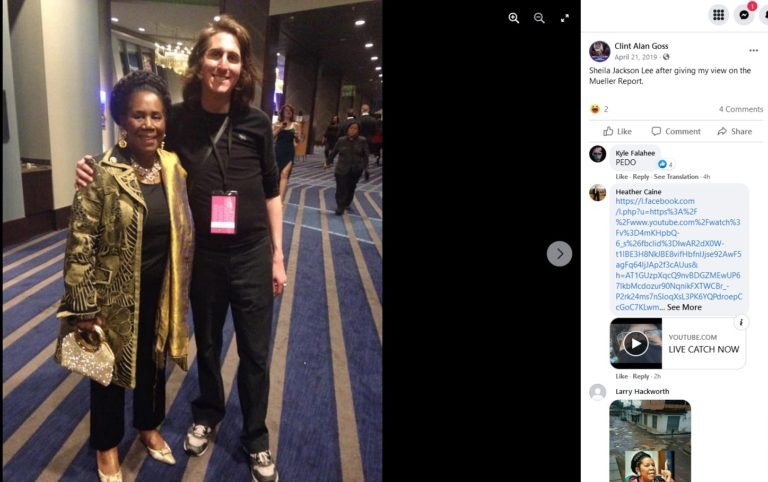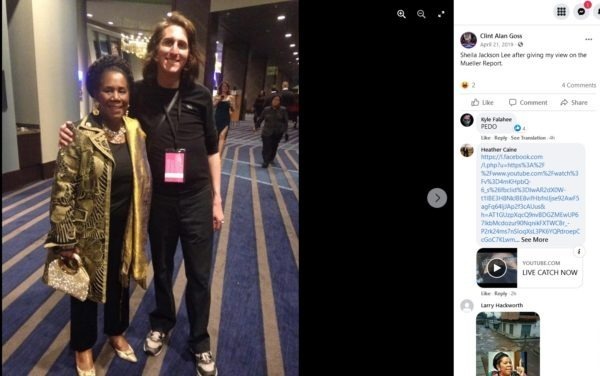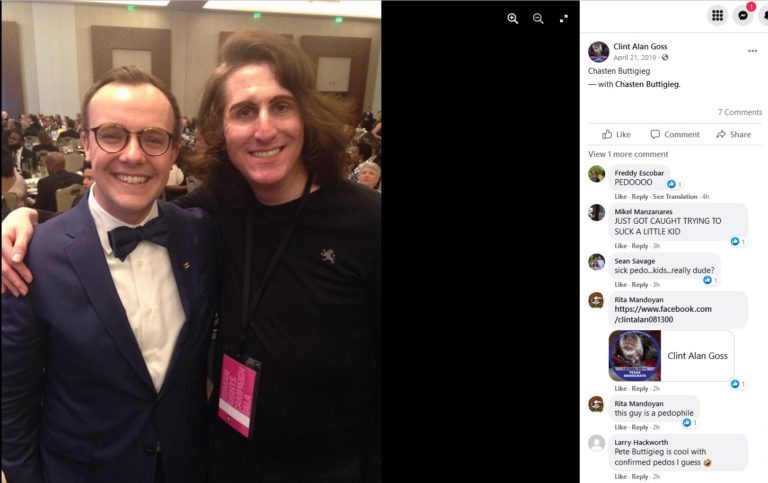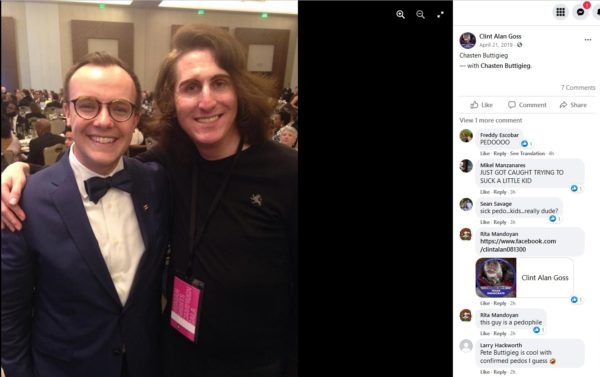 In a Facebook post dated October 20, 2009, Goss is seen at a Hillary Clinton rally in Houston, Texas with the caption "Hillary Clinton Rally in Houston. I was supposed to be on the podium behind her but I got there late."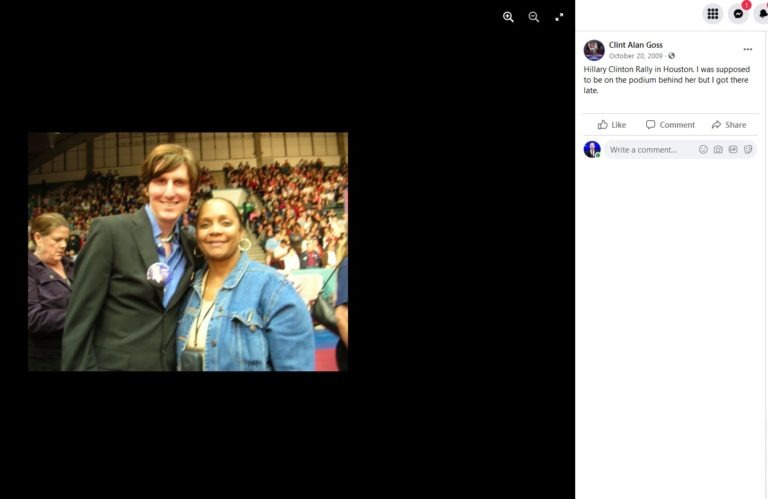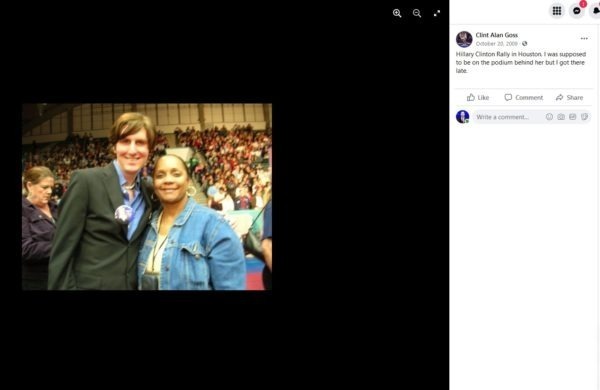 Goss, formerly from Texas, indicated that he moved to San Diego, California in July of 2021, according to the Facebook profile that matches his description. On July 26, 2021, Goss posted a photo of a tweet from gay rapper Lil Nas X, which stated "all jokes aside the idea of a gay agenda doesn't make sense. if someone influences you to suck cock you probably already wanted to suck cock."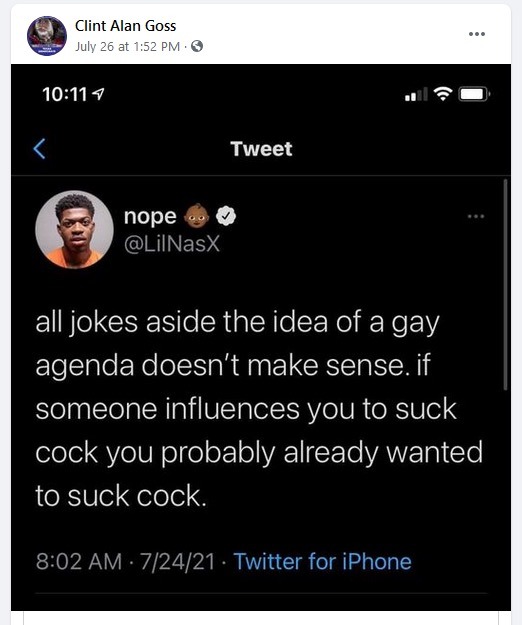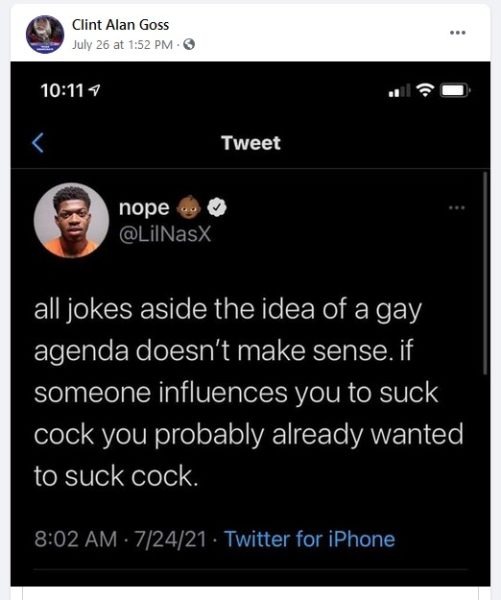 In this photo, Goss is seen with a "Biden 2020" banner, accompanied with rainbow designs, LGBT references, and a sign that says "wear a mask." The post was dated May 4, 2020.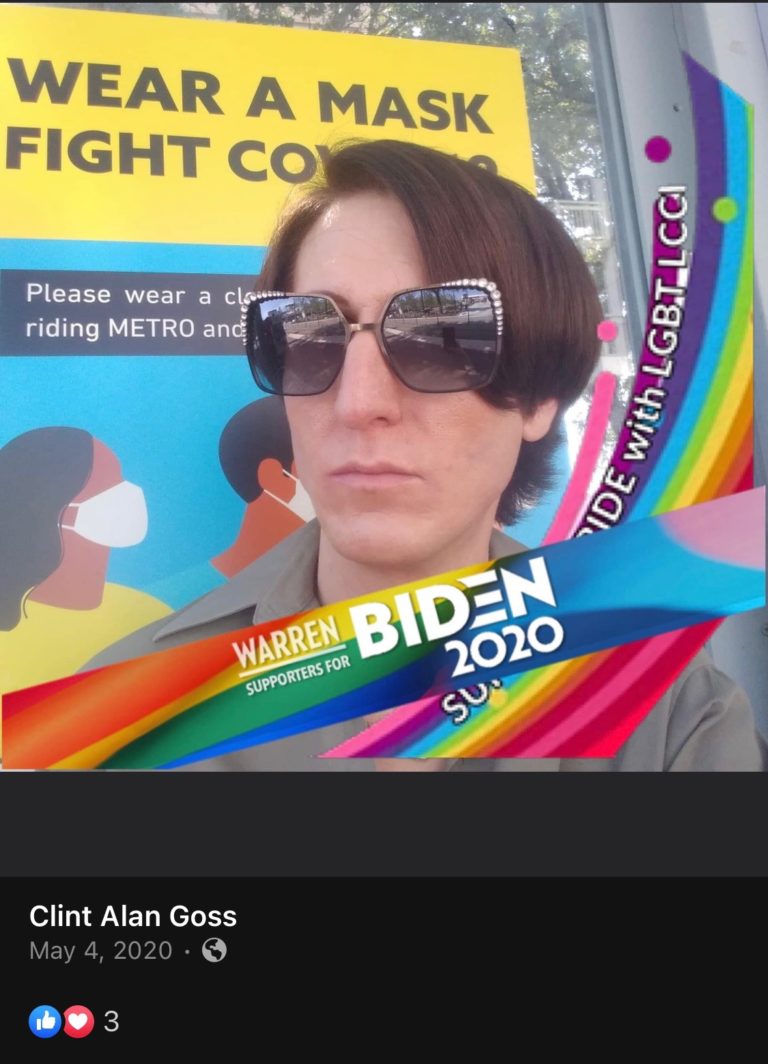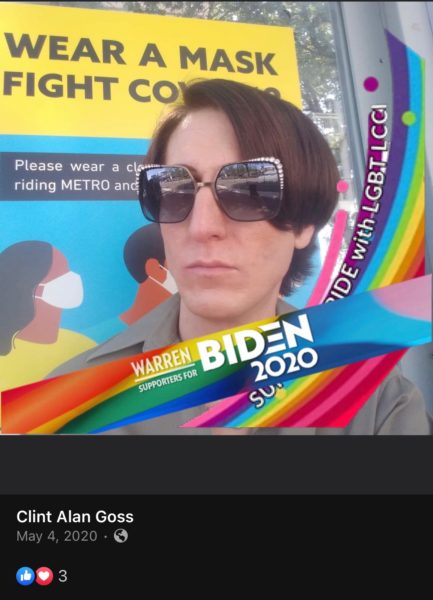 National File asked Pelosi's campaign for a comment on whether Speaker Pelosi or her campaign employs Goss in any capacity, including through a contractor, and did not receive an immediate response. National File has not been able to independently verify Goss's claim that he works for Pelosi and other prominent Democrats.
An earlier version of this article incorrectly referred to the YouTuber who confronted Goss as Ghost Change. The article has since been corrected to reflect the YouTuber's name as CC Unit.