Last Updated on June 14, 2023
LGBT radicals have sent bomb threats to Target store locations in at least five states after a nationwide boycott forced the left-wing retail giant to slightly walk back its pride month promotion of homosexuality and transgenderism that openly targets children and has ties to satanism.
Target stores in New York, New Hampshire, Vermont, Oklahoma, and Louisiana have all received bomb threats in recent days, according to several news reports, but no explosive devices have been found at the stores. The threats came from radial members of the LGBT movement, who claim that Target has "betrayed" them by quieting down their attempts to groom children with LGBT merchandise and promotions, that include trans "tucking" apparel for small children. (Tucking is when men claiming to be women "tuck" their male genitalia into a pouch inside of their clothing, to pretend it's not there.)
The threats were sent electronically and the messages were received by Target locations as well as by local news outlets.
KLFY 10, a CBS News affiliate in Lafayette, Louisiana, where LGBT threats to Target were received, copied one of the threats to its news website.
"You have betrayed the LGBTQ+ community," the threat reads. "You are pathetic cowards who bowed to the wishes of far right extremists who want to exterminate us. We will not tolerate intolerance nor indifference. If you are not with us then you are against us. That is why we placed a bomb in each of your locations, evacuate now as this is only to cause economic damage."
In Oklahoma, a similar email threat was sent to Oklahoma News 4, and it even cited the Oklahoma City bombing date of April 19th, 1995.
"We are going to play a game," the email read, including the addresses of local Target stores.
"2 of these Target locations have bomb in them. We hid bombs inside some product items. The bombs will detonate in several hours, guess which ones have the bombs. Time is ticking. 4/19/1995."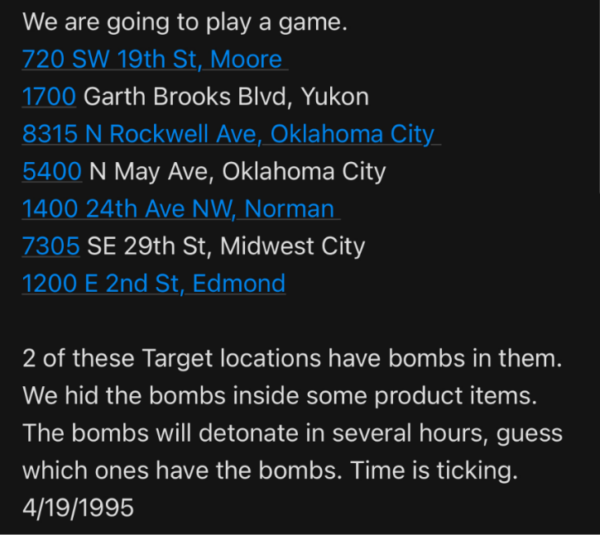 In addition to the threats made to Target stores in New York, New Hampshire, Vermont, Oklahoma, and Louisiana, threats have reportedly been made in the states of Pennsylvania, Ohio, and Utah.
The threats to Target are part of a wider trend of LGBT terrorism that has kicked off in the United States, as the American People begin to push back on the movement's radical agenda that's targeting small children.
In the wake of the Nashville trans terror attack that claimed the lives of six Christians, including three children, homosexual and transgender militants have stepped up their rhetoric, and have called for widespread violence against Christians.