Last Updated on May 6, 2020
It is now everywhere that Eva Murry reported that when she was 14 years old Joe Biden ogled her in a sexual way and discussed her breasts.  This happened during the "cocktails" pre-dinner reception at 6 p.m. before the black-tie and gown First State Grid Iron Dinner & Show on May 3, 2008, in Wilmington, Delaware.  Eva Murry clearly describes groups of people mingling in the hallway – that is, before the dinner started.  This was not inside the actual dinner itself.
The leftist attacks on Eva Murry's report remind us of the tactics we have to be aware of and ready to defend against.  Even Fox News asked "how high" when Biden yelled jump.  The Biden campaign counter-attacks with documents to "refute" Eva Murry's report.  Small problem.  The documents actually confirm Eva's story.  There is no contradiction between Eva Murry's story and Biden's "evidence."
Documents offered in Biden's counter-attack actually confirm that Biden was at home in Wilmington, Delaware only a few miles from the dinner location at the Wilmington Riverfront on May 3, 2008.  But the counter-attack is that Biden could not have attended the May 3, 2008, dinner, because he had sinus surgery on April 29, 2008 – four days earlier – in Philadelphia, which Biden downplayed as not remotely serious.
But could he have attended?  Research exclusively performed for National File reveals that the largest medical facility of this type in Philadelphia —  University Otolaryngology Associate in Philadelphia performs in-office balloon sinuplasty sinus surgery.  The most likely surgery Biden had was to clear a persistently blocked sinus with the insertion of a small surgical balloon.  This is likely because we know the procedure was performed on an out-patient basis and we did not see any debilitating conditions for Biden or Biden wearing bandages.
The medical facility advertises to clients that "While recovery time varies with each patient, most patients who undergo the in-office procedure can return to normal activities and work within 2 days."   That is, by May 1, 2008.
Other outpatient sinus surgery for merely cleaning a blocked sinus would similarly have a recovery period of only several days.  Endoscopic sinus surgery is advertised in Philadelphia as using a tool with a camera to remove material blocking the sinus.  That is not really actual surgery, just a cleaning.    Other types of surgery advertised would require bone reconstruction that would have shown up in bandaging on Senator Biden's face for a couple of weeks while bones healed.  That would have been evident.
[UPDATE:  If Joe Biden had had surgery for a deviated septum, recovery and swelling would have lasted for several weeks.  Biden's nose would have been bandaged and packed, and recovery would have taken at least 2 weeks.     Here is Joe Biden appearing on May 20, 2008, at an event covered by C-SPAN.  Joe Biden showed no signs of swelling, scarring, bandages, etc.]
Christine O'Donnell in the reception area before the First State Grid Iron Dinner & Show one year. The dinner organizer working in the dinner area might not have noticed Joe Biden out in this reception area.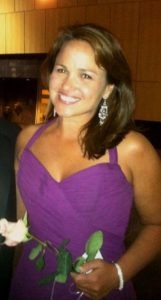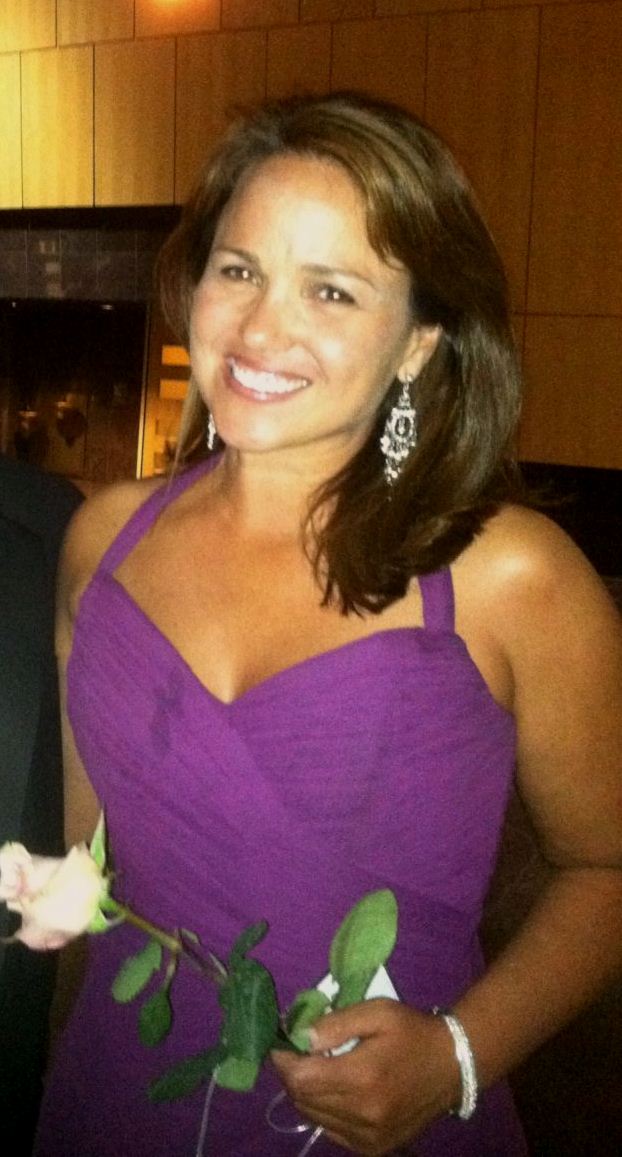 In early April, Eva Murry – who is not political herself — started explaining to her liberal or Democrat friends on Facebook that she was not comfortable with Joe Biden as the nominee for President when Bernie Sanders dropped out.  She found herself posting the same comments to so many people that she decided to provide one main post on her page.  Eva's childhood friend from nearby in New Jersey, Nicole Alexander Fisher, is political as a former Tulsi Gabbard staffer.  Fisher promoted Eva's report and evidently prompted Law & Crime to publish the story.
But the Biden defense is that Joe could not have been at the May 3, 2008, dinner because he had surgery on April 29, 2008.  According to the medical professionals performing such procedures in Philadelphia, Biden should have been ready to return to work by May 1, 2008.   Most important, to a guy like Biden, a political reception is fun, not work.
Documents released by Biden's team show that Biden had the Grid Iron dinner on his calendar and that a staff member "John will attend" would accompany him to the dinner. Politicians do not go alone to such events. They designate staffers to accompany them. The calendar clearly shows that there were "cocktails" at 6 p.m. – a reception.
Leftist media, attack dogs, and even Fox News did a high dive / swan dive into naked speculation by assuming that "John will attend" the black tie event means "ONLY" Biden staffer John will attend.  Since politicians always go to events with staffers to assist them, the notations "Jill will attend" to an earlier event and "John will attend" do not say that "John will attend" in lieu  of Joe Biden as the principal.  Furthermore, John will put on a tuxedo and attend the black-tie affair with a paid ticket does not mean Joe Biden won't attend the reception before hand.
So the documents are consistent with Eva Murry's report.  Joe Biden drove a few miles from home at 6 p.m. to slap backs and glad-hand and aw-shucks with his political buddies for the pre-dinner reception.  But evidently Biden did not stay for the dinner.
One dinner organizer claims Biden was not at the dinner that year.  But he probably did not see Biden inside the dining hall because Biden did not stay for dinner.  The organizer claims that Biden had planned to appear by video.  But that makes no sense.  Biden admits he was home a few miles away that night.  Why would he appear by video if he was in town close nearby?
[Update:  one attendee at the Grid Iron dinner claims that Joe Biden did not create a video in lieu of attending the dinner.  Joe Biden, they report, prepared a comedy skit in a video, because the Grid Iron is a political satirical "roast."  Thus the video that the event organizer mentions is not inconsistent with Joe Biden actually attending the event.  Murphy's records of a video skit by Biden do not contradict Joe Biden also attending the dinner himself, in addition to playing the satire skit as a prepared video.  One dinner organizer explained of the video:  "It was taped earlier that week. It was our hope the Senator would attend the dinner to see the video, but he sent regrets."  Therefore, the dinner organizer admits that the original plan was to show the video — a take-off on Meet the Press — with Joe Biden sitting in the dinner.  The video is neither here nor there as to whether Joe Biden attended.  The video is a red herring.  Biden could have attended regardless of the video.]
One error is in assuming that plans don't ever change.  The schedule may show what Biden thought he would do that evening.  But that does not prove that Joe Biden actually did, in reality, what the schedule anticipated.  He might very well have wandered over from home, likely bored, to mingle with the political crowd for the reception, and then left before dinner.
In fact, for all we know, after Joe commented on a 14  year old girl's breasts, his team might have whisked him out of the building post haste.  Or maybe having recorded a video he didn't want to change the plans for playing the video.   I really doubt that Eva would have stayed for the dinner if Biden hadn't left the building before the dinner began.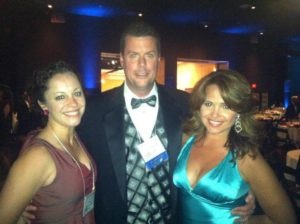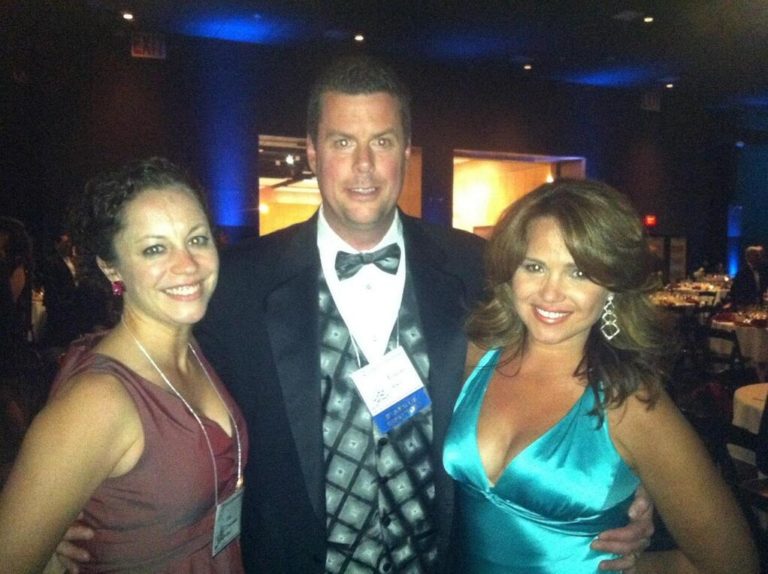 [Here is Christine O'Donnell inside the actual dining hall at one of the annual Grid Iron dinners.   The dinner organizer preparing dinner and activities inside the dining hall might not have noticed that Joe Biden swung through the reception "cocktails" out in the hallway / entrance area outside the dining hall. and then left before the 7 PM dinner.  The dinner includes musical skits of political satire.  The organizer would have to prepare the stage, costumes, lighting, microphones, sound checks, props, etc. inside the banquet hall.  He probably did not notice what happened out in the reception area.    NOTE:  It may seem inconsistent to post Christine's photos , but Eva Murry was a minor at the time and even now her family may not welcome too much attention by posting her current photograph.  At least that is me trying to be considerate, even if no one agrees.]
Eva Murry's report should stand on its own and should be the way Eva wants it to be presented, and focused where Eva wants to focus her account.  The fact that she just happens to be the niece of former U.S. Senate candidate Christine O'Donnell is unfortunate because it distracts from what Eva Murry wants to say for herself, standing on her own.  While I would support a woman's right to tell her story, I believe that Eva's account should have been her own.
This is painful to me as the author, because I know that Eva Murry and her immediate family are not political, are not Republicans, and won't be voting for Donald Trump in November.  They are being put in a difficult position that is unfamiliar territory.
Christine's extended family accepted her Republican efforts out of love and respect for her as family.  But they are traditional, old-school cultural Democrats in central New Jersey (that is Democrats from the time before the Left went crazy).  They are not doing this for politics.  Christine O'Donnell in turn is not going to abandon her niece.   I have not been in contact with Christine recently.  But I know she has no time or energy for this.  But she is going to stand behind her family and stand up for her niece.  Normally, I would have to defer to Christine's excellent abilities and skills to handle things herself, but I also know that this a drain on her limited time.  So we need to analyze political issues with care.
PS — let us  not forget, May the 4th be with you
CORRECTIONS:   Reference to Biden's wife removed after feedback.
UPDATE that Joe Biden's video for the First State Grid Iron Dinner & Show was apparently a SATIRE video — because the Grid Iron is a political satire / humor event — and therefore Joe Biden submitting a prepared video for the event is not inconsistent with Joe Biden also attending the event seated at a table.