Last Updated on November 18, 2022
Adam Frisch, a Democrat who challenged U.S. Rep. Lauren Boebert in Colorado's 3rd Congressional District, has conceded in one of the closest races in the 2022 midterms cycle. The race is likely headed to a recount, as Boebert's lead stands around a few hundred votes.
"Adam Frisch called me to concede this race," Rep. Boebert wrote in a tweet Friday. "I look forward to getting past election season and focusing on conservative governance in the House majority. Time to get to work!
Democrats pumped millions of dollars into the race, which ended up being much closer than most election analysts predicted. The candidates found themselves separated by double digit vote counts at multiple points in the counting process that lasted for days after polls closed.
A number of Democrat pundits and corporate media outlets called the race for Frisch multiple times, though the Democrat himself has opted to concede before a likely recount commences. At one point, while Boebert was losing, a guest told far-left MSNBC contributor that the congresswoman should "start an OnlyFans" now that she has been "defeated."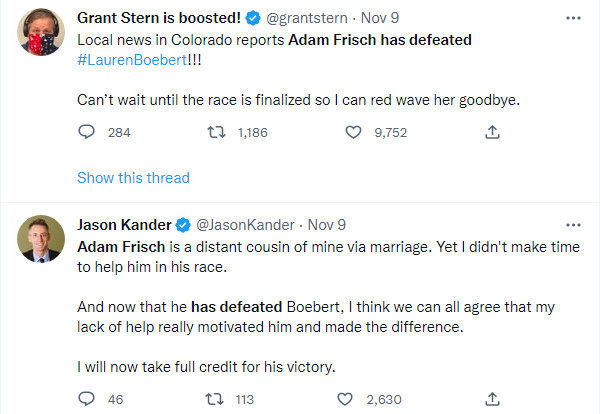 "There's never been a more humbling moment in my life," Frisch said in a video statement posted to Facebook. Although a recount is likely, the former Aspen City Council member said that he did not want to continue funding election efforts over a "handful of votes."
Prior to Frisch's formal concession, Boebert claimed victory in a video
statement
posted Thursday evening. "I'm told that there are less than 200 votes outstanding, which makes me so happy to announce: we have won this race," she stated.
"With this victory and with Republicans in control of the [House], we can focus on the things that actually matter most, including getting inflation under control, increasing our domestic energy supply, securing the southern border, and being a strong check on the White House," she continued.
With the race officially called, the number of House races where votes are still being tallied stands at five. Four of those races are in California, where Republicans could expand their majority in three.
Republican Kevin Kiley leads Democrat Kermit Jones for the open 3rd District, while GOP Rep. David Valadao also has the edge in the tossup 22nd District, Politico reported. Republican John Duarte also holds a narrow lead over Democrat challenger Adam Gray in California's 13th Congressional District.
Alaska's at-large Congressional seat will also be settled next week, when the state tabulates its ranked choice votes under new election law. Democrat Rep. Mary Peltola is favored to win re-election to a full term.