Last Updated on December 17, 2022
A top California Republican and lieutenant of Kevin McCarthy is closely tied to the Chinese entities identified by the Trump Administration as being linked to the theft and transfer of American intellectual property by and to China. 
Chung Cheng Kuo, who is actually from Taiwan, and who purports to work in the insurance industry, has founded several companies, many with ties to China and the Chinese-connected innovation space and business incubator, the ZGC Innovation Center.
Nothing moves in California Republican Party politics without McCarthy's say-so. The same goes for the selection of its top party brass. Chung Cheng Kuo, the California GOP's Vice Chair, and Jessica Patterson, the Chairwoman of the California GOP, are no exception. 
Politico reported on the election of a homosexual treasurer, Mr. Kuo, and Patterson – labeled McCarthy allies – as if it were a much-needed salve for "battered California Republicans."
Unsurprisingly, as it turns out, Politico's salve actually ends up being America's Poison.
Kuo, who is the Vice Chair under Jessica Patterson, despite being from Taiwan, has deep ties to the Chinese Communist Party's tech development and intellectual property theft institutions.
Chung Cheng Kuo and the Chinese Threat to America
Mr. Kuo, or "Peter," as he calls himself, was recently elected Vice Chairman of the California Republican Party. 
Politico celebrated the increased diversity, noting that in addition to the Latina Patterson, the party also elected a gay man as well as an East Bay businessman. 
His business ties run directly to Zhongguancun (ZGC – also called Zhong Guan Cun), a technology district located in Beijing, China. 
The ZGC Innovation Center is run by ZGC Capital, which is controlled by Beijing's municipal government through the Zhongguancun Development Group (ZDG). 
In 2018, Donald Trump's US Trade Representative and Elsa Kania identified ZGC and the ZGC Innovation Center, with which Kuo is closely tied, as being linked to the Chinese theft of American intellectual property (I.P.) and transfer of American I.P. to China.
The Municipal Government in Beijing is synonymous with the Chinese Communist Party, or CCP, according to Encyclopedia Britannica:
The Beijing Municipal People's Congress follows the guidance of the local CCP in issuing administrative orders, collecting taxes, determining the budget, and implementing economic plans. Under the direction of the local CCP, a standing committee of the Municipal People's Congress recommends policy decisions and oversees the operation of municipal government.
National File has confirmed these shocking revelations about Kuo, a top Republican in California, after a review of publicly available documents, statements Kuo made to the press and filings with the state of California by Kuo himself.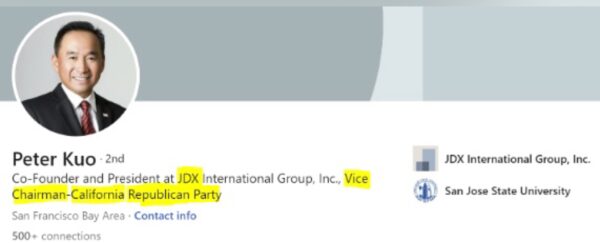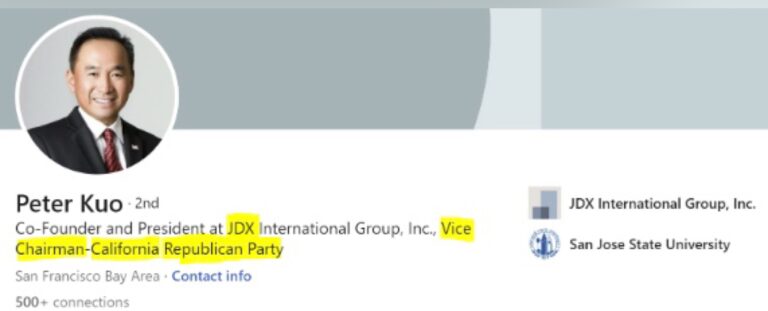 Former U.S. Senate candidate Tim Donnelly confirmed McCarthy's tight connection to Kuo and Patterson:
"Kevin McCarthy runs the CA GOP. Nothing moves in the CA GOP without his say so, so it's fair to say that Peter Kuo serves as the hands and feet of Kevin McCarthy up in Silicon Valley, even if Kamala "heels up" Harris is the head and tail."
Kuo Claims He Helps Connect U.S. Startups To Chinese Investors Through Silicon Valley Global, A Company He Founded.
Kuo's company, DCLC International, markets itself as a conduit to Chinese capital and even shares an address with the China-tied ZGC Innovation Center.
Chung Cheng Kuo, who calls himself "Anthony," claims to work in insurance. But the public record tells a vastly different story about the shadowy China-tied operative.
Kuo's Ties To Chinese Government Backed Initiatives 
Chung Cheng Kuo has multiple ties to ZGC and several of his business ventures are based at the ZGC Innovation Center. 
The ZGC Innovation Center is an innovation space located in Silicon Valley helping entrepreneurs develop start-ups and fostering business ties between America and China. ZGC stands for Zhongguancun, or Zhong Guan Cun, a technology district located in Beijing, China.
ZGC is run by ZGC Capital, which is controlled by Beijing's municipal government through the Zhongguancun Development Group (ZDG). 
ZDG founded several technology development centers in China and was formed to develop the Zhongguancun district.
The ZGC Innovation Center Is Located At 4500 Great America Parkway In Silicon Valley, California.
ZGC, with the help of a "Hong Kong Tycoon", dropped $24 million on the 70,000-square-foot space in Santa Clara for their Silicon Valley headquarters in 2015. Its U.S. investments include Kiloangel, a fund managed by AngelList founder Naval Ravikant.
Blockchain And Crypto: One Scandal Not Enough
One would think that one world-famous crypto scandal might be enough for Kevin McCarthy. 
McCarthy's multiple different campaign arms funneled tens of millions of dollars obtained directly from FTX. That's the same FTX crypto exchange that saw Sam Bankman Fried arrested in the Bahamas by federal authorities and charged with wire fraud.
The FTX scam fell apart when Bankman Fried evidently absconded with the entirety of the deposits held by the exchange, sneaking them out of a so-called "back door" and into a network of bank accounts including the hedge fund managed by his girlfriend. 
Believe it or not, FTX might not be the only such scam running. 
And FTX may not even be the only apparent shell game revolving around Kevin McCarthy's China and Ukraine cash orbit. 
READ MORE: McCarthy Used FTX Cash to Defeat Conservatives in 2022
As it happens, McCarthy foot soldier Kuo served as COO and co-founder of a crypto currency company called JDX Coin.
JDX was out to raise one hundred million dollars or more for a crypto currency backed only by jade statues. So far the effort has generated $0 in trading activity.
Kuo is one of the two people listed on JDX Coin's "About Us" section on their website. "Peter Kuo (COO) Peter is an advisor to Andra Capital, the CEO of DCLC International Group (a custom airplane manufacturer) and the Executive Director of the Venture Capital Roundtable, Silicon Valley." ("About Us," JDX Coin, accessed 04/29/19)
Kuo's JDX crypto currency company is reportedly backed by jade statues, but it has not yet reported any trading activity. 
The firm even launched their token publicly, claiming it was backed by assets, ostensibly the statues. 
Kuo co-founded this crypto currency firm with Charles Robinson, who regularly offers presentations at the ZGC Innovation Center.
Robinson also wrote a "China First" report on incubating American companies in China, according to reports. (Also, quite bizarrely, Robinson predicted the assassination of President Trump and the anointing of rock singer Gene Simmons by God in his role as an ordained minister.)
Similarly, Sam Bankman Fried's parents were not the only folks with close personal ties to the development of crypto currencies who were also involved in developing the regulation of the many disparate crypto exchanges, wallets, and currencies.
In what appears to be a clear hint that Kuo is also desirous of introducing federal regulation and a one-world Central Banking Digital Currency (CBDC), Kuo, along with a former ZGC executive, created the United States National Blockchain And Cryptocurrency Council LLC. 
Fay Li (AKA Fei Li) is a former executive director of a ZGC subsidiary, and also represents Kuo's company in their quest for Congress to create a national blockchain and cryptocurrency advisory board.

"Fei-Fei," as she is also called, even claimed to be Congressman Ro Khanna's (D-CA) first point of contact on crypto currency issues. 
Kuo also claims to be an advisor to an artificial intelligence company whose California office is based at the ZGC Innovation Center, is currently suspended by the California Secretary of State for not paying its taxes, and submitted over 150 H1B applications in 2018 alone.
Rather than being a red flag to McCarthy's political operation in California, Kuo's shady CCP ties seem to have been an attractive feature.
These ties also explain McCarthy's coziness with the rest of China-tied Big Tech, which is situated in Silicon Valley and San Francisco. 
So tight are McCarthy's ties to Big Tech, he once asked whether Twitter could ban critics of the Republican establishment in the wake of Mike Pence's certification of electors on January 6th, 2021, weeks after the botched November 3rd, 2020 vote that sent Joe Biden to the White House. 
California Republicans tired of McCarthy's tyrannical rule over the party tell National File that McCarthy's ties explain his utter failure as a de facto party head.
"Kevin McCarthy is the Republican Kamala Harris," James Bradley, a California U.S. Senate candidate who challenged Diane Feinstein, told National File.
"McCarthy has done NOTHING for California. Zero. if you ask anyone who ran for office out here they can't STAND McCarthy. He has a handful of select folks that he puts a little cash behind, but at the end of the day it's really all about himself," Bradley continued. 
"The California GOP equals Kevin McCarthy. Kevin McCarthy controls the party entirely along with Charles Munger, Jr."
Tim Donnelly is another California Republican who McCarthy has entirely ignored. In an exclusive interview with National File, Donnelly blasted McCarthy:
"Kevin McCarthy is the devil. And he's in charge of the California GOP. McCarthy has worked diligently against any true conservative American patriot who has fought for the security and safety of our country and freedom. McCarthy has raised money for and aided and abetted the Democrats at every turn. McCarthy was Nancy Pelosi's lapdog who occasionally barks, but who is literally licking her hand. He's probably sad to see Nancy go. 

There's no way McCarthy can be effective as the speaker. He's far too entrenched and owned by the establishment that owns both parties.

He even supported Paul Cook, who backs amnesty and who opposes impounding the vehicles of drunk illegal alien drivers. He's about getting votes to use DOD funds for sex change operations instead of for actual protective gear for our military men."
Johnny Nalbandian is also a California Republican disillusioned with McCarthy.
A successful seafood business owner who runs an outfit known as "The Tiffany's of the Seafood Industry," Nalbandian has become a successful and highly demanded business consultant and marketer.
Nalbandian blamed McCarthy for "destroying California":
"Kevin McCarthy Played a major role in Destroying California and in letting Democrats get away with what they're getting away with.. You're either pregnant or you're not. You either go one way or the other. Looking at the way he's handled the last six years with all his backroom deals with Democrats, I just can't support that. He buries good candidates – many of them.

Putting J Patterson at the head of CA GOP is a part of ruining California. She thinks all America First candidates are nuts. She'd rather see Democrats win than America First candidates."
Mike Cargile, a Conservative in San Bernardino County, confirms McCarthy's ties to Patterson and Kuo's California GOP: 
"Kevin IS the CAGOP. Patterson is nothing more than a McCarthy sycophant. We MUST break the stranglehold of CA politics on the rest of the country. McCarthy is Pelosi-light. Same ideology, same methodology. This is our one chance to start a course correction for the Nation. We need leaders of a different ilk and vein. Leaders with a vision for the Party and Country based on our shared conservative values and the wherewithal and political acumen to achieve that vision."
Stay tuned to National File for any updates.
Read more on Kevin McCarthy by clicking here.