Last Updated on May 28, 2021
The Kellogg's Company has partnered with militant gay lobby group GLAAD to celebrate June as "pride month," prominently featuring the rainbow flag on products aimed at children and even including a game on the back of cereal boxes that teaches kids to choose new pronouns for themselves.
The cereal, a heart-shaped version of Froot Loops outfitted with edible glitter and re-branded as Together With Pride, has already started hitting stores. Out of each box purchased, Kellogg's will donate $3 to the far-left gay lobby group GLAAD, which has been at the forefront of promoting homosexuality to children in media, pop culture, and consumer industries.
"Leave the boxes for cereal, you're too awesome to fit into a box," Kellogg's wrote in a tweet advertising the new marketing and child sexualization scheme. Featured on the box depicted in the Tweet are several Kellogg's cereal mascots, including Tony the Tiger and the Smack 'Ems frog, leading social media users to speculate as to whether Kellogg's and their marketing team will follow others in the commercial and entertainment industries by soon revealing that one of the animated characters has "come out" as gay.
Leave the boxes for cereal, you're too awesome to fit into a box @glaad pic.twitter.com/Ryc4pijFvV

— Kellogg Company (@KelloggCompany) May 25, 2021
Pronoun selection plays a large role as part of the new cereal boxes, with a special space on top of the box that looks much like a name tag, designed for kids to write down their preferred pronouns before digging into the cereal. For those who haven't yet decided what their pronouns are, a game is featured on one side of the box to teach children to select their own, much like someone claiming to suffer from gender dysphoria would.
"Too amazing to put into a box," a caption above an image of Tucan Sam reads before prompting kids to choose from the pronouns he/him, she/her, and they/them, or to come up with their own. "Boxes are for cereal, not people," reads a caption atop rainbow colors beneath the game.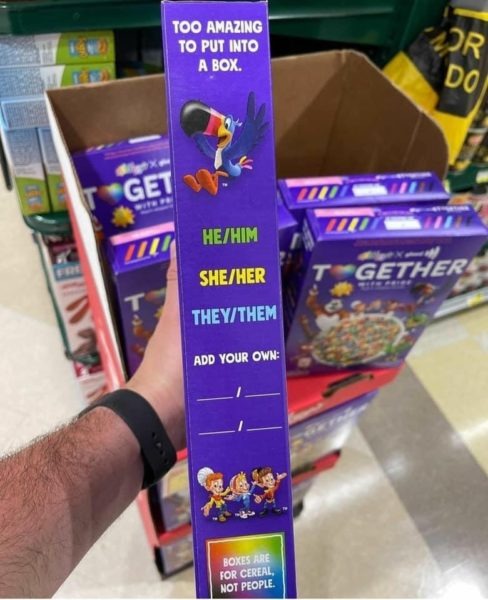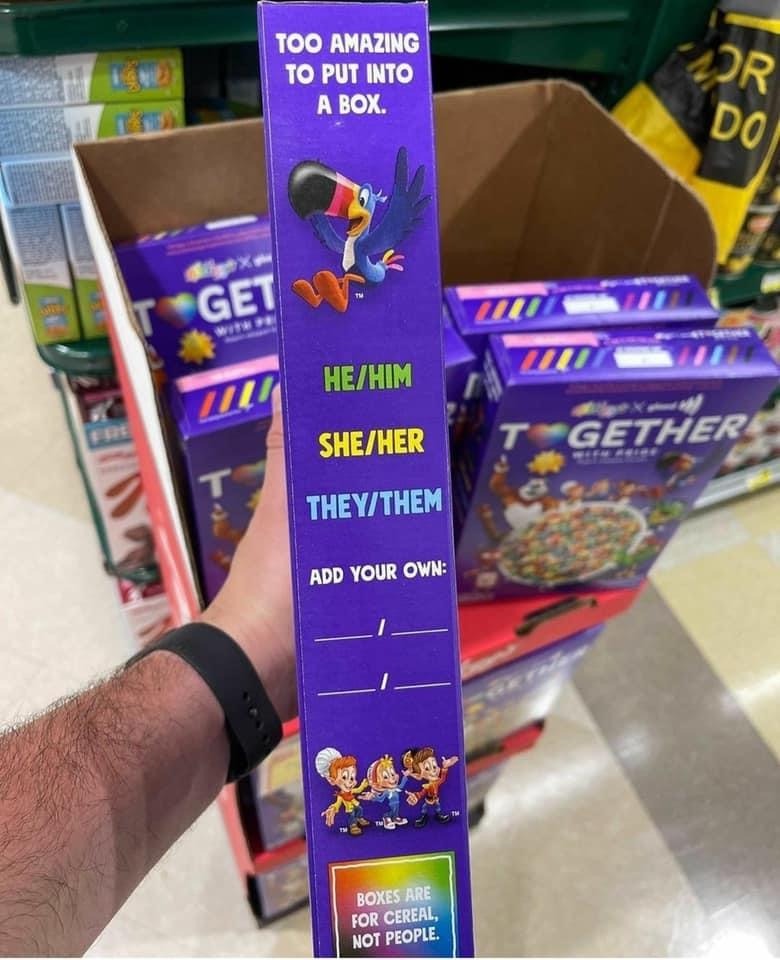 Though mainstream media reporting on the move by Kellogg's has been virtually nonexistent outside of LGBT publications who have taken several victory laps on the matter, the parental response on social media has been that of disgust with the cereal maker, a company that has made several forays into far-left politics in recent years.  In 2016, as reported by Breitbart, the W.K. Kellogg Foundation, which maintains strong ties to the Kellogg Company, donated nearly $1 million dollars to Black Lives Matter, when the far-left militant group was still in its infancy.