Last Updated on August 12, 2020
Gabrielle Griffie, a Wichita, Kansas-based activist police believe is responsible for hosting several unlawful Black Lives Matter protests in Wichita under the banner of her organization Project Justice ICT, endorses the claim that communist revolutionary Vladimir Lenin called for the abolition of police, and expressed a desire to move to Cuba due to its free healthcare.
As those calling for defunding the police mourn a devastating defeat in central Kansas, with the largest city in Kansas refusing to defund police and instead appropriating an additional $6 million to the Wichita Police Department in the 2021-2022 budget, a series of controversial tweets have emerged from the leader of several protests throughout the city.
Griffie, who has been arrested twice on both August 3 and August 6 after police say Project Justice ICT hosted unlawful protests that saw protesters block streets and allegedly menace drivers, retweeted a user claiming Lenin called for the abolition of police and the military.
In a post retweeted by Griffie, a user wrote "Lenin outright f**king says 'abolish the police.'"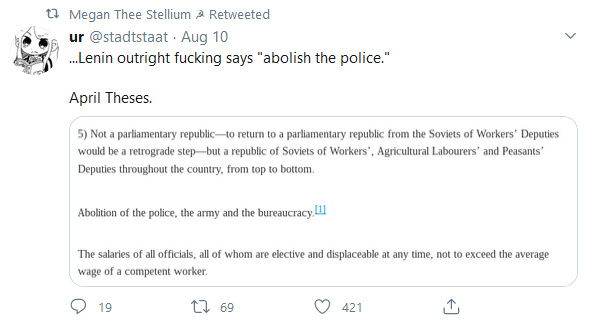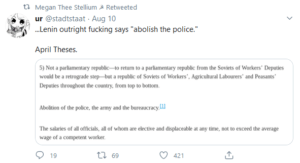 In another tweet, Griffie quoted another user, who wrote that they were "thinking about how gender reaffirming surgery is considered a life saving surgery in Cuba and that its [sic] free for anyone that needs it".
"Cuba please take me," Griffie added.
Cuba please take me https://t.co/GxMcs6CO2i

— sad about my wagon (@yungdevotion) August 11, 2020
After one arrest on August 3, Griffie claimed that Wichita police and city government "chose intimidation" over her "health and safety" by arresting her, and said the conditions of the jail would be responsible should she contract COVID-19.
Also if I get COVID-19, it's straight up because of the conditions of the Sedgwick County Jail. They chose intimidation over my health and safety and jailed me for a misdemeanor. There were 10 women in a 10ftx10ft holding cell including myself.

— sad about my wagon (@yungdevotion) August 3, 2020
On Tuesday, the Wichita City Council voted to proceed with a previous budget plan that locals consider a boon to police, with an additional $6 million in funding that, in part, will serve to hire more police officers and allow the police department to more effectively respond to crime in the city's downtown area.
As the Wichita City Council heard from both those in favor of police and those calling for the complete defunding and abolition of police, many affiliated with Griffie and Project Justice ICT, around 500 #BackTheBlue protesters gathered nearby to show support for the police and send a "show of force" to the city government.
At one point, as a Black Lives Matter protester attempted to disrupt the event, the large crowd of police supporters began singing the Star Spangled Banner in response.
Hundreds of Back the Blue rally goers erupted in song, singing the Star Spangled Banner in response to disruptions from one Black Lives Matter protester in Wichita, Kansas. pic.twitter.com/RDqHgZVHcM

— National File (@NationalFile) August 11, 2020