Last Updated on May 23, 2022
Georgia Republican gubernatorial candidate Kandiss Taylor responded to the scandals dragging down her Republican establishment opponents Brian Kemp and David Perdue. The Georgia gubernatorial primary is Tuesday May 24 and America First candidate Kandiss Taylor can qualify for a run-off if she places in the top two in the voting and the top vote-getter is held below 50 percent.
Kandiss Taylor promised to send the Georgia National Guard to arrest anyone who commits treason against the United States of America. Meanwhile, Brian Kemp is pushing a costly Rivian electric car plant for a company that George Soros and Jeff Bezos have invested in. Now, NATIONAL FILE is reporting new information on Brian Kemp's concerning relationship with the Chinese Communist spy hub in Houston, Texas.
In addition, David Perdue is reeling from continued outrage about his purchase of Pfizer stock following a private briefing for Senators days before Pfizer announced their Coronavirus vaccine. Taylor also made it clear that Perdue was making deals with the Chinese as a senator — and obviously they have been hitting America hard lately.
Kandiss Taylor discussed Kemp, Perdue, and the Communist threat on The Campaign Show with Patrick Howley before Tuesday's primary: (WATCH THE SHOW HERE)
Brian Kemp held numerous meetings with the Communist consul-generals of the Houston spy hub. Brian Kemp agreed to bring in more Chinese foreign students to the United States during the period when Kemp's Chinese buddy was allegedly grooming foreign students to be spies for China. The Houston consulate was trying to get academics to secretly hand over sensitive research — including medical data — to their motherland of Communist China. Here is a timeline of at least some of Brian Kemp's known interactions with the Chinese Communist Party, and records showing that he agreed to increase the importation of foreign Chinese students to Georgia.
According to high-level sources, Kemp had known contacts with the ChiComs in April 2019, when Brian Kemp personally requested the Chinese consul-general from the Houston consulate, a man named Li Qiangmin, to his event. At the time, the Chinese consulate in Houston was overseeing different ChiCom spying operations in places like Georgia and Florida. In July 2019, Brian Kemp met with Li again and gave him a book that thanked Li for his "great service and for your friendship to the state of Georgia."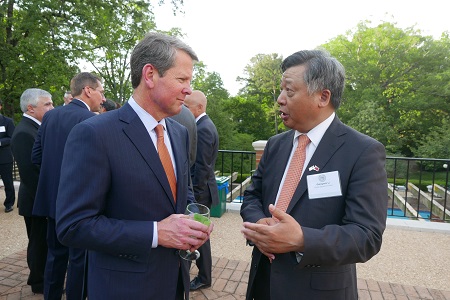 Brian Kemp met with and made deals with the Chinese Communist Party, according to Chinese-language records. Kemp reportedly "warmly welcomed" Li's successor, the new Chinese Consul General from Houston Cai Wei, in yet ANOTHER meeting, and Kemp took the opportunity to invite Chinese business investment in Georgia. That Consul General was accused by the Trump administration's State Department of running an espionage ring, and the United States closed his Consulate in July 2020. Kemp tried to stop China's geopolitical foe President Donald Trump from getting a fair count of the votes in the 2020 presidential election in Georgia. Kemp's former chief of staff has lobbied for Dominion Voting Systems, the disputed election technology company whose machines are used in Georgia. (RELATED: Secretary of State Raffensperger Begged For Chinese Votes).
It just so happens that Cai Wei, Brian Kemp's partner in global dealmaking, got caught in act of deception involving students that he was transporting to China through George Bush Intercontinental Airport in Houston, Texas, and then his consulate got shut down by the Trump administration's State Department in 2020 under Mike Pompeo, and Cai Wei's operation burned papers and the consulate was shuttered. This very same Cai Wei — who was accused of using foreign exchange students as spies during his previous post in Australia — made a deal with Brian Kemp to take in more ChiCom students.
HERE IS AN OCTOBER 9, 2019 ARTICLE IN THE CHINESE-LANGUAGE NEWSPAPER "Atlanta America Chinese Life," an outlet that coordinates with United Front, a network controlled by the Chinese Communist Party. The article, translated by Google, reads in part:
"At the end of September 2019, Consul General Cai Wei visited Georgia in person, visited Atlanta, Gunet County, and other regions, and had a cordial meeting with Georgia Governor Brian Kemp. Consul General Cai Wei called on Georgia Governor Kemp. At the meeting with Governor Kemp, Consul General Cai reviewed the cooperation between China and Georgia. Consul General Cai expressed his willingness to continue to promote bilateral exchanges and practical cooperation on the basis of previous work. Governor Kemp warmly welcomed Consul General Cai to take office, introduced the business environment in Georgia, and said that he welcomes more Chinese companies to invest and more Chinese students to study. At the same time, Governor Kemp spoke highly of the outstanding contributions made by overseas Chinese to the local economic and cultural development."
#China's consulate in #Houston is not a diplomatic facility. It is the central node of the Communist Party's vast network of spies & influence operations in the United States. Now that building must close & the spies have 72 hours to leave or face arrest.

This needed to happen.

— Marco Rubio (@marcorubio) July 22, 2020
Kemp's relationship with the Chinese Communists is concerning considering China was the outbreak spot for the Wuhan Coronavirus pandemic that resulted in 2020 election chaos in America, with many paper ballots getting counted late at night in Fulton County, Georgia. China has been open about its adversarial relationship with President Trump after Trump imposed tariffs to gain trade concessions from the Chinese regime.