Last Updated on April 21, 2020
A Washington, D.C. based journalist has apparently doxxed a man who accused him of bestiality on Facebook, posting his full name, address, and date of birth, after he fell for the infamous Navy Seal copypasta in private communications.
Nate Thayer, a freelance journalist who once interviewed Pol Pot while working for the Far Eastern Economic Review, has apparently doxxed a Massachusetts man during an online argument about bestiality.
After noticing several potentially alarming photos Thayer uploaded of himself with his dog, one alluding to bestiality-based sexual contact, and one showing what Thayer claims are the dog's testicles preserved in formaldehyde, social media users began to mock the man and question his relationship with his animal.
In one post, Thayer wrote, "Is it a problem when one's 'significant other' is a dog and one is quite content with that arrangement?" He went on, "And any tweaking of that arrangement involves an inter-species threesome as part of the deal?"
In the photo, the dog's face is positioned near Thayer's crotch.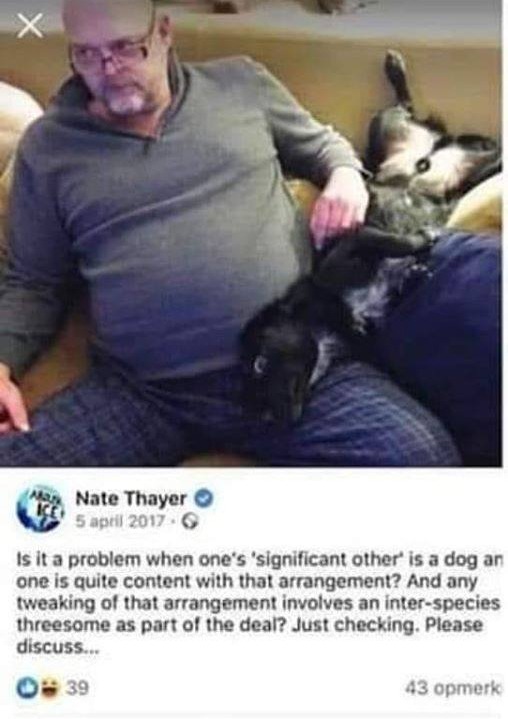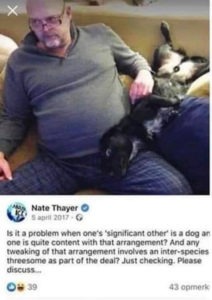 In another, Thayer reveals that he was forced to neuter his dog, and has preserved the dog's testicles in a jar of formaldehyde.
"Lamont's balls now reside in a jar of formaldehyde on my fireplace mantel, next to other personal mementos and photographs of Lamont's misspent youth," wrote Thayer. In another post of him and his dog, Thayer wrote, "Nate and Lamont, two boys in love, forever and ever."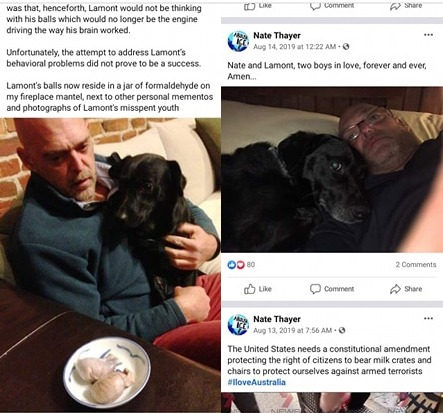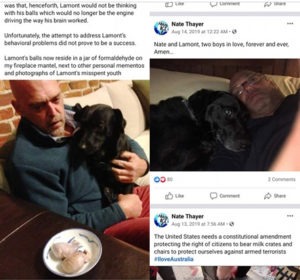 One user, Michael Hiller, received messages from Thayer in response to his comments.
Thayer accused Hiller of committing crimes, and threatened to contact police, as well as Hiller's parents, if he did not retract his statements. Thayer went on to email Hiller's mother, who was nonplussed by the communications.
Hiller admits that he accused Thayer of bestiality, but says that he was far from the first Internet user to do so, and adds that he is genuinely concerned for the well being of Thayer's dog due to the photos he posted to social media.
Eventually, Thayer tracked down Hiller's cell phone number, and continued their communications via text message.
Hiller responded with the infamous Navy SEAL copypasta meme, originating from 4chan. In the meme, the original poster claimed to by a Navy SEAL with hundreds of "kills" and to be able to use the United States military to settle online arguments in person. Hiller also responded with an image of ABC's Ted Koppel, as Thayer previously lost a lawsuit against Koppel, and accused him of stealing his life's work.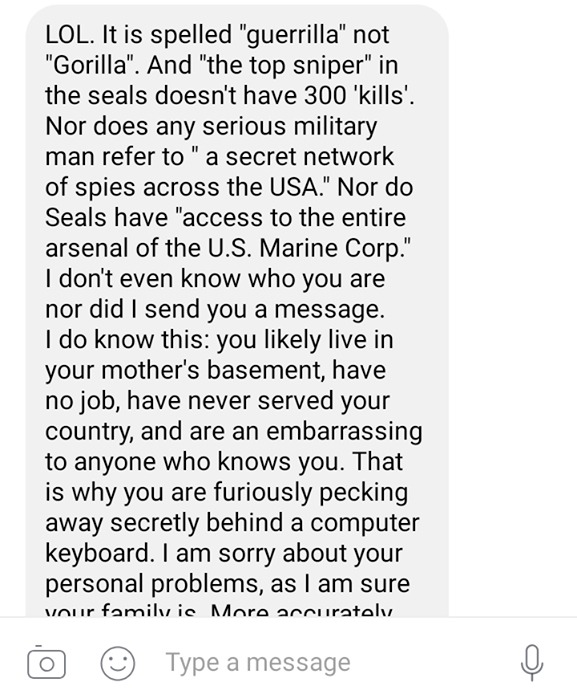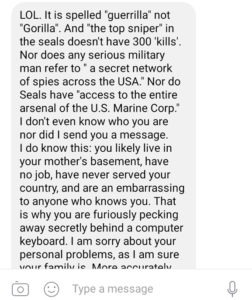 Apparently in response to the copypasta, the journalist appeared to threaten Hiller, telling him that his life "will be a lot shorter for you if you carry out your threats cause I assure you I have superior firepower."
Thayer replied to Hiller's message with his full address and date of birth, which was later posted to Thayer's public Facebook page.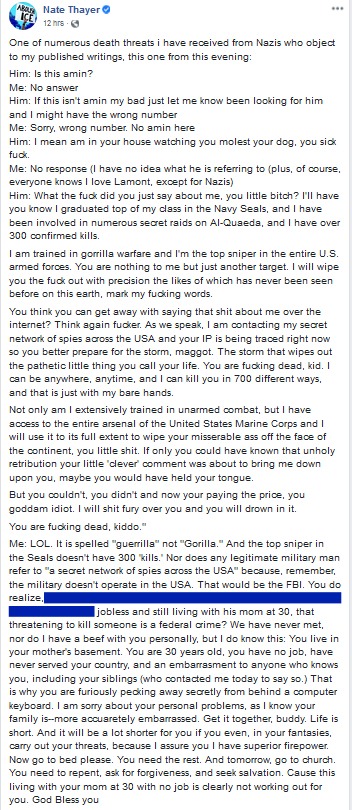 Speaking to National File, Hiller confirmed that this information was previously unavailable to the public. Hiller believes Thayer was able to find the private information due to his position as a journalist.
Hiller also provided screen shots to National File of Thayer contacting other Facebook users with similar communications. It is unclear if any have, or will rise to the level of doxxing.
National File attempted to contact Thayer regarding this story, and did not hear back in time for publication. National File was later contacted by Thayer, who claims that Hiller's private information was publicly available, but did not elaborate as to where it was publicly available.
National File could not locate Hiller's private information using major search engines or scanning social media.
This article has been updated.