Last Updated on January 4, 2023
John Fredericks, radio talk show broadcaster and host of Outside The Beltway, called the stonewalling of Kevin McCarthy (R-CA-23)'s first round U.S. House Speaker victory a moment which is "going to go down in the annals of history" during an appearance on Steve Bannon's War Room on Wednesday.
"[People say] 'What's the endgame John? There's got to be an endgame.' You know what the endgame is? The fight is the endgame. There is no exit strategy. Winning is the exit strategy and winning means Kevin McCarthy is not going to be the Speaker. One of the greatest things yesterday was these collective meltdowns on your show. By the way, you did a phenomenal job. MTG melted down for thirty minutes, right why? Because she sold her soul to SWAP Inc. for a piece of paper, for committee assignments. She melts down, hey MTG, I've got a newsflash, embrace the suck, because your guy's going down and you're going to get nothing," Fredericks said."
"Well, listen. I thought yesterday was the third greatest day in our America First populist movement since we started it, since Trump came down that escalator. The first day was when he got the nomination in Cleveland. The second greatest day was that night you were there, that he got elected President. The third greatest day was yesterday in this movement's history… It's going to go down in the annals of history as the first day that we actually got new leaders to fight for something for the working people of this country; the people with dirt under their fingernails and calluses on their hands that nobody pays attention to," Fredericks said on Wednesday.
"Finally, we've got our movement play, that's why it's a great day. You know with all this talk about, 'oh it's chaos,'" Fredericks continued. "Let's embrace the chaos. You know what chaos is? $33 trillion in debt. $10 trillion in debt on our balance to the Federal Reserve. Open borders. Grooming your kids in school. That's what chaos is. $1.7 trillion Omnibus to strip the Republicans of any power financially until September. You want to know what chao is? That's chaos."
"What we're doing is taking back control of this movement. I say the other great thing about yesterday is we exposed conservative people for the frauds they are. From FOX News all the way down; Trey Gowdy, Jason Chaffetz. Newt Gingrich. I love Newt Gingrich. He's a relic. Coming on TV talking about Democrats are going to run the house. You know what? Go away. Go back to the Vatican with your wife," Fredericks said.
Time to step aside and let us move forward and elect #HouseSpeaker #TruckingtheTruth #JFRN https://t.co/bgLeE96BhG

— John Fredericks (@jfradioshow) January 4, 2023
Fredericks commented on the epithets that principled conservatives have received from other members of the Republican party for refusal to back McCarthy as U.S. House Speaker.
"Now they want to call us rebels, radicals, hey I love that. I want to be a rebel. I want to be a radical not to spend $33 trillion of money we don't have, not to spend the country into oblivion, not to have open borders," Fredericks said,
"John Fredericks, who is the creator of chaos, us or them?" Bannon asked Fredericks.
"Them, and I tell you the other thing Steve. This is what winning feels like. You want to know what winning is? It was not winning eight seats when we should have won 50.  This is what winning feels like. This is the smell of napalm in the morning, baby. It's victory. There's no exit strategy. I've got to tell you, yesterday has energized and mobilized the working class base of our populist movement that has been completely disenfranchised from it. That's why only what, 55 percent of Republicans turned out on gameday in these midterms. They're done with it. They're seeing nothing. It's the Uni-Party and It's the swamp."
Fredericks commented on the statement made on Wednesday by former President, Donald Trump, on TruthSocial, and called the pushback against the McCarthy regime a "grassroots fight."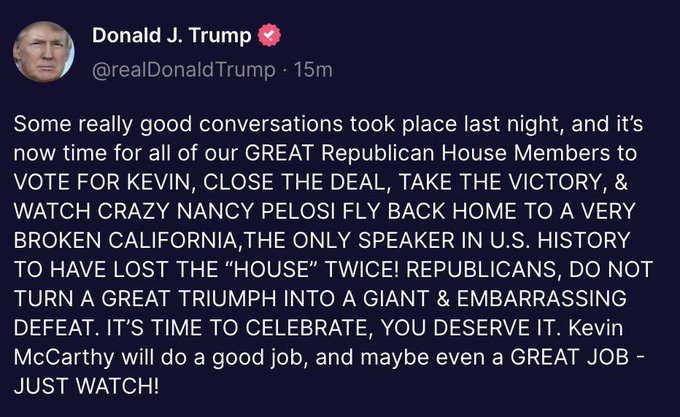 'I'll tell you what, President Trump, he put his comments out today. I get it, right. I get where he stands," Fredericks said. "Mr. President, this is not your fight. This is our fight. This is the grassroots' fight. Go play golf with Baron. He's off this week. Spend some time with your son. I'm all for that. I like spending time with Joe and my kids. This is our fight. It's not Trump's fight. It's not the swamp's fight, the lobby's fight. This is our fight in the grassroots."
"Yesterday, the movement transcended its current leadership. We've got 20 new leaders now Steve. 20 of them. Courageous people. And there's going to be more," Fredericks added.