Last Updated on October 27, 2023
2,913 Palestinian children were killed in Israeli air and artillery strikes on the Gaza Strip in the just under 3-week period between October 7th and 26th after conflict broke out between Israel and Hamas, the Palestinian health ministry reports. In all, 7,028 people have reportedly been killed thus far and the numbers are expected to continue climbing as Israel prepares to launch a ground invasion and more than 2 million Palestinians remain stuck inside the Gaza Strip.
Palestinian health authorities report that of the 7,028 people killed thus far by Israeli strikes on Gaza, 3,129 of them are females and 3,899 of them are males. As mentioned, 2,913 of them are kids.
An additional 218 unidentified people have also reportedly been killed, but the Palestinians did not count them in the total death toll. Furthermore, as many as 1,600 people have been reported missing and are feared to be buried under rubble. They too have not been included in the death toll figure of 7,028 and it is unclear how many of either uncounted group may be children.
In addition to the dead, hideous videos have emerged from Gaza of Palestinian children being treated for severe wounds sustained in Israeli strikes with no anesthetic, because of a total Israeli blockade on the region, that Israel itself is describing as a "complete siege."
Though the United Nations is claiming that there is "no indication" that Palestinian death reports are inaccurate, Joe Biden and others from his administration told reporters this week that they believe the figures to be phony and authored by Hamas to damage Israel on the world stage.
By comparison to reported Palestinian death figures, approximately 1,400 Israelis, mostly civilians, were killed in the initial Hamas terror attacks that began the war, and more than 200 were taken hostage.
Hamas claims that at least 50 of those hostages have since been killed by Israeli airstrikes, though this claim is impossible to verify at this juncture and it could just as easily be assumed that those hostages were executed by Hamas.
While footage has been emerging from Gaza showing mass amounts of carnage and the mangled bodies of dead children pulled from the rubble of Israeli attacks, new (October 27th) reports are saying that Israeli strikes have shut down landlines, cellular service, and internet connections in Gaza, bringing the flow of information to a screeching halt.
"We have completely lost contact with the operations room in #Gaza Strip and all our teams operating there due to the Israeli authorities cutting off all landline, cellular and internet communications," the Palestine Red Crescent, the Islamic version of the Red Cross, reported via X, adding that the organization is "deeply concerned" about the ability "to continue providing…emergency medical services."
"Intense Israeli airstrikes around the clock indicate that the Israeli authorities will continue to commit war crimes while isolating Gaza from the outside world," the Red Crescent's post went on to allege, before calling on the world to pressure Israel into providing "immediate protection to innocent civilians, medical facilities and our teams."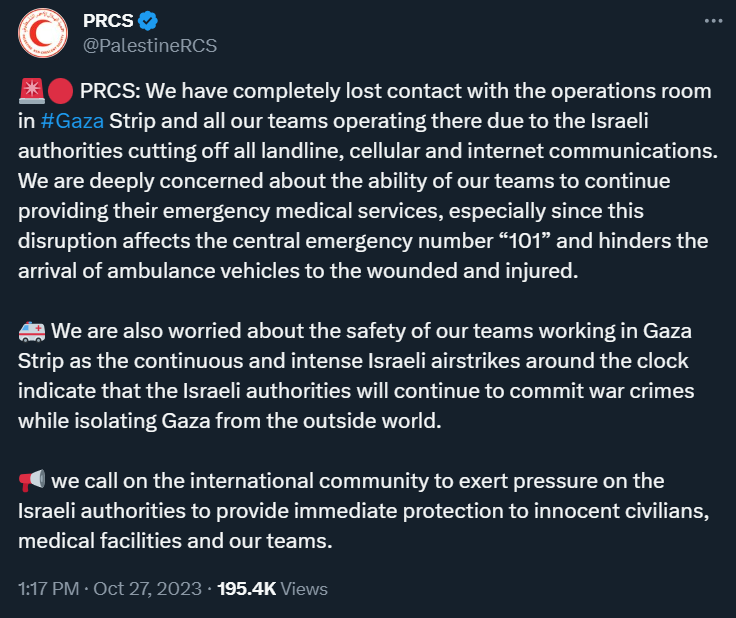 The continued and, reportedly, intensified Israeli strikes on Gaza come as Israel also ramps up for a ground offensive that is expected to result in unprecedented casualties on both sides and as the Israel Defense Forces (IDF) say they will "expand" the ground operations and raids into Gaza that are already underway.
In addition to fighting in Gaza, Hamas has called for an uprising in the West Bank, telling Palestinians there that "this is the time for weapons".