Last Updated on January 24, 2020
Democrat presidential candidate Joe Biden's son Robert "Hunter" Biden faces jail time if he refuses to testify in the Senate impeachment trial of President Donald Trump, if Republicans decide to subpoena him. The trial centers on Trump's investigation into Hunter Biden's membership on a Ukrainian gas company board of directors. Democrats accuse Trump of abusing his power by asking the president of Ukraine to help with his investigation.
"If the White House calls Hunter Biden as a witness he will just plead the Fifth. In an impeachment trial the Senate has the power to grant Transnational Immunity and compel his testimony. He won't be prosecuted for anything he says, but they can force his testimony and jail him if he refuses," a political source told National File Friday.
Republicans can use the mechanism of Contempt of Congress to jail Hunter Biden if he does not show up. Persons found guilty of Contempt of Congress face between a month and a year in prison and up to a $100,000 fine.
"The Senate has the power to compel witnesses. So, subpoenas would be enforceable. Contempt of Congress is illegal. I don't know that they have the votes, as a political question," stated ex-independent counsel Robert Ray.
Former president Bill Clinton's ex-paramour Monica Lewinsky testified in front of the House of Representatives during the impeachment of Clinton after Lewinsky received transnational immunity. Will Republicans have the same eye of the tiger this time around when it comes to compelling their desired witnesses to testify?
Republican Texas Sen. Ted Cruz called Wednesday for Democrat presidential candidate Joe Biden's son Hunter Biden to testify regarding his former board membership at Burisma Holdings, the Ukraine oil and gas company that paid him handsomely.
President Donald Trump's investigation into the Biden Ukraine scandal has sparked an apparently politically motivated impeachment, and now a trial in the Senate in which Trump is not expected to have any Republican senators vote against him.
Cruz made the case that it is "critical" for Hunter Biden to testify.
Democrat Sen. Chuck Schumer is fighting against a speculated "witness trade" whereby Republicans make some concessions on witnesses in exchange for Hunter Biden's testimony.
"I think that's off the table. First of all the Republicans have the right to bring in any witness they want. They haven't wanted to and that trade is not on the table," Schumer stated Wednesday.
Hunter is in a lot of trouble for various reasons.
Robert "Hunter" Biden allegedly coasts through his misadventures in life with the help of "identity theft," according to private investigators who have been digging into Hunter as part of his paternity case in Arkansas involving his unborn love child. Hunter is being compelled to court in Arkansas to attend a hearing where he faces a contempt charge.
Hunter Biden appears to have used the identity of his deceased brother Beau Biden, whose widow he dated, when he got busted in Arizona in 2016 with a cocaine pipe.
"Stolen identities were used to check defendant Robert Hunter Biden into an Arizona facility and providing false statements to the Prescott Police Department," according to a "Notice of Identity Theft" filed in court by the private investigation firm D&A Investigations Inc.
"These stolen identities include his deceased brother Joseph R. Beau Biden III, and Joseph McGee," according to the private investigators.
The 2016 Hunter Biden Prescott, Arizona police report describes the shenanigans involved in Biden's conduct and the role of an individual, identified in scare quotes as "Joseph McGee," among other characters.
Hunter Biden is the father of a love child in Arkansas that he fathered with a reported stripper in Washington, D.C., according to a court order from Arkansas Circuit Court Judge Holly Meyer.
Jonathan Turley explains: "In the order, Meyer ordered the Arkansas Department of Health to issue a birth certificate listing Biden as the father."
Hunter Biden was recently spotted in Los Angeles amid new developments in his personal and professional scandals.
Hunter has been laying low, prompting worldwide speculation concerning his whereabouts and the viral "Where's Hunter?" meme. Now, Hunter has been tracked down, and his court battle in Arkansas with the mother of his unborn biological love child threatens to bring new revelations to the forefront of his national disgrace.
The Daily Mail captured him for a photograph in Los Angeles: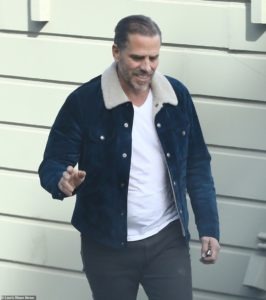 The Ukraine case has become a fierce political and journalistic battle against the backdrop of the 2020 presidential election.
Fox News host Laura Ingraham revealed exclusive details regarding the Obama administration's knowledge of the brewing Biden family scandal, which centers on Hunter Biden's past board membership on the gas company Burisma Holdings, and Joe Biden's efforts to coerce the firing of a prosecutor hot on Burisma's trail.
Ingraham's segment regarding the January 2016 White House meeting on the Burisma topic is fascinating television. President Donald Trump's lawyer Rudy Giuliani will be releasing a podcast at noon Friday exposing new details from his ongoing investigation into Democrat Ukraine corruption and the Bidens. The reported appears to be linked to the White House meeting, or perhaps even present at it, according to the evidence presented.
"We are going to report that [State Department official] Elizabeth Zentos attended a meeting at the White House on 1/19/2016 with Ukrainian prosecutors and embassy officials as well as … [redacted] from the NSC … the subjects discussed included efforts within the United State government to support prosecutions, in Ukraine and the United Kingdom, of Burisma Holdings, … and concerns that Hunter Biden's position with the company could complicate such efforts," wrote New York Times reporter Ken Vogel in an email discussed by Ingraham.
Meanwhile…
Rep. Adam Schiff, Democrat chairman of the House Intelligence Committee, is facing accusations that he either knowingly or accidentally falsified a summary of evidence that he sent to his Democrat colleague Jerry Nadler ahead of President Donald Trump's active Senate impeachment trial.
Schiff is leading the campaign to remove President Trump from office for asking the president of Ukraine to help in his efforts investigating Joe Biden's alleged corruption in Ukraine involving his son Hunter's board membership on the gas company Burisma Holdings. Now, it seems clear that Schiff mixed up the identity of Ukraine president Zelensky and the owner of Burisma, Mykola Zlochevsky, when referring to Rudy Giuliani associate Lev Parnas' efforts in the Biden investigation.
The issue arose when Schiff (D-Calif.) sent a letter to House Judiciary Chairman Jerry Nadler (D-N.Y.) last week summarizing a trove of evidence from Lev Parnas, an indicted former associate of Trump's personal attorney Rudy Giuliani. In one section of the letter, Schiff claims that Parnas "continued to try to arrange a meeting with President Zelensky," citing a specific text message exchange where Parnas tells Giuliani: "trying to get us mr Z." The remainder of the exchange — which was attached to Schiff's letter — was redacted.
But an unredacted version of the exchange shows that several days later, Parnas sent Giuliani a word document that appears to show notes from an interview with Mykola Zlochevsky, the founder of Burisma, followed by a text message to Giuliani that states: "mr Z answers my brother." That suggests Parnas was referring to Zlochevsky not Zelensky.
Politico passage ends
Republicans hope to show Schiff as a compromised figure in the Ukraine affair. Schiff was the beneficiary of a D.C. fundraiser thrown by arms dealer Igor Pasternak, who was born in the Soviet Union, did business in Ukraine, and has been integrally involved in Ukraine-US relations for years. Schiff thereafter became a major proponent of sending a package of U.S. taxpayer money to Ukraine for defense purposes.
Schiff has already garnered derision for presenting a false transcript of President Trump's phone call with Zelensky in front of the House of Representatives, defending his actions by stating his presentation was a work of "parody."