Last Updated on January 17, 2020
Democrat presidential candidate Joe Biden's son Robert "Hunter" Biden allegedly coasts through his misadventures in life with the help of "identity theft," according to private investigators who have been digging into Hunter as part of his paternity case in Arkansas involving his unborn love child.
Hunter Biden appears to have used the identity of his deceased brother Beau Biden, whose widow he dated, when he got busted in Arizona in 2016 with a cocaine pipe.
"Stolen identities were used to check defendant Robert Hunter Biden into an Arizona facility and providing false statements to the Prescott Police Department," according to a "Notice of Identity Theft" filed in court by the private investigation firm D&A Investigations Inc.
"These stolen identities include his deceased brother Joseph R. Beau Biden III, and Joseph McGee," according to the private investigators.
The 2016 Hunter Biden Prescott, Arizona police report describes the shenanigans involved in Biden's conduct and the role of an individual, identified in scare quotes as "Joseph McGee," among other characters.
Hunter Biden is the father of a love child in Arkansas that he fathered with a reported stripper in Washington, D.C., according to a court order from Arkansas Circuit Court Judge Holly Meyer.
Jonathan Turley explains: "In the order, Meyer ordered the Arkansas Department of Health to issue a birth certificate listing Biden as the father."
Hunter Biden was recently spotted in Los Angeles amid new developments in his personal and professional scandals.
Hunter has been laying low, prompting worldwide speculation concerning his whereabouts and the viral "Where's Hunter?" meme. Now, Hunter has been tracked down, and his court battle in Arkansas with the mother of his unborn biological love child threatens to bring new revelations to the forefront of his national disgrace.
The Daily Mail captured him for a photograph in Los Angeles: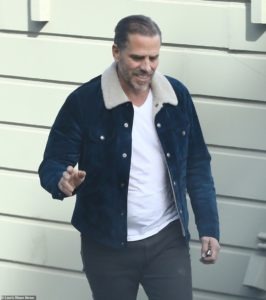 National File recently reported:
Robert Hunter Biden, son of Democrat presidential candidate Joe Biden, is evading a new Motion to Enforce Settlement Agreement from his ex-wife Kathleen, who claims that Hunter Biden has violated terms of their agreement. National File obtained all of the Bidens' divorce documents ahead of the next hearing in the case on December 18 in Washington. D.C. Will Hunter Biden appear?
Here are some of the recent documents, showing numerous failed attempts to reach Hunter Biden to serve him.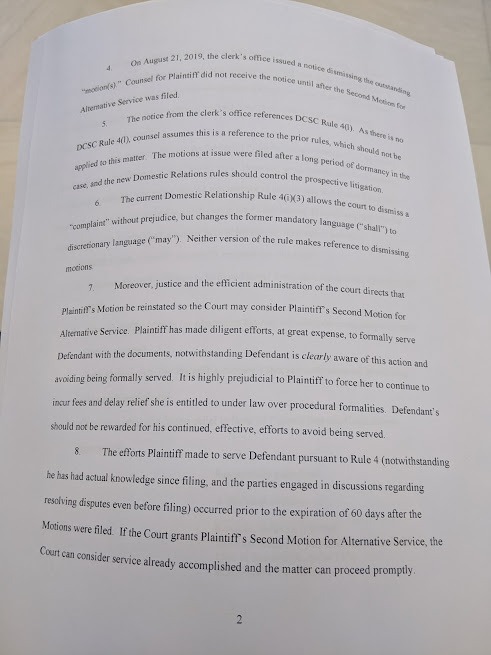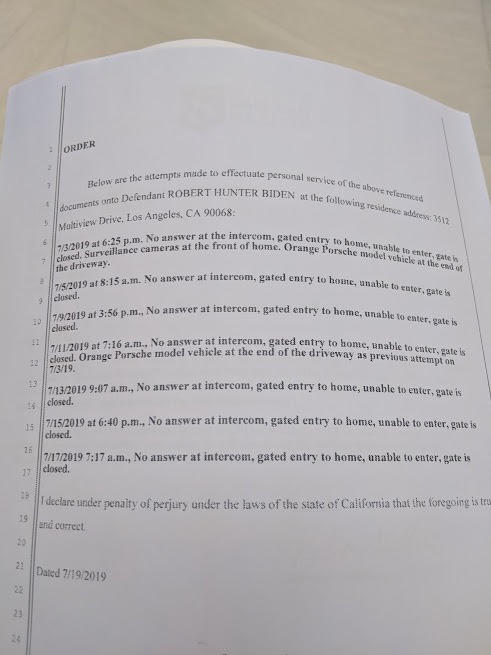 Kathleen Biden's lawyer Wendy Schwartz submitted a recent filing stating, "Please accept for filing the attached Affidavit of Service of Marshall E. Yaap stating under oath that the Motion to Enforce Settlement Agreement and October 9, 2019 Order entered by the Superior Court of the District of Columbia have been served on Defendant, Robert Hunter Biden ("Defendant") by first-class mail, certified mail, Federal Express, email, and text message."
A notarized document confirmed that the Motion to Enforce Settlement Agreement was sent from Kathleen's team to Hunter Biden, that "The U.S. Postal Service online tracking shows that the Process is en route to Defendant's home" and "The Federal Express tracking history confirms that the Process was delivered to Defendant's home at 3:43 p.m. on October 16, 2019."
Judge Steven Wellner issued a statement: "On June 20, 2019, Plaintiff filed a Moton to Enforce Marital Settlement Agreement. On July 19, 2019, Plaintiff filed a Moton [sic] for Alternative Service, claiming that Defendant was evading service on the Motion to Enforce."
Kathleen's lawyer Schwartz writing to Hunter Biden on October 15, "Ms. Buhle is hopeful that we can resolve this matter without the need for a public court hearing."
The Motion to Enforce Marital Settlement Agreement submitted by a Kathleen Biden attorney stated, "Defendant has breached the MSA, including without limitation Sections 7, 9, 16 and 21."
A DNA test confirms that Hunter Biden impregnated a woman in Arkansas.