Last Updated on November 1, 2022
High School cheerleader, Victoria 'Tori' Leanne Moody, 18, of North Little Rock, Arkansas, died midway through a life-saving surgery attempt after a blood clot traveled to her heart on October 23rd.
"Victoria Moody went to be with the lord today. My princess. And I just wanted everyone to know that she had a blood clot in her lung and they were doing surgery and she just didn't make it through. It was [too] late, the blood clot [had] traveled to her heart. I just know everything was going to be okay. Victoria will be missed. Big huge 'I Love You soo much' but I know you are with the Lord now. Rest In Love my princess," Christy Ausbrooks announced in a Facebook post.
"I would like to thank everyone who was there tonight in honor of my sweet baby sister. It means so much to our family to see the love [people had for her and I know she loved everyone just as much," Sierra Brooke McCarty said.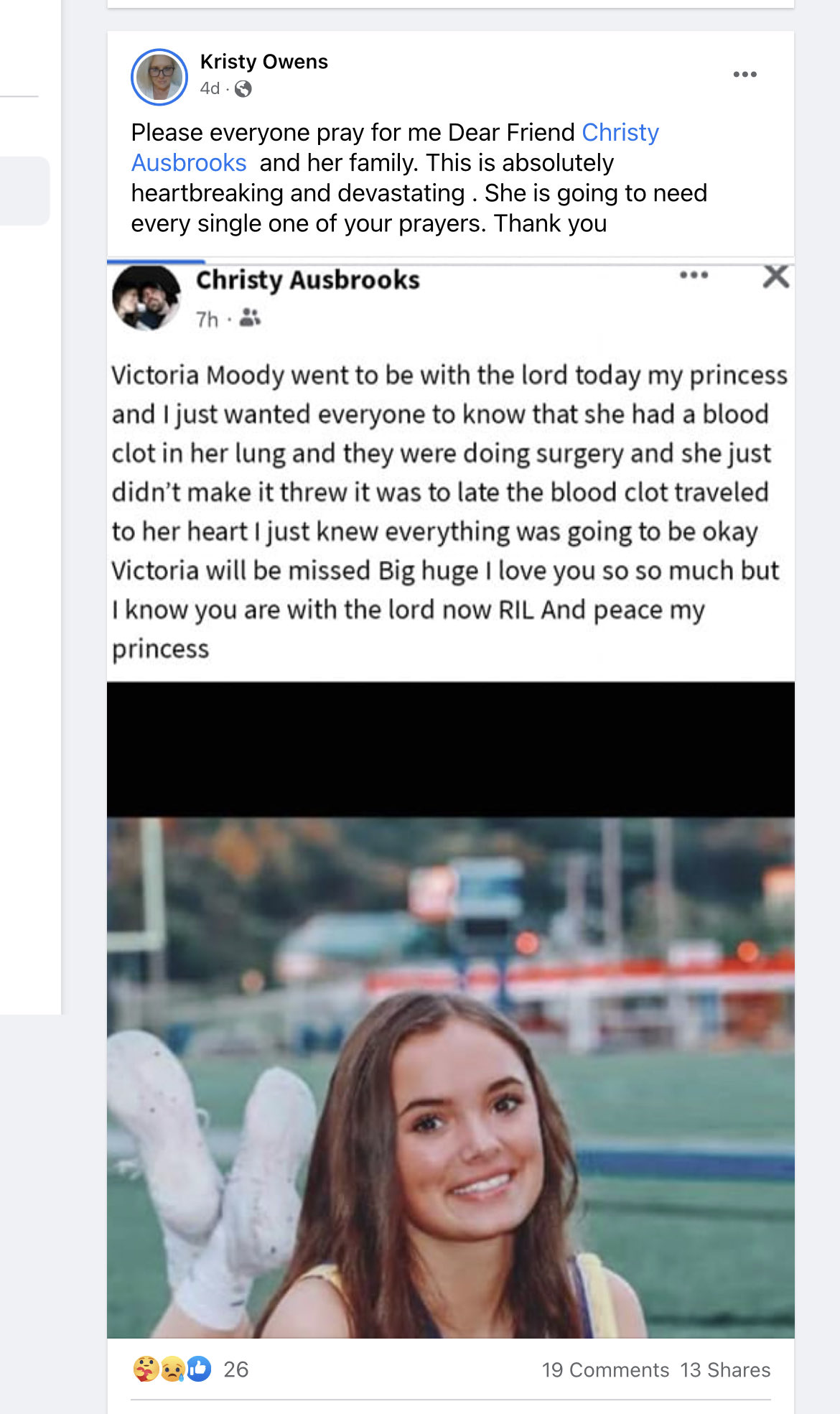 Tori was on the North Little Rock High School Varsity Cheerleading and competition teams.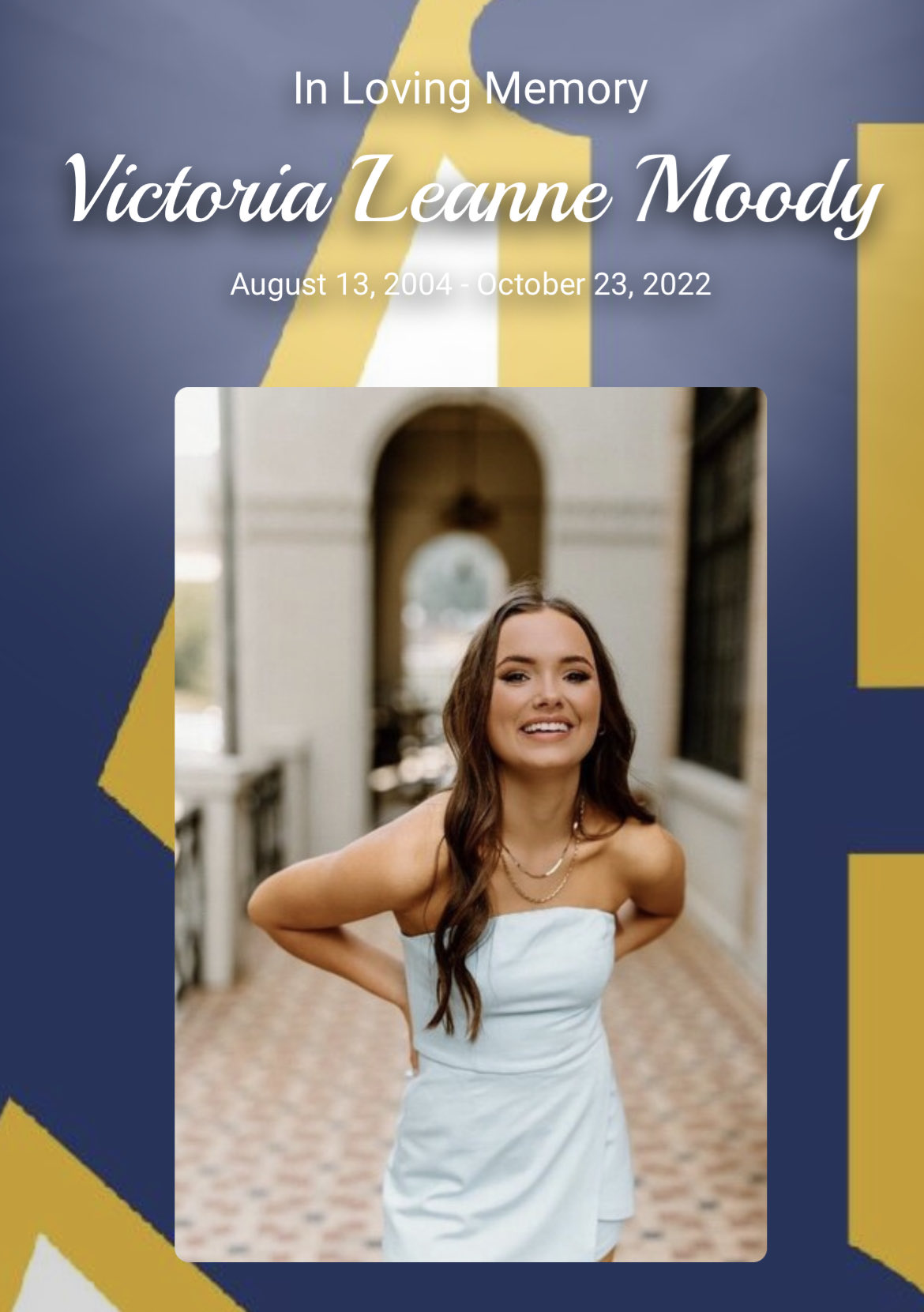 "On behalf of the North Little Rock High School and Center of Excellence PTSA, we express our deepest condolences to the loved ones, teachers, classmates, and friends of Victoria (Tori) Moody," North Little Rock High School PTSA said in a Facebook post.
"She apparently had a pulmonary embolism that was just too far advanced to stop it," Tori's sister, Brooke McCarty said.
McCarty stated that her sister had been fine until Sunday evening when she was taken to the hospital by her father, Brian Moody, after Tori said did not feel well.
"I just wish more than anything that she would be here, and I just don't really understand how it happened, or why it happened," Tori's older sister, Brooke said.
A pulmonary embolus (PE) is the result of a blood clot or a thrombus in a deep vein, most often in the leg. An embolus can break off of the deep vein thrombosis (DVT) in the leg and become a PE.
According to Johns Hopkins, smoking, a lack of exercise, old age and obesity are some of the biggest factors in the causes of a pulmonary embolism (PE), also called a blood clot.
However, PE events which followed COVID vaccinations is a topic that already has published studies in the National Library of Medicine (NLM).
In August, Wauseon, Ohio High School football player, Kaden Clymer, was hospitalized and had six feet of blood clots removed from his body after he complained of pain in his legs. He was left physically unable to play football for the rest of his life.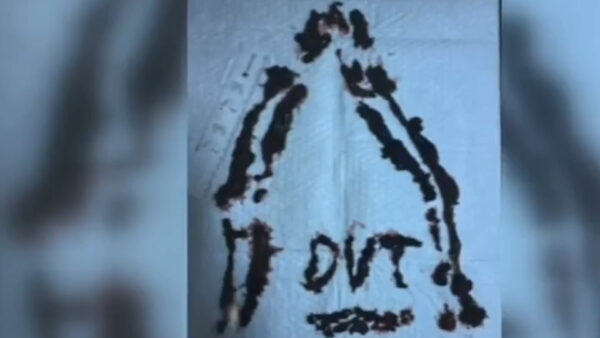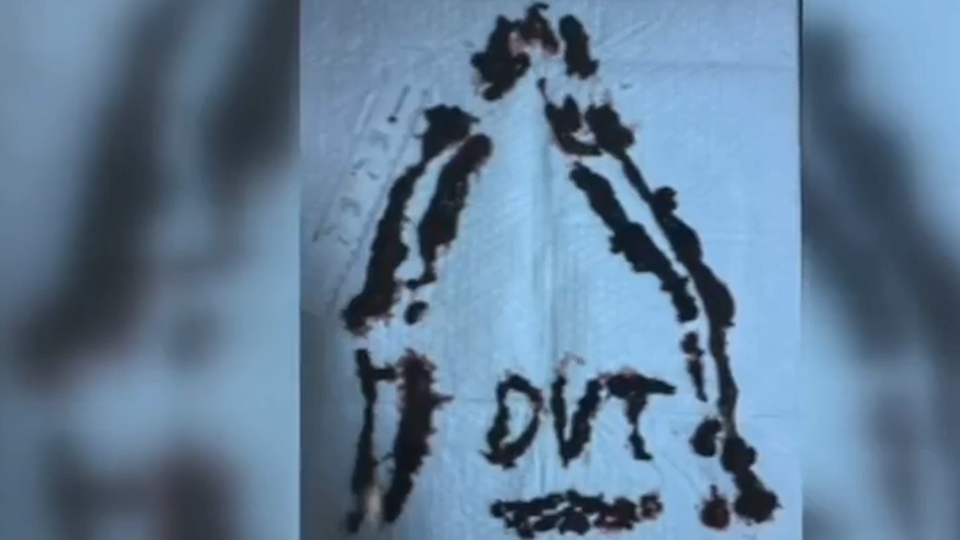 Six feet of blood clots were removed from the body of high schooler, Kaden Clymer, in August.
A candlelight vigil was held for Tori on October 24th at 6:30 PM.
Tori's funeral service was held on October 28th at 10:30 AM at Christ Church, 11800 Vimy Ridge Road, Alexander, Arkansas and her visitation was held the day prior at the Dial & Dudley Funeral Home in Bryant.
"This is so dystopian. A nightmare is unfolding before us and half of humanity is completely unaware. It doesn't feel real, yet it stares us in the face every day. Just imagine a world where everyone jabbed is gone in 5-10 years. That's impossible to comprehend. Catastrophic," one Twitter user said.