Last Updated on January 14, 2023
Harvard Medical School is training its students on "caring for patients with diverse sexual orientations [and] gender identities," including "infants," according to a class description listed on the school's website. By Harvard's own admission, the entire class on "infants" and others deemed trans or sexually "diverse" is based on the left's re-written versions of "science" and "medicine," which students are required to "ground" themselves in after signing up.
The Harvard Medical School course is titled "Caring for Patients with Diverse Sexual Orientations, Gender Identities, and Sex Development" and mentions "infants" explicitly, among others, as an affected age group that those who enroll in the course will work with, in a clinical setting. 
According to The College Fix, the publication that first exposed the disturbing news from Harvard Medical School, one of the directors of the course on "infants" deemed "LGBTQIA+" is Alex Keuroghlian, a psychiatrist and "LGBT advocate" at Fenway Health, which is affiliated with Harvard.
"An outspoken supporter of removing healthy organs from individuals and injecting them with puberty blockers, Keuroghlian has authored research that connected transgender drugs and surgeries to better mental health outcomes for pateitns. He has also condemned government restrictions on the procedures."
As The College Fix notes, Keuroghlian's views have been challenged by medical ethicists.
While the class will regularly meet at Massachusetts General Hospital, it also has ties to the Boston Children's Hospital, which has drawn national attention for its public promotion of childhood transgender "treatments" and surgeries. There, students will gain "clinical experiences."
"This elective is a four-week multidisciplinary clinical-and-scholarly experience that trains students to provide high-quality, culturally responsive care for patients with diverse sexual orientations, gender identities, and sex development," a description of the course in Harvard Medical School's class catalog reads.
"Clinical exposure and education will focus on serving gender and sexual minority people across the lifespan, from infants to older adults," Harvard's class description explains.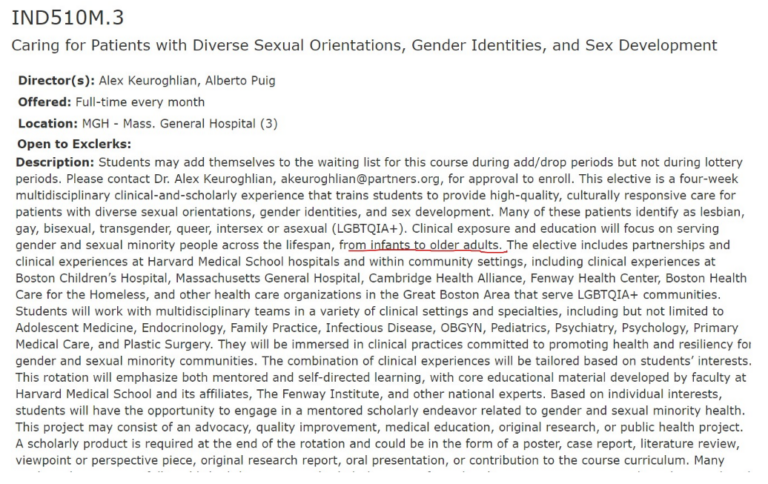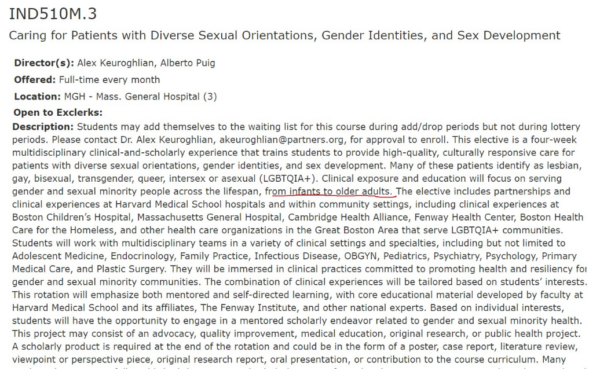 Further into the class description, Harvard disclaims that, before enrolling, students must "ground" themselves in phony left-wing "science" and medical practices, explaining that "each medical student will receive an updated packet of foundational and current peer-reviewed articles in the area of gender and sexual minority health," calling transgenderism a form of "evidence-based medical care."
It is important for medical students to "acquire the knowledge, attitudes, and skills needed to provide sensitive and affirming care," for men claiming to be women, and vice versa, says Harvard.
The embrace of phony science and the grooming of infants, the class description reads, is a direct result of Harvard Medical School's "Sexual and Gender Minority Health Equity Initiative."