Last Updated on May 30, 2022
Philadelphia residents are buying guns in record numbers as crime has soared to record levels since 2020. According to a report from The Philadelphia Inquirer, the number of licenses issued in 2021 spiked by more than 600%, with 52,230 new carry permits. The year before saw just 7,444 permits issued.
Statewide, gun sales surged in 2020 by 49% over the prior year, with a total of 1,141,413 firearms reported as either lawfully purchased or privately transferred, according to data from the Pennsylvania State Police. Licensed firearm dealers accounted for the vast majority of those transactions.
Although sales dipped slightly from an all-time high in 2020, Pennsylvania residents still bought more than 1,000,000 guns for the second straight year.
Val Finnell, who serves as the director of Gun Owners of America in Pennsylvania, said he has talked to scores of first-time gun owners since pandemic lockdowns led to a nationwide spike in violent crime. "A lot of people coming to the table at gun shows are first-time gun owners," he told The Philadelphia Inquirer. "The most common scenario I run into is people purchasing their first firearm for self-defense."
In 2020 and 2021, the sales or transfers of handguns or long guns exceeded 1 million for the first time. Last year's total represents a 165% increase from the total from 2000, the Inquirer reported.
In 2021, the state issued 384,522 carry permits, representing a 24% increase over the record-setting year before.
"A lot of people had to wait for [licenses] during the pandemic because the gun permit unit was shut down," Finnell said. "So, now you see that backlog being cleared. I think it's a response to the civil unrest during the pandemic. People who live in a higher crime area, they're the ones who need access to that the most."
The City of Philadelphia — which shattered its homicide record in 2021 — saw the most dramatic spike in gun ownership in recorded history. According to state police data, an average of about 24,000 handguns in Philadelphia alone were sold or transferred in each of the past two years. The city averaged just 11,096 handgun sales or transfers in over the preceding five years.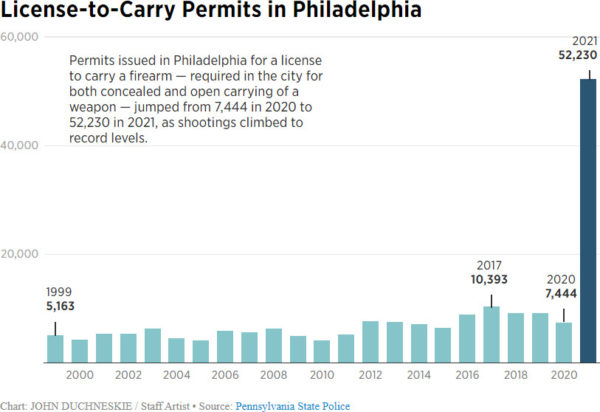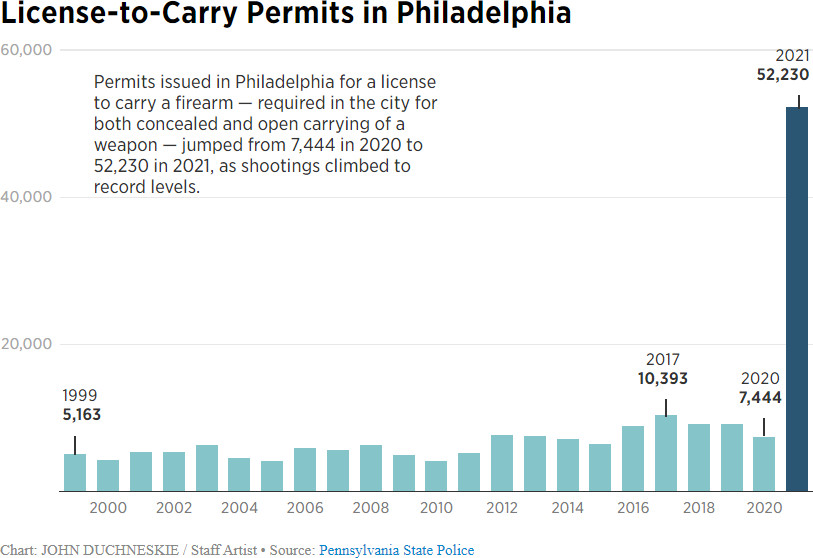 The city, which has seen a slight decrease in homicides in 2022, has been the site of numerous self-defense shootings in 2022.
In November, an Uber driver shot two men who were attempting to carjack him in Philadelphia's Mayfair section. The gun owner killed one of the suspects while the other was arrested. Another gun owner shot and killed one of two home invaders who were posing as Philadelphia police officers this past April.
Most recently, a man fatally shot a would-be robber who approached him on a bicycle as he was smoking a cigarette on his front porch.
Illegally obtained handguns have accounted for the majority of Philadelphia's 200 homicides in 2022.