Last Updated on May 8, 2022
Crowdfunding giant GoFundMe suspended a fundraising campaign for an 8-year-old girl who began to experience debilitating brain injuries just weeks after receiving a dose of Pfizer's COVID-19 vaccine. The child's mother, Jennifer Jones, strongly believes that the child's injury is vaccine related, according to a report from Frontline News.
On Tuesday, Frontline News reported on the severe vaccine injuries suffered by 8-year-old Ryleigh Jones. Just week after receiving one injection of Pfizer's COVID-19 vaccine, the child lost her ability to walk. She also experienced shortness of breath and chest pain and began to suffer from "sudden episodes of psychotic rages and blackouts and has suffered significant memory loss."
Jennifer Jones, Ryleigh mother, took her daughter to VCU Medical Center in Richmond, Virginia on 11 occasions over the span of two months. According to Frontline News, doctors refused to investigate a link between Ryleigh's rapidly deteriorating condition and the injection.
On April 18, doctors told Jones that her daughter had Functional Neurological Disorder (FND). This is a term used by doctors for neurological disorders they can't explain.
Jennifer set up a GoFundMe link in March in order to raise money for her child's medical bills. As of Tuesday, the fund had raised $8,000 dollars, falling short of its goal of $25,000.
Then, on Wednesday, after Frontline News had published their story on the child's suspected vaccine injury, GoFundMe notified Jennifer that they had shut down the campaign and refunded all donations back to the donors.
"We are reaching out to you to inform you that your fundraiser has been removed because it violates our Terms of Service, which you can view here. Specifically, the content of your fundraiser falls under our 'Prohibited Conduct' section."
While the campaign did not violate GoFundMe's TOS, the company reserves the right to prohibit "any other activity that GoFundMe may deem, in its sole discretion, to be unacceptable."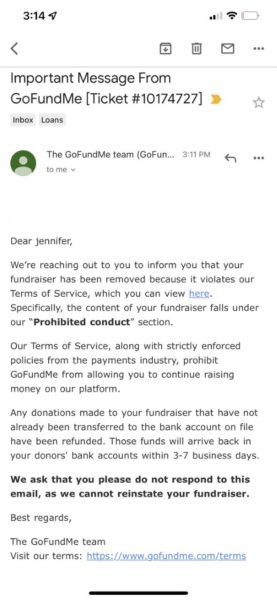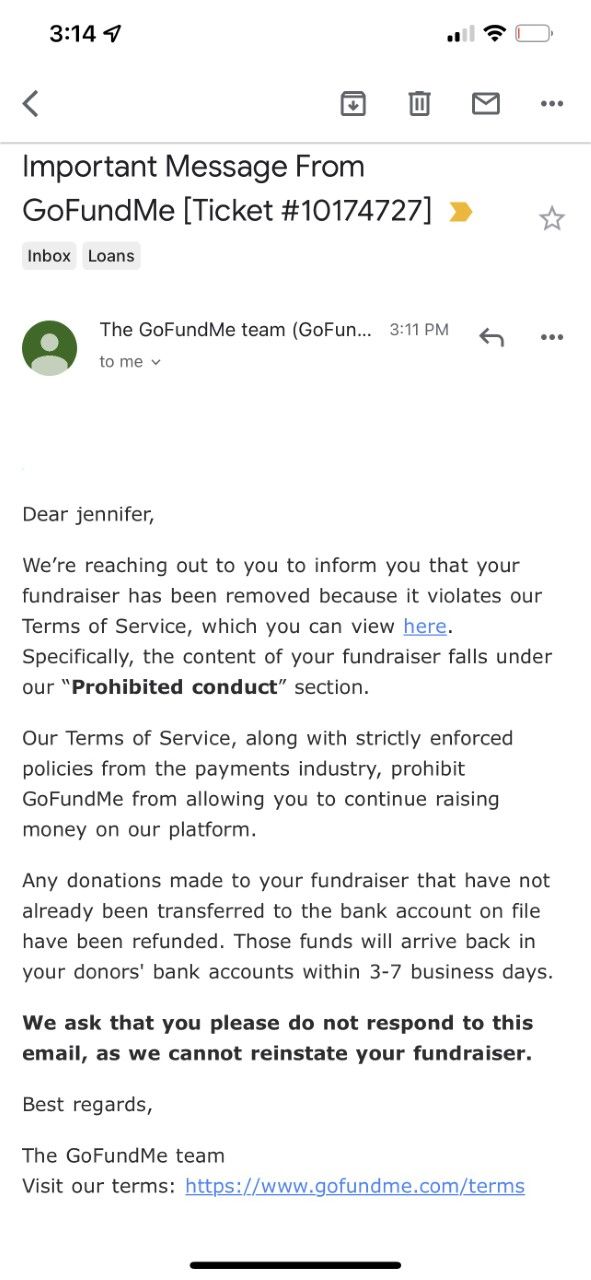 Jennifer Jones has since set up a fresh campaign for her daughter's medical bills with GiveSendGo, which can be found here.
GoFundMe has repeatedly shut down campaigns related to COVID-19 and the subsequent mass vaccination campaign. The platform has also suspended defense funds for Kyle Rittenhouse and infamously tried to steal donations to Canada's Freedom Convoy and reroute them to progressive causes.