Last Updated on May 15, 2023
A GiveSendGo crowd-funding page has raised more than $1 million to go towards the defense of Daniel Penny, the Marine Corps veteran charged with 2nd-degree manslaughter, by Soros-funded Manhattan DA Alvin Bragg, in the death of subway marauder Jordan Neely. Penny faces up to 15 years in prison if he's convicted.
The GiveSendGo page to fund 24-year-old Marine veteran Daniel Penny's legal defense has received thousands of donations, which will be handled by the law offices of Raiser & Kenniff, P.C, the firm that's defending Penny from the prosecution team of Manhattan DA Alvin Bragg.
According to the GiveSendGo page, nearly 30,000 people have donated to Penny's defense, mostly in the form of small donations between $10 and $100, but a few large-scale donations have also come in, including one, from an anonymous donor, for $10,000.
The $10,000 donation included a note that reads "Thank you for protecting those citizens that day," referencing Penny's restraint of subway marauder Jordan Neely, a mentally ill man with a long rap sheet that included violence and who was threatening the lives of New York City subway riders when Neely and a group of other men sprung into action.
After an altercation, that included Penny restraining Neely in a choke hold, Neely was taken to a hospital and later died.
"Daniel Penny is a twenty-four-year-old college student and decorated Marine veteran, facing a criminal investigation stemming from him protecting individuals on a NYC subway train from an assailant who later died," the GiveSendGo explains.
"Funds are being raised to pay Mr. Penny's legal fees incurred from any criminal charges filed and any future civil lawsuits that may arise, as well as expenses related to his defense. All contributions are greatly appreciated. Any proceeds collected which exceed those necessary to cover Mr. Penny's legal defense will be donated to a mental health advocacy program in New York City."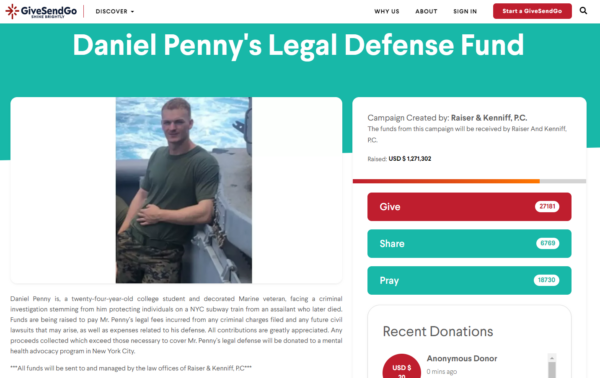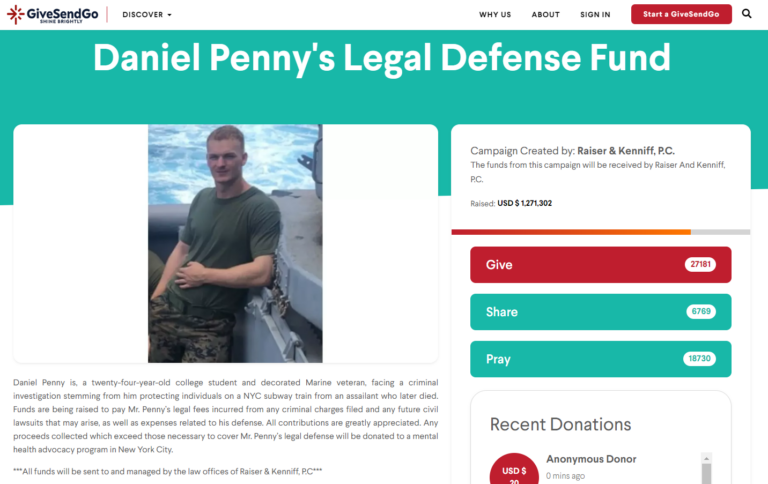 Donate to Penny's legal defense on GiveSendGo HERE