A veteran from the United States Army, living in Georgia, claims to have a "child" with his life-size sex doll "wife," according to Popular Military.
Terry Wayne East from the Dalton-Chatsworth area in North Georgia has taken to social media to show off his "wife," who recently bore him a "child," a boy named Hunter.
East's wife, an inanimate sex doll named Stephanie, has reportedly pampered the army vet according to her social media page, often cooking him meals and showering him with praise.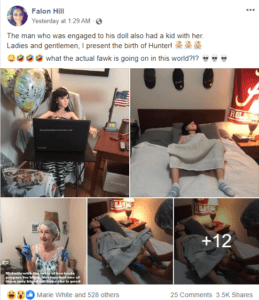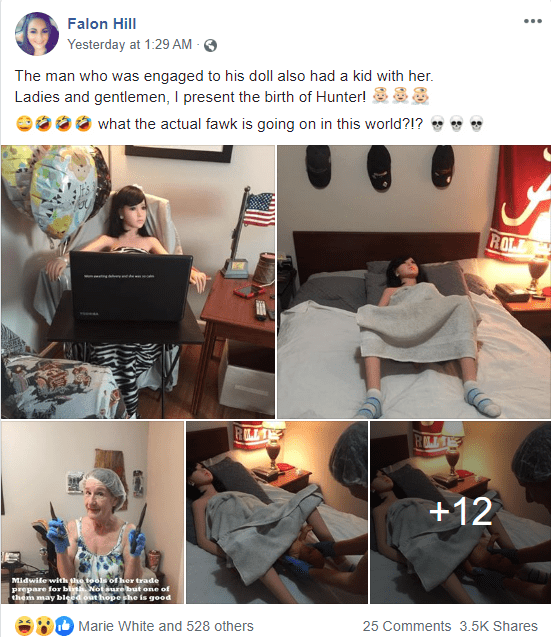 Stephanie reportedly wrote, "I met Terry W. East online and two weeks later I was out of tyranny away from my homeland China and in his arms on my way to becoming an American," on social media.
In another post, Stephanie wrote, "Well Terry Terry W. East was really sick last weekend his birthday so we didn't get to do anything so I celebrated it today so here are some pics and his present I got him last week and had it his love you baby."
In spite of negative comments on the posts, with people questioning East's mental health, the vet appears to have full support from his mother, who was there at the "birth" of his "child."
Even a birth certificate was filled out for the birth of East's son to announce the arrival of baby Hunter into the world.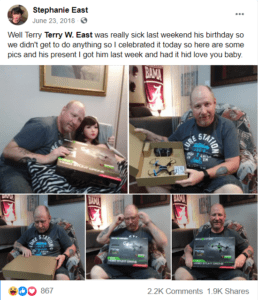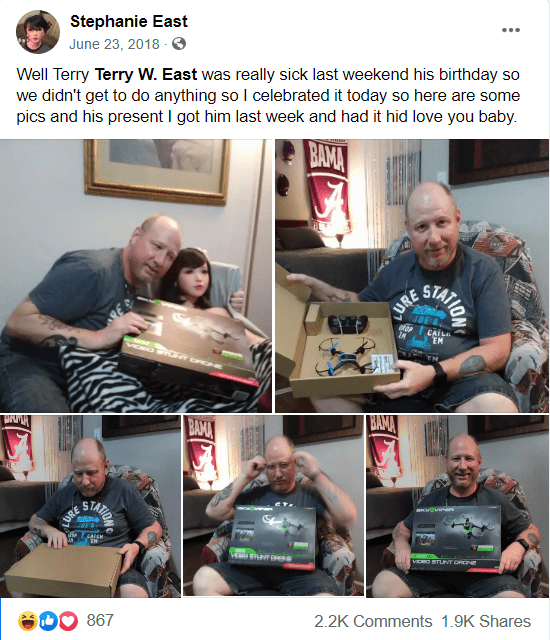 Discuss Global added a slideshow of pictures detailing the birth of the doll, Hunter.
Since then, conspiracy theories over Stephanie's disappearance have emerged.
A popular Facebook group was set up to ponder the topic of her whereabouts. It has ballooned to over 16,000 members since March of 2020.
East's devotion for the life-size doll may have emerged following the loss of a fiancee.
Discuss Global reported:
It would seem many have become so consumed with the fictional cold case they have forgotten the real people involved. People have posted screenshots messaging Terry, Stephanie, Terry's mother, and even his deceased spouse. Despite the real life people now having to deal with online harassment, those demanding answers remain focused on their goal of learning what exactly happened to Stephanie and Hunter.

While Terry was seen commenting on one of Stephanie's posts in the past 24 hours, there is still no confirmed explanation for any part of any of this relationship. Multiple people have claimed Terry is a veteran who developed mental issues. A woman claiming to be Terry's "former stepdaughter" posted in the main Facebook group requesting it be deleted. "He is a Desert Storm survivor. He is also a domestic abuser. My family and I suffered at the hands of him for a long time and we just want to move on. It's not funny. He's dangerous," she wrote. The account appears to have been disabled since making the post.
It is unclear if East is suffering from war related mental illness, or how the couple was able to procreate and obtain a child.