Last Updated on September 21, 2019
Marcy Sakrison is going into the family business — Lobbying and working for the special interest groups in Atlanta — and it could mean a MARTA invasion of the suburbs.
Most notable among those special interest groups is MARTA, by way of one of Atlanta's top lobbying shops called "Connect South."
Marcy Sakrison, or "MARTA Marcy," as some in the area have taken to calling her, took $1,500 from Connect South.
And Connect South has been instrumental in helping MARTA "[secure] the largest expansion of transit in Georgia's history.
That's according to Robbie Ashe, Chairman of the MARTA Board of Directors.
"ConnectSouth has been an influential voice for MARTA at the Georgia Capitol for several years. Their wise counsel and effective advocacy in 2016 helped us secure the largest expansion of transit in Georgia's history. Their relationships are second to none and we are thrilled to be working with them."
Connect South's own website even touts the claim.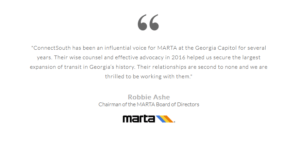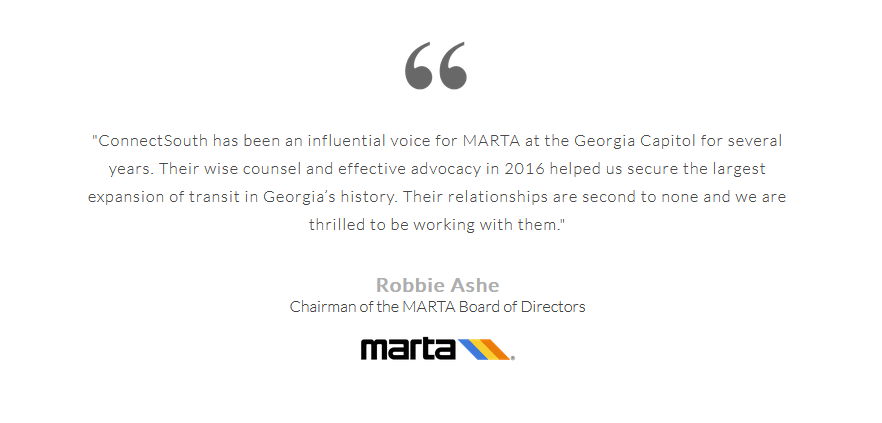 Now, "MARTA Marcy" as she is known, wants represent Coweta and Fayette counties in Atlanta.
You see, the apple doesn't fall far from the tree. Marcy Sakrison is career politician Lynn Westmoreland's daughter.
"I've worked down there [Gold Dome] for over 10 years," Marcy recently is quoted as saying.
TRANSPORTATION LOBBYING: IT'S ALL IN THE FAMILY
Westmoreland now serves as the third congressional district's representative on the very influential Georgia Department of Transportation Board.
Lynn Westmoreland, a recently retired ten term Congressman who left office in 2017,  famously bashed then-candidate and now Governor Kemp when Trump endorsed Kemp.
Relatedly, the Westmoreland family has a "busy construction business, according to AllOnGeorgia.com.
American Politicians have famously enriched themselves using insider knowledge about, highway and public transportation development to boost their own development projects.
It's no surprise, then that Marcy Sakrison is looking to expand MARTA into Coweta and Fayette counties. She recently touted her pursuit of the "Best transportation, more infrastructure [for Coweta County]" at a candidate forum.
WORKING WITH RADICAL DEMOCRATS IN ATLANTA
In an age when Republicans and Democrats are starkly divided on the role of government, Marcy seems willing to work across the aisle.
"I want to compromise with people at the capitol," Marcy recently said at a candidate forum.
Shockingly, Marcy even seems to brag about not being loyal to the Republican Party.
"I've never voted as a Republican," she has said.
In addition to working with Atlanta Democrats on transportation Marcy is apparently willing to keep some parts of Common Core in place, notably the testing.
In a question at a recent candidate forum regarding common core, Marcy answered, "I do agree with the testing."
Marcy also seems to think government bureaucrats like those sitting on school boards know more about educating their kids than the parents do.
"Board members know how to best educate kids," she has said.
SUBURBAN COUNTIES AREN'T HAPPY WITH MARTA
Even the Atlanta Journal Constitution admits that pro-MARTA votes "could potentially reshape the economies and quality of life of metro Atlanta's suburbs for decades to come."
Joe Newton, the man behind the very popular "No MARTA in Gwinnett" Facebook page and the purveyor of martahoax.com has knowledge about how these federal-style public-private transportation boondoggles can metastasize into growth and spending.
He's also familiar with stopping governmental overreach and invariably raised taxes. He didn't mince words.
"Marcy and the Atlanta fat cats want to bring MARTA, and all the rest Atlanta has to offer, right to our doorsteps here in Gwinnett, and now they're backing a Ralston-backed candidate down in Coweta and Fayette Counties," he said.
"MARTA Marcy has taken money from the public transportation lobby, and her election could well result in an expanded MARTA system," Newton explained. "MARTA and Marcy will ruin our safe communities, flood our streets and neighborhoods with ever more overflow from Atlanta.
"MARTA expansion means more people from Atlanta, less safety, lower property values, higher taxes, MORE traffic. Marta will forever change our culture in the suburbs of Atlanta."
"It's sad that Marcy is willing to go along with the lobbyists at the great expense of Georgia's communities just so she can have a fancy job in Atlanta," Newton said.
Indeed, Newton's experience in working to stop regional transportation growth is something suburban residents might want to take note of if they want to keep the core characteristics of their communities in place, as he notes in conveying the disparity in dollars spent by the pro-MARTA lobbyists in the Gwinnett project.
"MARTA advocates spent over a half a dollars against me and my coalition in Gwinnett County. The special election on Marta expansion in Gwinnett cost the taxpayers over $700,000 and they lost by a wide margin. [MARTA and their lobbyists] have no respect for the will of the voter and plan to bring it back on the ballot at the next general election. You must cut them off now or it will cost a fortune later," Newton explained.
Debbie Dooley is the President of the Atlanta Tea Party. She voiced similar concern for the residents of Cowetta and Fayette counties if Sakrison were to win office.
"If elected, Marcy Westmoreland Sakrison would be a servant of the special interest swamp instead of being a servant of the constituents in House District 71," Dooley said.
"Sakrison would put the concerns of lobbyists and dubious special interests, that have donated heavily to her campaign, above that of the concerns of the voters in the district," she explained.