Last Updated on April 10, 2021
General Michael Flynn has made his second major endorsement, and is throwing his support behind John Bennett for Chairperson of the Oklahoma Republican Party.
Flynn, a four star general and former National Security Advisor to President Donald Trump, endorsed Bennett in a post on his Parler account written this morning. "I strongly endorse John Bennett as the next GOP Chairperson for the Great State of Oklahoma. To all those delegates who represent the patriotic citizens of Oklahoma, your choice is clear and simple."
"As a U.S. Marine and now as a community Pastor, John Bennett understands service and sacrifice and is also someone who places what's right ahead of what's easy. For Oklahoma and for America, we need courageous leaders in charge of our conservative and God given values who willingly stand to put freedom back on the offensive. John Bennett is that person," Flynn continued. "God Bless Oklahoma and God Bless America."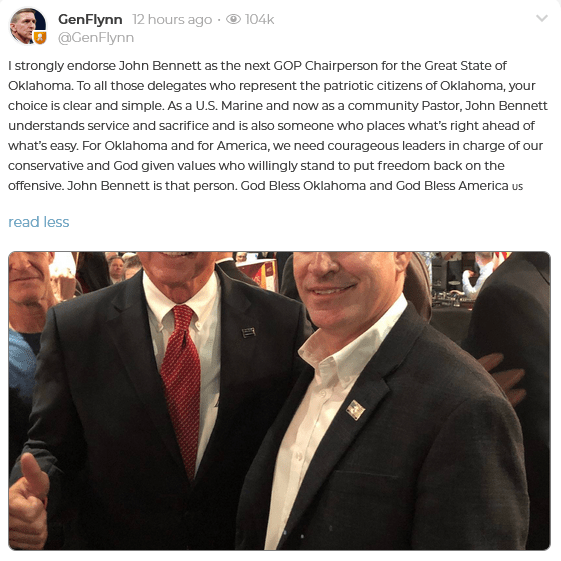 The announcement comes after his endorsement of Amanda Chase, the America First gubernatorial candidate in Virginia. "She is the strongest voice for VA's small businesses, she is a leader and champion of our 2nd Amendment. Amanda is a strong advocate for the Pro-Life movement, for family values and she will fight against the socialist agenda denying our Liberty and Constitutional Freedoms," Flynn wrote.
Flynn is widely speculated to be planning a presidential run in 2024, as his support grew throughout his lengthy prosecution, and expanded further after he was pardoned by President Trump in 2020.
Thus far, many believe Flynn's endorsements have showed more promise than those of President Trump, who has endorsed at least two senators who said he is guilty of inciting the mostly peaceful Capitol Hill protests on January 6, and recently endorsed Sen. Marco Rubio, who championed amnesty for illegal immigrants before running for President in 2016.