Last Updated on December 26, 2022
A recently bankrupt cryptocurrency exchange is calling on politicians to return any donations its former CEO sent out to help the exchange pay off debts.
FTX released a press statement on December 19th that explained how FTX Debtors are asking the company to have all donations ordered by former CEO Sam Bankman Fried be returned.
"These recipients have requested directions for the return of such funds to the FTX Debtors. The FTX Debtors are working with these recipients to secure the prompt return of such funds to the FTX Estates for the benefit of customers and creditors," the press release reads.
The statement encourages all donation recipients to return the payments or legal action may occur, which could force those payments to be returned with interest.
"To the extent such payments are not returned voluntarily, the FTX Debtors intend to commence actions before the Bankruptcy Court to require the return of such payments, with interest accruing from the date any action is commenced," the press release explained.
FTX's former CEO Sam Bankman Fried donated nearly $40 million in political donations this recent election cycle, primarily to Democrat campaigns.
However, as National File previously reported, FTX also donated large sums of money to anti-Trump candidates.
READ MORE: FTX Prioritized Anti-Trump Candidates with GOP Donations
One Republican called for the GOP members that received FTX money to donate said money to January 6th defendants.
"It's time for all Republican Congressmen that corruptly took money from @FTX_Official to fix the situation by donating those funds to the legal defense of the J6 defendants," Anthony Sabatini, a Florida Republican Congressional candidate, posted on Twitter in November.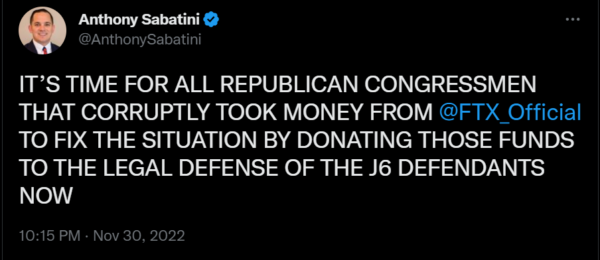 Stay tuned to National File for any updates.