Last Updated on December 12, 2022
A 2014 tweet by the former head of Twitter's Trust and Safety department, Yoel Roth, asserted that "the gays" have control over the "new media," while "the Jews" still control the legacy media.
"The Jews got old media; the gays, new," Roth wrote in a tweet published on May 23rd, 2014.
Roth made the statement in response to a question by a Twitter user which asked who had control of the media. The internet denizen's response was to a statement by Roth which asserted that locative media's earliest users were homosexuals.
"The history of locative media needs to acknowledge its early adopters: namely, gay men. The homo-sexualization of mobile communication," Roth said.
"Oh. So it wasn't the Jews who controlled the media but the gays? (Can I tweet that?" Sharrona Pearl asked Roth. "To be safe: kidding, people. Kidding."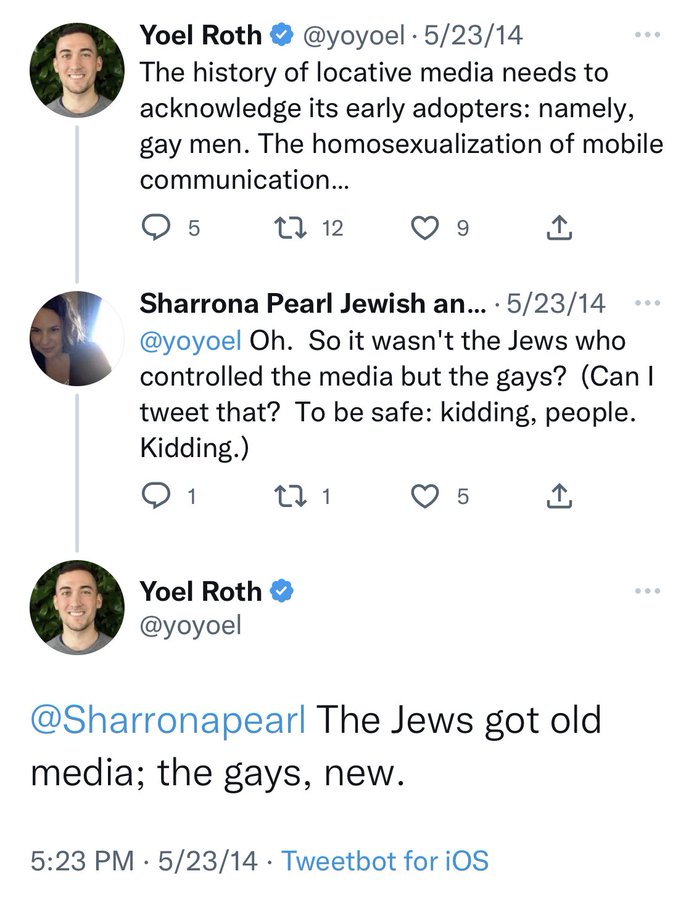 Former President Donald Trump called out Roth in May 2020 for his arbitrary censorship that targeted both his campaign and key America First allies. "This is the arbiter, this guy, he's the arbiter of what's supposed to go on Twitter. He's the one," Trump said. "He uses CNN as a guide. CNN, which is fake news. He uses CNN as a guide. His name is Yoel Roth"
The edition of @nypost which Trump is holding in the video is from Thursday, May 28th, 2020. https://t.co/rrZ7OCl2j6

— Addy Adds (@OneAddyAdds) December 12, 2022
Roth has been in the news since it was revealed that he regularly met with the Federal Bureau of Investigation (FBI) to discuss content moderation and narrative control on Twitter.
Independent investigative journalist, Matt Taibbi, released another batch of The Twitter Files on Saturday.
"After J6, internal Slacks show Twitter executives getting a kick out of intensified relationships with federal agencies. Here's Trust and Safety head Yoel Roth, lamenting a lack of 'generic enough' calendar descriptions to [conceal] his 'very interesting' meeting partners," Taibbi said.
Before the company opted to ban Trump from Twitter, content moderation officials began to add "warning" labels to many of his tweets. For example, on December 10th, 2020, a message revealed that "Twitter executives announced a new '1.3 de-amplification' "tool" which limited users from being able to share tweets by America's 45th president.