Last Updated on March 13, 2020
A whistleblower complaint filed to the U.S. House Oversight Committee in Washington, D.C. alleges that a recent family court commissioner in California has a repeated pattern of changing, fabricating or destroying transcripts and evidence in cases pertaining to the custody of children and the collection of child support.
NATIONAL FILE has exclusively obtained the bombshell whistleblower complaint, which provides documentation that purports to show the pattern of fabrication.
"Our office follows House protocols for whistleblower complaints and respects the Whistleblower Protection Act and the confidentiality it provides," California Democratic Congressman Mark DeSaulnier told NATIONAL FILE after processing the whistleblower complaint and submitting it to the House Oversight Committee, on which DeSaulnier serves on the majority.
Whistleblower Mark Andrews, a California process server, is the whistleblower who filed the complaint.
"I have documented evidence that a court officer – Commissioner Louise Bayles-Fightmaster- altered the transcripts to a hearing. She did it twice. I have two different versions of transcripts from the same hearing proving this" Andrews told NATIONAL FILE.
Bayles-Fightmaster has retired in recent years from her job as Commissioner — which is a role appointed by judges to act as surrogates for judges — and now she performs private mediation and private judge work.
In a child custody case in which Andrews has been trying to get custody back of his two children from his ex-wife, Andrews alleges that Bayles-Fightmaster altered transcripts to make it seem like she offered Andrews a due process hearing, as required by law, despite the fact that Andrews was not offered a due process hearing and has never received said hearing. The difference between the two transcripts that Andrews presents in his complaint shows the manipulation of the record by the court, according to his whistleblower complaint. Andrews alleges that the Court violated California Government Code 6200 (c) and California Penal Code 115 (a)(b).
For starters, the Court erased his lawyer's name from the second version of the transcript and falsely reported that Andrews was representing himself. Here's the first version of the transcript from Andrews' September 18, 2013 hearing listing his deputy public defender.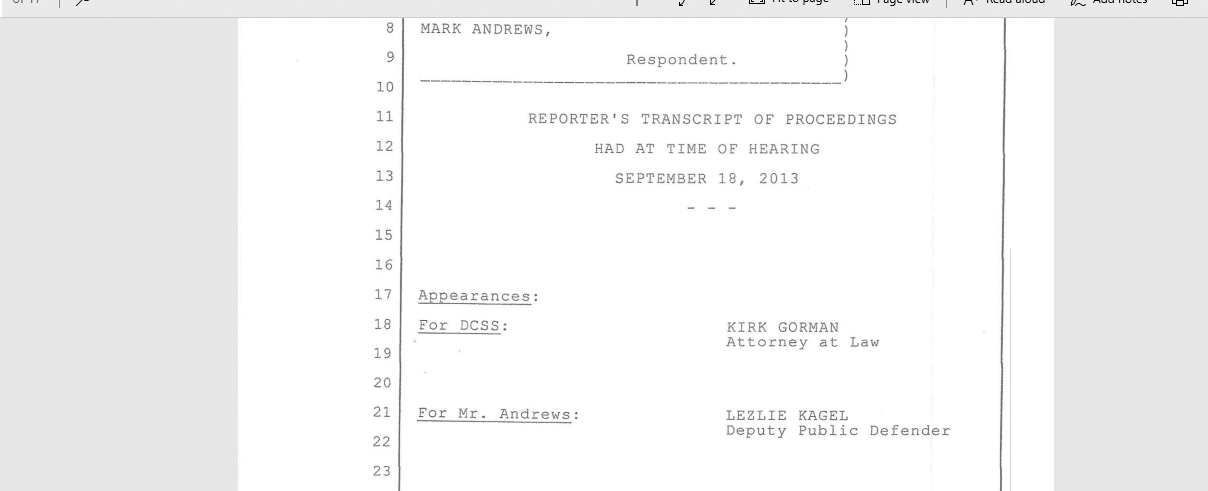 Here's the second transcript, listing Andrews as "In Propria Persona."

Andrews also gained permission to use the stories of Barbara Monroe and Paul Southwick, other people who feel they were slighted by Bayles-FightMaster.
"Mr. Farrell gave me every single piece of paper he had. I had this much stuff from him, which I threw out when I moved across the street. But I had this much stuff. He gave me everything I ordered him. I'm not going back and opening up that. I don't have a problem going forward. If she has a cause of action against one of her attorneys that's not relevant," the Court stated in the Monroe case, according to the transcript provided in Andrews' whistleblower complaint.
"Litigant Paul Southwick has his State Contractor's license suspended for non payment of child support under Cal. Family code 17520. His license was suspended for 14 months. I was witness to this in the courtroom. Mr. Southwick repeatedly ask the county's attorney and Commissioner Louise Bayles Fight-Master for his administrative hearing. Commissioner Louise Bayles Fight-Master refused to schedule this hearing and in a fit of rage yelled at Mr. Southwick, Now your driver's license is gone, slammed her gavel on the bench and stormed off ending his hearing," Andrews' whistleblower complaint states.
This new whistleblower complaint comes amid national scrutiny on family and juvenile courts, with parents and children alleging child molestation and child trafficking in the foster care system and corrupt practices by Child Protective Services (CPS) agents who take children out of their biological parents' homes. (READ: "A Betrayal of Trust": Child Molestation Alleged in California CPS). According to many parents, the juvenile courts and family courts are both part of the same corrupt system.
Parents allege that the federal government granting Title IV "incentive" money to states for collecting child support corrupts the system in much the same way as Title IV funding to states for overseeing foster care adoptions, which incentivizes Child Protective Services (CPS) to remove kids from their parents' homes and place them in foster care to await adoption. (READ: How Bill and Hillary Clinton Distorted Child Protective Services).
"The counties are in such desperate need of money to pay the judges, they stick it to these parents," Andrews said, noting that when he tried to get a hearing in a lower court in his custody case then Bayles-Fightmaster revoked his driver's license and professional license until he made a child support payment, effectively blocking him from being able to present new evidence in a lower court in a different jurisdiction.
"I wanted to get my case out of the county. I wanted it to go to a court in Oakland called OAH," Andrews said. "The state can just turn around and take your license. They don't allow you a hearing, you go to a hearing, you have to schedule the hearing, and they stalemate you."
A father recently made his thoughts known to the Judicial Council of California regarding family courts and the nightmare that they subject fathers to.