Last Updated on January 6, 2020
Last week, National File was the first news organization to break news about a job listing for a Disarmament, Demobilization, and Reintegration Officer posted by the United Nations' New York office.
On Sunday, Facebook-partnered "fact-checking" website Lead Stories published an article by Alan Duke which claimed our reporting as "Fake News."
In the article (archived here), Duke claims that the job listing is "NOT FOR USA" in garish red font and Lead Stories watermarks stamped over a screenshot of the original National File article.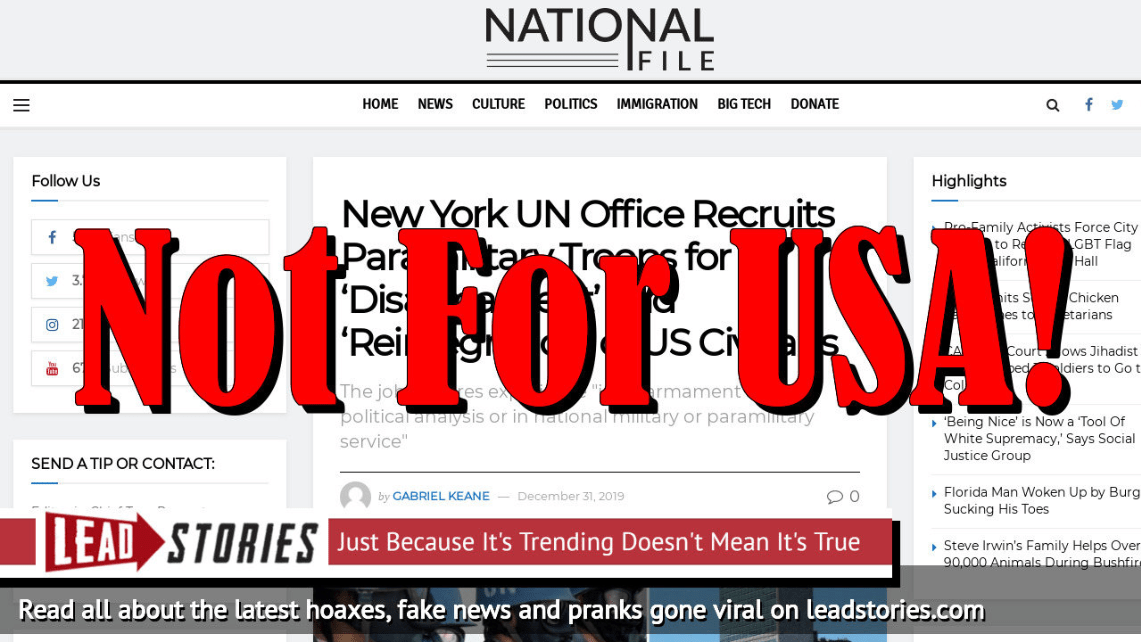 Duke's sole criterion for applying the "fake news" label is in an excerpt from the job listing's Work Experience section that says, "Experience working on DDR related programmes in Africa is desirable."
Duke incorrectly posits that this recommended experience is proof that the listing is "actually a posting for a managerial job working with African peacekeeping missions."
The job listing is explicitly for the United Nation's Department of Peace Operations in New York, and there is no evidence to support Duke's assertion that "the position would focus on Africa."
The former CNN employee also incorrectly claims "the posting is not for 'paramilitary troops,' but for an adminstrative [sic] position."

The first sentence search of the job listing's "Work Experience" section confirms National File's reporting about recruiting individuals involved in paramilitary service:
Seven years of relevant experience in disarmament affairs, political analysis or in national military or paramilitary service, preferably related to the design, implementation or review of DDR.

Duke also asserts, without evidence, that "the claim is part of a conspricay [sic] theory that 'globalists' are planning a takeover of America as part of the 'Deep State' war against President Trump. "
National File's reporting did not reference "globalists," a "Deep State," a "takeover of America," President Donald Trump, or "conspiracy theories."
Duke repeatedly attempts to tar National File's reporting with the potentially damaging label of "conspiracy theories," though the fact that he repeatedly misspells the word "conspiracy" may raise questions about his grasp of the term and ability to use it correctly.


Duke's profile page on Lead Stories lists his position as "Editor-in-Chief" and states that he had a 26-year year career with CNN covering "domestic terrorism cases."
Among the stories published by Duke is a "fact-check" of a piece published by well-known satire website The Babylon Bee.
https://www.facebook.com/alanduke/posts/10157618459286004
"Alerting readers to satire is needed, because too many people think what they are reading and sharing is true," Duke posted on Facebook. "This may seem silly to you, but it is a problem."
Strangely, though Lead Stories is used by Facebook to rate the veracity of news stories, the Lead Stories website shows that their accreditation with the International Fact Checking Network, run by the Poynter Institute, lapsed last year.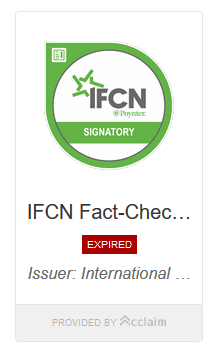 National File reached out to Lead Stories via email and phone to notify them that their reporting is inaccurate.
Lead Stories refused to consider the points raised by National File via email. Duke hung up on National File editor-in-chief Tom Pappert when reached via phone.
National File also contacted the law firm representing Lead Stories LLC, Sanders Law Firm, and did not receive an immediate response.
It should be noted that the founder of Sanders Law Firm, Perry R. Sanders Jr., is the Chairman and Co-Founder of Lead Stories LLC.
It appears Sanders' son, Perry R. Sanders III, is the Social Media Manager for Lead Stories LLC.