Last Updated on September 13, 2019
This writer was punished by Facebook for writing an article bemoaning a journalist who complained about the loud music volume at President Donald Trump's rallies.
In July, I covered a bizarre story for Big League Politics that featured a journalist who took audio readings during one of President Trump's rallies, and repeatedly complained that the volume of the music was too high and could cause permanent damage to hearing if maintained for dozens of hours.
The journalist made the case the President Trump's rallies could cause hearing damage to the delicate journalists forced to cover them, and seemingly suggested the president change his musical lineup.
However, the volume of President Trump's rally, which peaked at around 90 decibels, barely registers at all compared to concerts and live sporting events.
It would seem DiPaola's sensitive ears have never been graced with a rock concert. The current record holder for the loudest band on record is Manowar, which registered an earsplitting 139 decibels at a German concert in 2009. Other notably loud bands include The Rolling Stones, KISS, The Who, Motorhead, and AC/DC.

For more perspective, the same website chronicling the loudest bands notes that the noise made from fans of the University of Kansas' Jayhawks beat out Motorhead and AC/DC, reaching 130.4 decibels.
Now, almost two entire months after the article was published and posted to Facebook, the big tech platform insists posting the article violates its Community Standards, as apparently making fun of special snowflake journalists is now off limits.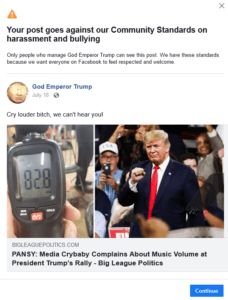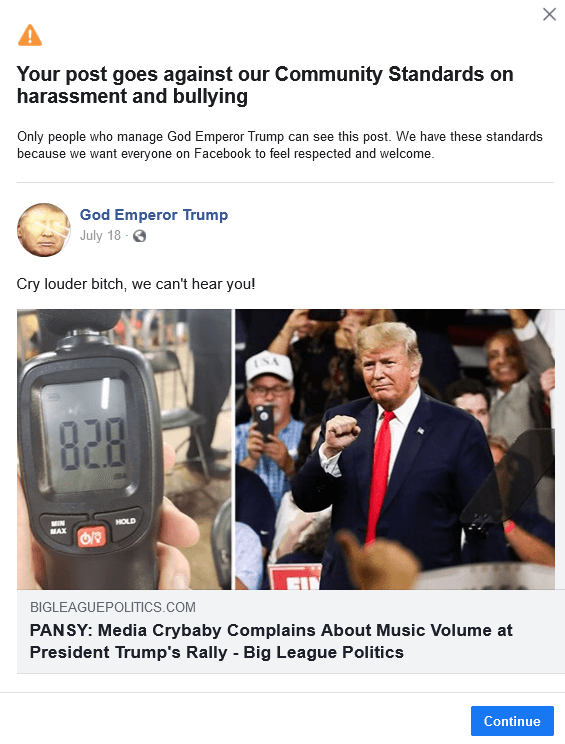 I asked Facebook to review the decision, and was almost immediately told that the article does, indeed, bully the public figure and should have been removed.


National File asked Facebook to comment on this seemingly nonsensical enforcement decision and did not receive an immediate response.