Last Updated on February 6, 2020
Clinton Elementary School in Columbus, Ohio has officially cancelled its Drag Queen Story Hour event, which was scheduled for February 11, after a pressure campaign led by Kay Elle Lothbrook and other pro-values activists.
"Yes," the school secretary at public Columbus Elementary said to National File Thursday morning, confirming that the event was cancelled. We asked why.
"Because of haters," the secretary stated.
This marks a significant milestone in the activist campaign to prevent drag queen story hours from being held in public schools. The relatively recent phenomenon — which casts uniformed transvestites as readers to groups of children — is fraught with controversy, but nonetheless embraced by the modern progressive political establishment and mainstream media.
"I'm going to call this a win! We can stop DQSH if everyone stands up like this & says #dragqueensarenotforkids," tweeted Kay Elle Lothbrook, who led a phone pressure campaign to cancel the event.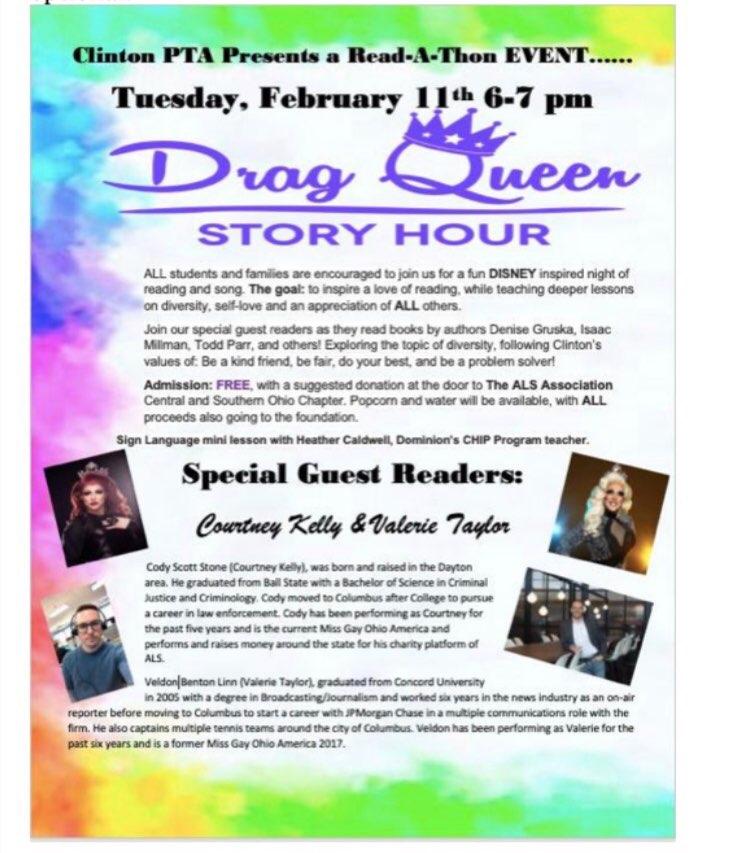 Drag Queen Story Hour, founded in 2015, states on its About page: "Drag Queen Story Hour (DQSH) was created by Michelle Tea and RADAR Productions in San Francisco. It started out as drag queens reading stories to children in libraries and grew into a global phenomenon! DQSH now offers literary and creative programming for kids and teens of all ages led by drag queens, kings, and creatures all over the world. DQSH is a global network of local organizations, each of which is independently managed and funded."