Last Updated on May 22, 2021
The US Election Assistance Commission (EAC) believes Dominion Voting Systems machines in Michigan use "modem transmission features" and "do not match the EAC-certified system configuration," according to a letter the inspector general of the EAC sent to U.S. Congressman Bill Posey, which was obtained by National File. A top Dominion executive reportedly testified that his machines use cellular modems, which experts previously said "make Michigan elections vulnerable."
EAC is an independent agency of the government created by the Help America Vote Act of 2002. Part of the EAC's mandate is to provide information and resources regarding election administration throughout the country. While the EAC is critical of the use of cellular modems to transmit data, Dominion CEO John Poulos reportedly testified on December 15 that while Dominion machines are not connected to the Internet, in some places they use cellular modems to transmit results after hours.
"In addition, even if a state purchases an EAC-certified system, a state may alter the certified configuration for state-specific requirements (such as straight-party voting or modem transmission of results). Each state performs its own system certifications, to include those state-specific requirements," the office of the inspector general for the EAC wrote to Congressman Posey. "For example, EAC believes Michigan may use modem transmission features in at least some of its Dominion voting systems. Dominion has not applied through EAC for certification of a voting system configuration that includes modem transmission, so if Michigan's Dominion systems use modem 4 transmission, their systems do not match the EAC-certified system configuration. However, Michigan would have certified its configurations of its systems in accordance with the state law cited above."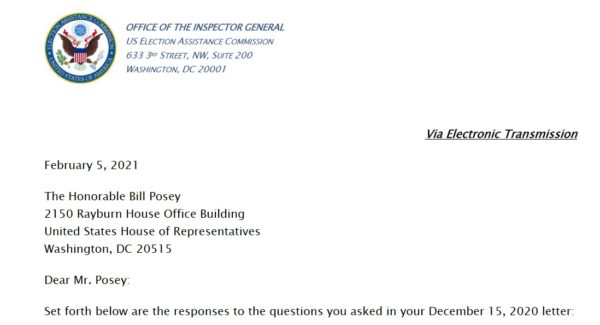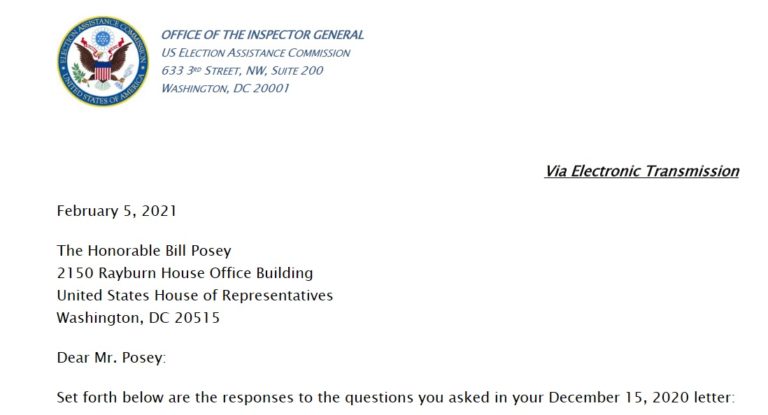 Posey referenced the letter in a March press release: "(1) prohibiting voting machines from connecting to the Internet, (2) requiring election hardware and software be American made, and (3) ensuring that election machines are fully auditable and that elections officials could no longer deny audits due to proprietary software or hardware issues.  Unfortunately, these amendments were blocked and not allowed to be voted on by the House."
"Why should the votes of the American people be subject to counting by foreign equipment that cannot be audited and that may be connected to the Internet? My amendments would promote election security by banning all three of these things," Congressman Posey stated. In October 2018, the Detroit Free Press ran the headline, "Experts: Cellular modems make Michigan elections vulnerable."


THE DETROIT FREE PRESS REPORTED IN 2018 (emphasis added): "With the Nov. 6 election less than 30 days away, Michigan officials tout the fact that the state's election machines are not connected to the Internet — eliminating a major hacking risk. But does that fact alone make Michigan's election machines impervious to hacking? Many researchers and election integrity activists say no. They say Michigan could be vulnerable as one of at least four states — along with Florida, Illinois, and Wisconsin — that use cellular modems to transmit unofficial election results. In an Oct. 2 letter to the U.S. Department of Homeland Security and the U.S. Election Assistance Commission, 30 academics, security experts and election integrity activists — including a computer science professor at the University of Michigan — expressed "grave concerns" about the devices. They said use of the modems makes election results vulnerable to tampering and could result in malware infecting election machines. They asked the federal government to warn states and local agencies against their use. "In short, they can wreak havoc on an election," the letter said…
"In 2017, Oakland County and all other Michigan counties replaced aging voting machines around the state with new equipment paid for with $40 million in federal and state money. Clerks got to choose among equipment from three manufacturers — Dominion Voting Systems, Election Systems & Software (ES&S), or Hart InterCivic. All three manufacturers offer the cellular modem option, Rozell said. He believes the use of cellular modems is widespread in Michigan counties and he couldn't say that all have established private cellular networks, as Oakland County has. The letter calling for federal action said connecting to public networks even briefly "can make the system vulnerable to attacks that could impact current or future election results."
"The convenience of transmitting vote totals online does not outweigh the need of the American people to be assured their votes will be accurately transmitted and counted," the letter said.
DETROIT FREE PRESS PASSAGE ENDS