Last Updated on June 4, 2020
A City Councilman in Castle Rock, CO and current candidate for Douglas County Commissioner has been expelled from of the Colorado chapter of Veterans of Foreign Wars of the United States (VFW), according to a letter obtained by National File.
"Please be advised that Castle Rock Town Council Member George Teal's membership in the Veterans of Foreign Wars of the United States has been terminated due to ineligibility," the letter, signed by VFW State Commander David Stone, says.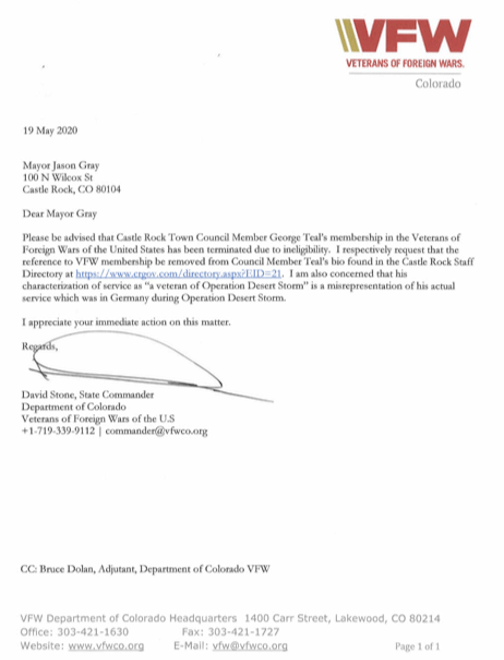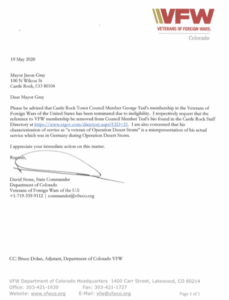 "I am also concerned that his characterization of service as a 'veteran of Operation Desert Storm' is a misrepresentation of his actual service which was in Germany during Operation desert storm," the letter says.
The letter was addressed to Mayor Jason Gray of Castle Rock.
Teal's biography on the Castle Rock City Council website claims that he is a veteran of Operation Desert Storm.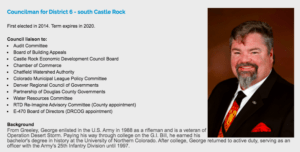 On Teal's campaign website, he also describes himself as a Veteran of Operation Desert Storm, but later ambiguously describes himself as a "wartime infantryman."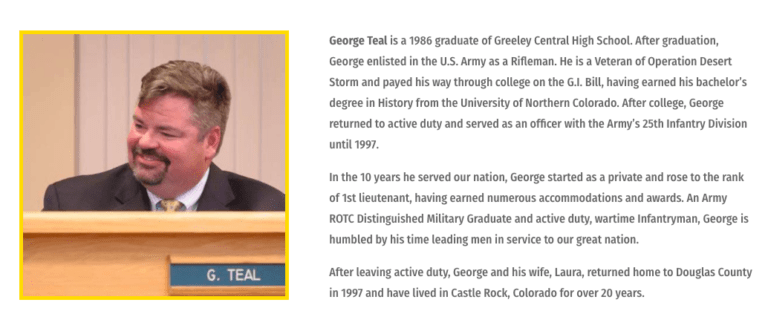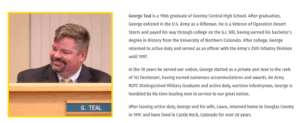 The latter characterization is what led retired Army LTC Anthony Hartsook to begin asking questions.
"I'm looking at his uniform and what he's writing and I'm saying, this doesn't jive," Hartsook told National File in a phone conversation.
Hartsook told National File:
I was researching all candidates for county commissioner by a Google search. George Teal's bio and his uniform picture did not match. I asked some friends about George Teal. A mutual friend asked if I would talk with George and I said 'yes.' I asked George if he had served in Desert Storm. He said 'no.' I asked him if he had ever led troops in combat and he said 'no.' I asked him why was he claiming to be a wartime infantryman and veteran of Operation Desert Storm when he was never there and never led troops in war or combat. He said he was in Germany as a reservist at the time. I told him that did not qualify as a wartime infantryman or veteran of Operation Desert Storm. I told him I was in Iraq for Desert Storm. I also asked how he was a member of the VFW, and he said they had different rules when he joined. I told him his website and Facebook posts were false and misleading and that he needed to change them. He said he wasn't going to change anything.
Hartsook, who spent 26 years in the Army, turned out to be correct.
When the VFW learned about Teal's misrepresentation, they stripped him of his VFW membership.
"If you never served in combat, bottom line, your website is wrong and misleading and you need to change it," Hartsook said.
Neither the Colorado VFW nor the national VFW were willing to provide a comment when contacted by National File.
Teal boasts a high-profile relationship with Sen. Cory Gardner (R-CO). The pair can be seen together in photograph on the Douglas County Republican Party's Facebook page:
https://www.facebook.com/dcgop/photos/a.10157100111335415/10157101125790415/?type=3&theater
National File reached out to Gardner's office for comment, but did not receive a response.
Teal has been endorsed by Aurora, CO Mayor Mike Coffman.
Coffman did not respond to an email request seeking a comment.
Further, Teal was nominated as a delegate from Colorado's 4th congressional district for President Donald J. Trump's re-election campaign, according to letter signed by Nicholas Trainer, Trump's National Director of Delegates and Party Organization: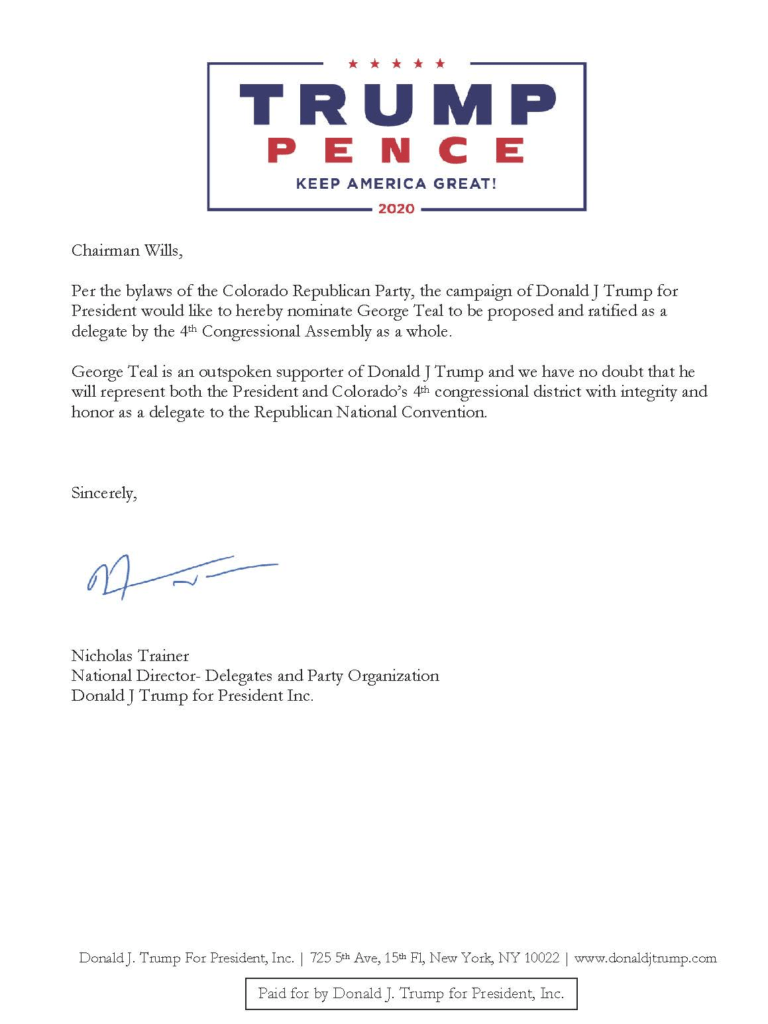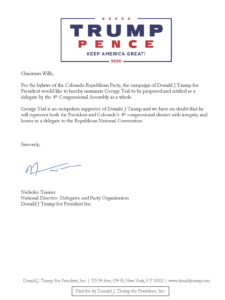 The letter says, in part, "we have no doubt that [Teal] will represent both the President and Colorado's 4th congressional district with integrity and honor as a delegate to the Republican National Convention.
Trainer did not return a comment request.
Follow Pete D'Abrosca on Twitter