Last Updated on February 16, 2021
AT&T is pressuring the Department of Commerce to keep a major Chinese Communist government state-owned telecom company off of the United States "Entity List," which is a U.S. government blacklist for foreign companies that are engaged in human rights abuses or which threaten U.S. national security interests, NATIONAL FILE has exclusively learned.
The Trump administration wanted to blacklist the telecom company for supporting China's oppression of the Uyghur people and actions in the South China Sea, but AT&T launched a desperate campaign to stop the blacklisting. Why? Because AT&T, the parent company of CNN, has a contract with China Telecom and fears business retribution from the Chinese government. NATIONAL FILE has confirmed these revelations with sources inside the Trump administration.
"China Telecom was set to be included on the Entity List because of its alleged support for the Chinese government's human rights abuses and activities in the South China Sea.  AT&T then lobbied to keep China Telecom off the Entity List," former Commerce Department Undersecretary Corey Stewart told NATIONAL FILE.
Sources tell National File that AT&T's business in China is very likely a driving motivator for AT&T's political action committee cutting off donations to Republican congressmen and senators who supported President Trump in the disputed election, and for CNN's hostile coverage of Trump.
The Trump administration was ready to place state-owned China Telecom on the Entity List due to its support for Chinese government actions in the South China Sea and Chinese government human rights abuses including mass incarceration of the Uyghur people, an ethnic minority, according to sources familiar with the situation.
If a company is placed on the Entity List, it becomes a veritable pariah and Americans need a special waiver from the government to engage in business with the company. Then Ed Gillespie, the former Republican National Committee chairman and Virginia gubernatorial candidate and currently AT&T's executive vice president for external and legislative affairs, personally phoned Trump Commerce Secretary Wilbur Ross in January and pressured him not to shake the boat with China, multiple sources have confirmed to NATIONAL FILE.
In the phone call with Ross and others at the Commerce Department, Ross stressed to Gillespie the moral imperative to blacklist China Telecom for supporting China's human rights abuses including against the Uyghurs, according to sources. Ross also told Gillespie that the Commerce Department was going to accommodate AT&T to allow them to keep doing business with China Telecom. But Gillespie was not satisfied. Gillespie said that AT&T was worried about some kind of retribution that the Chinese government could take against AT&T, like breaching or ending their contract.
As a result of that conversation, the Commerce Department decided to review the issue further. As of January 20 when the Trump administration left office, the Commerce Department was on course to place China Telecom on the Entity List despite AT&T's pressure. If the Biden administration does not get this job done, then presumably AT&T will be getting their way, and Ed Gillespie will be the political power-broker to blame.
In conversations with National File, several former Trump administration officials confirmed the account, and expressed concern at what appears to be an egregious example of a multinational corporation putting profits over human rights and the interests of the United States.
"In the weeks ahead of the inauguration, AT&T said they were going to bar any political contributions to Republicans supporting President Trump in contesting the election results, and here they are lobbying the federal government not to take action against a company that reportedly supports the Chinese government's repression of the Uyghurs," one source told NATIONAL FILE. 

"CNN is controlled by AT&T and they are not reporting on any of these clear conflicts of interest," another former Trump administration official told NATIONAL FILE.
"CNN's parent company is lobbying the U.S. government not to put sanctions on a Chinese government entity that is reportedly suppressing minority populations in virtual concentration camps in western China. AT&T had a strong interest in China, the Trump administration came out very strong against China. It seems obvious that this was why AT&T and their corporate affiliate CNN were so tough on Trump these last four years," the official said.
All of this raises questions about AT&T's efforts to protect what could be serious profit stemming from business deals with the Chinese company.
AT&T gained massive entry to the China market in 2011 by partnering with China Telecom. AT&T and China Telecom expanded their partnership in 2017. Their relationship dates back more than two decades. AT&T and China Telecom created a joint venture in 2000 that they later expanded. The Trump administration's FCC chairman Ajit Pai made it a priority with support from the Justice Department to try to block China Telecom from operating in the U.S. for national security reasons, but this Trump initiative remained unfinished at the time of the Trump administration's exit.
AT&T spent more than $12 million lobbying in 2019 and its affiliates made more than $13 million in political donations in the 2020 cycle, according to the Center for Responsive Politics. AT&T's political PAC cut off financial support in January for Republican congressmen and senators who fought to challenge the election results instead of simply certifying a victory for Joe Biden as multinational corporations desired. AT&T made it clear that it would not sell CNN — a potential move that has been speculated among insiders — during President Donald Trump's tenure. CNN of course rabidly antagonized the Trump administration for four straight years with all-out divisive propaganda.
The Chinese Communists are racing to bolster their naval presence in the South China Sea as tensions rise with the United States. The Biden administration sailed the USS Theodore Roosevelt into the South China Sea following China's violation of Taiwan's airspace, leading China to decry the U.S. action as bad for "stability." The U.S. Navy is engaging in its own training exercises in the sea. President Trump contained China during his term, including with use of tariffs that damaged the Chinese economy during trade-deal negotiations. But elements of corporate America clearly are favorable to the Chinese Communist Party.
China has reportedly taken between 1 and 3 million Uyghurs into custody for "re-education" in the past few years, suppressed information about the plight of the Uyghurs, and tortured members of the oppressed minority group. Hundreds of re-education concentration camps either are currently used or could be used to imprison the Uyghurs, whose women are reportedly sterilized by the Chinese regime. This has sparked international outrage including from U.S. Senators Josh Hawley and Ted Cruz, who both got cut out of any future donations from AT&T's political PAC for supporting President Trump in the 2020 election dispute.
AT&T's corporate culture enforces the idea of inventing the "future." But globally conscious observers are asking just what kind of future is AT&T inventing for this world? A future in which the Chinese Communist Party can brutally oppress people within its own borders with no repercussions from the United States, the only other superpower that could potentially curtail its global authoritarian ambitions?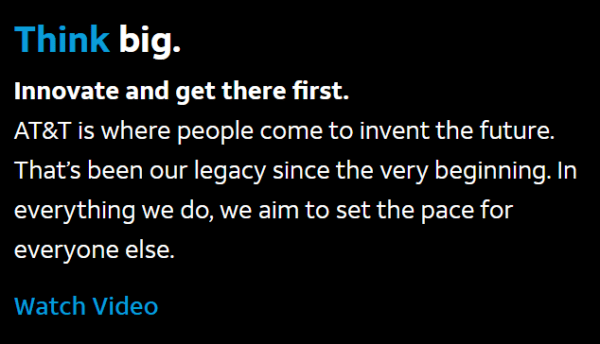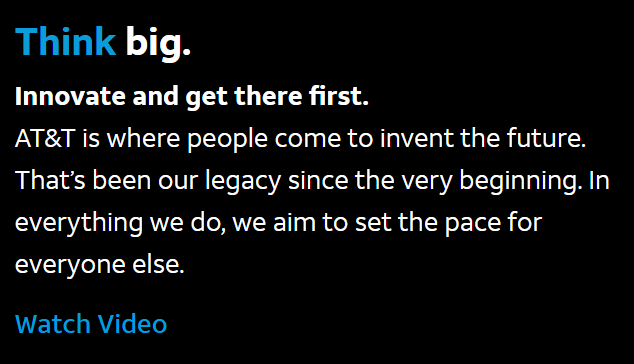 CNN has for some time been on the chopping block at AT&T, according to recent reports, owing to CNN's "failure to deliver for shareholders."
But despite the damage to its balance sheet, AT&T held onto CNN, and Forbes made clear in a recent article that getting rid of President Trump was one of — if not the primary driver — for holding onto the Time Warner property.
Will AT&T succumb to pressure from what the Wall Street Journal described as "takeover interest in the private-equity world" to sell CNN? Not as long as President Donald Trump remains the occupant of the White House.
Forbes's senior contributor Jonathan Berr explains how AT&T's earlier decision not to sell CNN may well change as soon as Joe Biden takes office.
AT&T, however, may change its tune after President-Elect Joe Biden takes office next month, given the company's financial challenges.
Whether the globally active telecom chooses to part ways with its less profitable public relations arm may depend on the extent to which AT&T feels the Biden administration's posture is friendlier than was the former administration's.
As far as what seems to have been AT&T's and CNN's shared objective of removing Trump from office goes, it's "mission accomplished."