Last Updated on December 29, 2020
Arizona State Representative Mark Finchem described Twitter and Big Tech as "CCP propaganda" after they suspended him for encouraging Arizona residents to call the Maricopa County Board of Supervisors.
Finchem, a State Representative for Arizona's 11th District, was suspended from Twitter for an indefinite period of time on Tuesday morning, after he encouraged residents in the state to phone up the Maricopa County Board of Supervisors. The Board is currently fighting subpoenas from the Arizona State Senate's Judiciary Committee that were handed out in order to perform a forensic audit of the Dominion voting machines and ballots in the county.
"I'm in Twitter jail because I gave out the government email, government phone number, and Twitter handles, which are already public, of the Maricopa County supervisors," Finchem exclusively told National File. "That's my offense."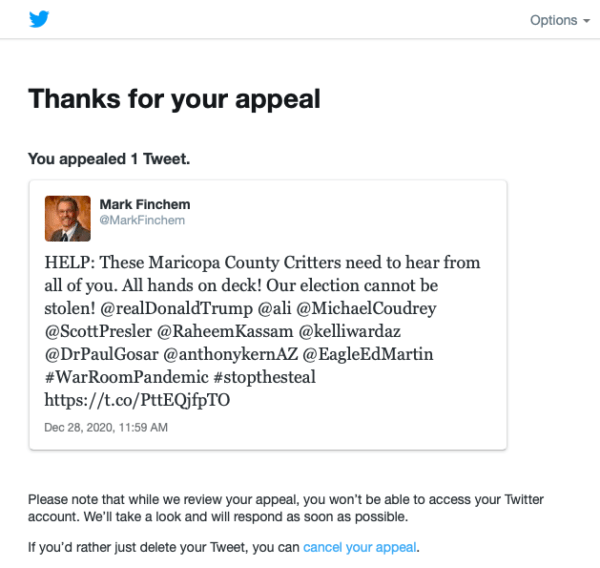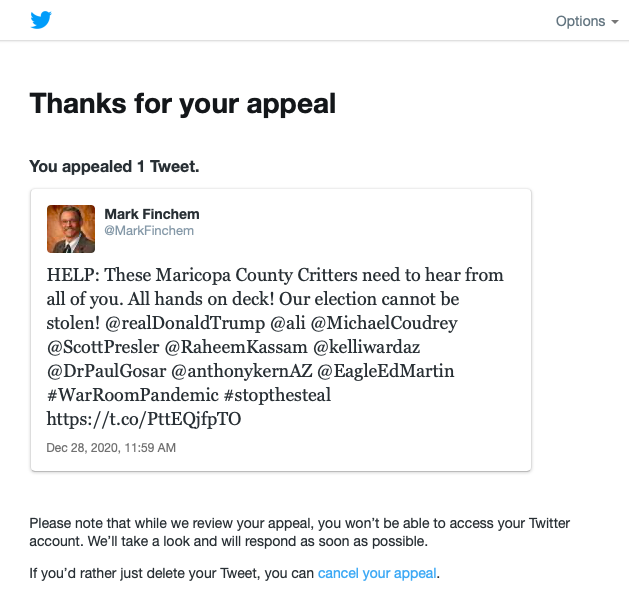 The campaign was pushed and encouraged by the Arizona GOP, led by Dr Kelli Ward. After their initial tweets, but before Finchem's suspension, the official AZGOP account tweeted that the Maricopa County Board is "pleading to make the calls stop," and that they have had to put more staff on their phones just to keep the lines operational.
Call the Maricopa County Board of Supervisors TODAY and demand they #AuditTheVote so that we have transparency in our elections. #TakeAction pic.twitter.com/RNTJokGpYa

— Arizona Republican Party (@AZGOP) December 28, 2020
The Maricopa Board of Supervisors are pleading to make the phone calls stop. They have had to put more staff on the phones to keep the lines up and operating. Hopefully they figure out soon that an audit is all the voters want. Do that small thing, the phone calls will end quick!

— Arizona Republican Party (@AZGOP) December 29, 2020
"They do not understand just how much of a gutful the people in Arizona have had of their shenanigans. You've got a lot of very angry people now," Finchem said. "I've got news for you folks. This ain't going away."
With the action from Twitter occurring following the initial push from the Arizona GOP to the Maricopa County Board, questions have been raised regarding Finchem's "indeterminate suspension," with two tweets being forcefully deleted. "That would be proof that Twitter is nothing more than a propaganda arm of the Chinese Communist Party," Finchem said. "You can't even talk about government officials? Amazing."
READ MORE: EXCLUSIVE: Arizona Rep Demands Special Session After Maricopa County Ducks Dominion Subpoena, Says Republicans Don't Have A Spine
Twitter has rules against posting the personal information of individuals online, known as doxing, but as Finchem highlighted to National File, government phone numbers are not personal information, but "paid for by taxpayers," and already public knowledge. "They should be thankful that I'm promoting their Twitter handle," the State Representative quipped.
National File also spoke to State Representative Warren Peterson, the Arizona House Majority Leader, who added that Twitter should be "helping get contact information out for elected officials, not stifling it," as the platform appears to be doing.
The Arizona GOP account has been having issues regarding the phone campaign with Twitter as well, with the party tweeting that the platform wants to "cancel" their account. "That's too bad, and all because we support our President and care about election integrity!"
REPORT: @Twitter wants to cancel our official account. That's too bad, and all because we support our President and care about #ElectionIntegrity! If that's how it ends, know we love you all and you can follow us on Facebok (@ArizonaGOP), Instagram (@AZGOP), and Parler (@AZGOP).

— Arizona Republican Party (@AZGOP) December 29, 2020
Finchem concluded with a message for Twitter, and the rest of Big Tech: "I'm coming for you guys." He slammed them for "colluding with other social media operations to act as publishers, not as platforms," violating not only Section 230 of the Communications Decency Act, but also the Sherman Antitrust Act. He revealed that he plans to introduce state legislation to force these organisations to pay a fine for their violations.
READ MORE: Arizona GOP Demands Ducey Order Early Start to Legislative Session Scheduled for January 11
In May, President Trump signed an Executive Order that would result in fines for Big Tech companies if they engage in "censoring or any political conduct," something the suspension of Finchem appears to be. Senate Majority Leader Mitch McConnell indicated on Tuesday that any discussion of the House bill regarding COVID-19 relief would be tied to an assessment of Section 230, along with investigations into voter fraud.
UPDATE: Twitter has denied Finchem's appeal, arguing that he violated Twitter's rules, despite not informing him in the support email which rules he allegedly violated. "This is what Soviet America looks like," Finchem told National File.