Last Updated on August 9, 2022
According to a report from the Miami Herald, an FBI source said the warrant was obtained from a federal magistrate judge in West Palm Beach. The West Palm Beach location of the U.S. District Court of the Southern District of Florida has three Magistrates: Judge William Matthewman, Judge Ryan McCabe and Bruce Reinhart.
The court's online database shows two recent warrant applications — both of which were assigned to Reinhart — were entered into its system on Monday, Politico reported. In addition, The New York Post reported that sources revealed that Judge Bruce Reinhart did indeed approve the warrant that led to the raid.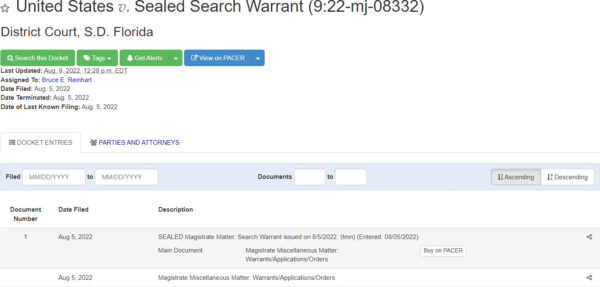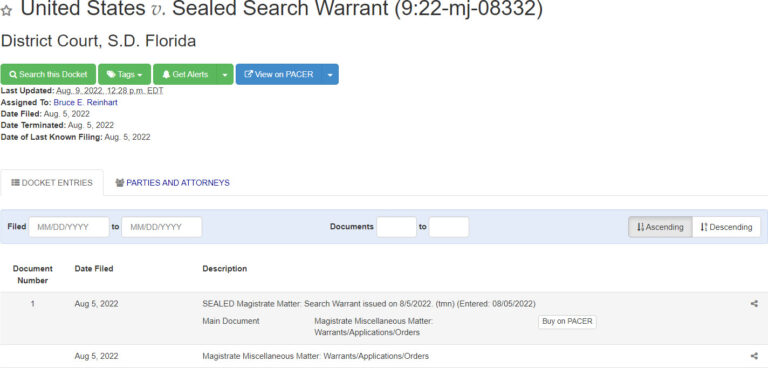 Reinhart was elevated to magistrate judge in March 2018 after 10 years in private practice. That November, the Miami Herald reported that he had represented a number of close Epstein associates. This includes Epstein's pilots; his scheduler, Sarah Kellen; and Nadia Marcinkova, who Epstein once reportedly described as his "Yugoslavian sex slave."
Reinhart has personally confirmed that he represented these individuals.
Kellen and Marcinkova were among Epstein's most trusted associates and were eventually granted immunity as part of a controversial 2007 deal with federal prosecutors. Under the deal, Epstein was allowed to plead guilty to state charges rather than federal crimes. He would ultimately spend just 13 months in county jail and was even granted a work release.
According to the Miami Herald, Reinhart resigned from the South Florida U.S. Attorney's Office effective on New Year's Day 2008 and went to work for Epstein's associates just a day later. Bruce Reinhart was later named in a civil lawsuit that accused him of violating Justice Department policies by switching sides in the middle of the Epstein investigation, suggesting he had used inside information about the probe to build favor with the notorious defendant, the Miami Herald reported in 2018.
In a 2011 affidavit, Reinhart denied any wrongdoing and insisted that since he was not involved in the federal investigation of Epstein, he was not privy to inside information about the case. Reinhart's former colleagues contradicted him, however, saying that he had "learned confidential, non-public information about the Epstein matter."
The warrant applications submitted to Judge Bruce Reinhart remain sealed as of August 9. Details surrounding the unprecedented raid are still emerging, but agents are believed to have been pursuing classified documents. Agents reportedly took several documents from the property and did not verify what they took.