Last Updated on September 21, 2022
Leicester, England has descended into complete chaos as ongoing ethnoreligious clashes between Hindus and Muslims continue to flare, coming as the direct result of England's open border policies and far-left policing practices that have allowed the situation to completely spiral out of control.
Ethnoreligious clashes have been playing out in England now for weeks, spawning in the City of Leicester, where, thanks to open-borders policies, Brits make up just 45% of the population. In Leicester, mobs of fighting-age Muslim migrants, largely of Pakistani origin, have carried out organized assaults on the city's Hindu faith Indian community, the men of which have risen up to respond to Islamic threats.
As National File reported on September 1st, clashes between Indian and Pakistani migrants took off in Leicester following an international cricket match between the two countries national teams. Leicester's left-wing police department has been accused of siding directly with Muslims amidst those clashes, and of pushing a blood libel against Leicester's Hindu community.
Helping to worsen the situation, Leicester police accused Indian Hindus of shouting anti-Muslim chants in the Hindi language, something the police now admit never happened. Apparently, though, the mere accusation enraged the Islamic community of Leicester and other cities beyond the point of no return.
Amidst their attacks on Indians, Islamic migrants have organized "patrols" to dominate the streets. In Leicester, ethnic Brits are being warned to stay inside their homes, for the sake of their own safety.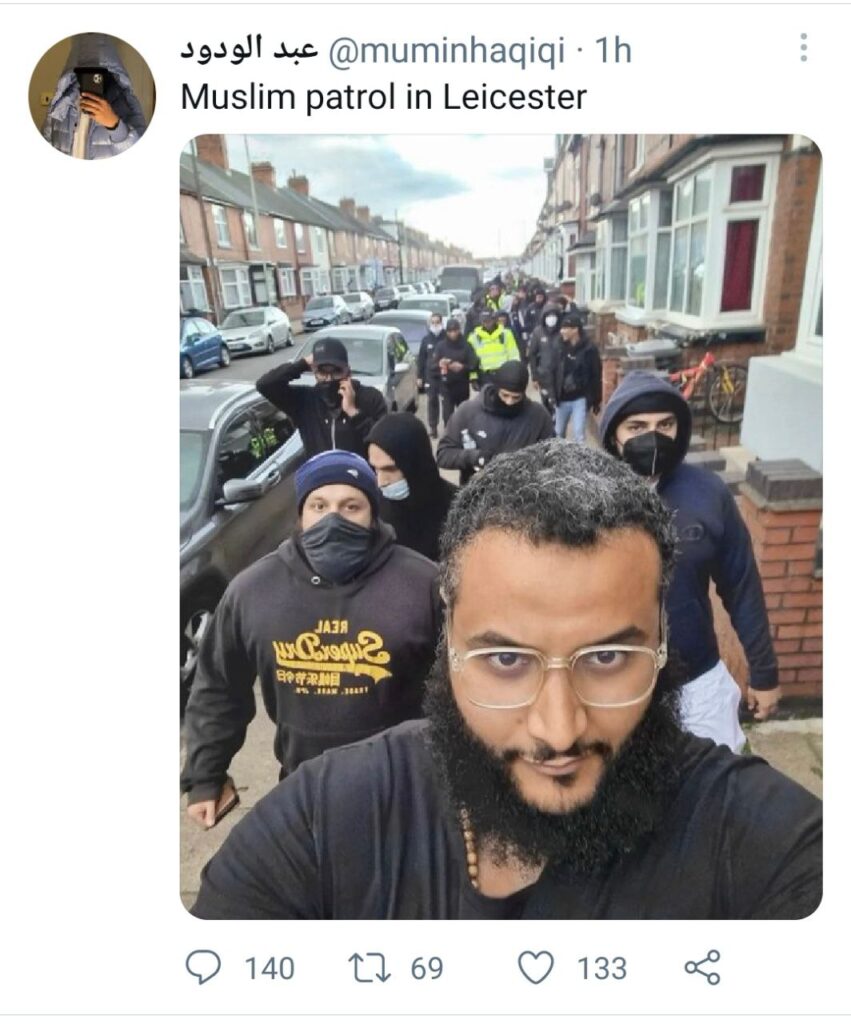 Islamic mobs have surrounded and attacked Hindu temples and have carried out attack raids against Hindu-Indian neighborhoods. The situation has become so severe that the Pakistani and Indian governments have begun to weigh in, throwing yet another wrench into the situation that can be completely attributed to England's open border policies.
"We strongly condemn the violence perpetrated against the Indian Community in Leicester and vandalization of premises and symbols of Hindu religion," a public statement from the High Commission of India reads, going on to call for British authorities to "provide protections to the affected people."
Press Release: High Commission of India, London condemns the violence in Leicester. @MIB_India pic.twitter.com/acrW3kHsTl

— India in the UK (@HCI_London) September 19, 2022
Former Member of Parliament and Brexit architect Nigel Farage blasted England's government over the situation, writing in a tweet that "virtually every single MP in Westminster is responsible for the ethnic and religious violence seen in Leicester. They decided to go down the road of diversity and multiculturalism. Our politicians have done this to our great country."
Attached to the Tweet was video footage taken of an intense clash in the city.
In the video, mobs of third world, fighting-age men can be seen fighting for control of the streets as police stand idly by or struggle to intervene. Notably, scores of the men have obscured their identities by donning COVID masks.
Virtually every single MP in Westminster is responsible for the ethnic and religious violence seen in Leicester.

They decided to go down the road of diversity and multiculturalism.

Our politicians have done this to our great country.

— Nigel Farage (@Nigel_Farage) September 20, 2022