Last Updated on May 9, 2023
Elon Musk dubbed the Allen, Texas mass shooting committed by a Hispanic man who the corporate media insists was a white supremacist and a neo-Nazi to be "a very bad psyop" (short for Psychological Operation) in a post he made to Twitter that also called out the globalist "investigative journalism" and "fact-checking" outfit, Bellingcat.
Musk made the comment in a tweet responding to The Redheaded libertarian account, which has made several viral posts that question the validity of claims that the mass shooter who killed 8 people at an Allen, Texas outlet mall was a "white supremacist" and a "neo-Nazi" despite being a Hispanic of Mexican descent.
Among other publications, many of the "neo-Nazi" claims have been made or parrotted by Bellingcat, a globalist publication based in Europe.
Bellingcat recently cited and expanded on a New York Times report that claims to have identified a pro-Nazi profile belonging to the shooter, 33-year-old Mauricio Garcia, on the Russian-language social media site Odnoklassniki, also known as OK. This is despite the fact that Garcia is not known to have spoken Russian.
Making the situation even stranger is that reports have claimed that Garcia was radicalized into neo-Nazism by a Jewish woman and a Korean man.
"Didn't the story come from @bellingcat, which literally specializes in psychological operations?" Musk replied to the tweet from The Redheaded libertarian (@TRHLofficial).
"I don't want to hurt their feelings, but this is either the weirdest story ever or a very bad psyop!"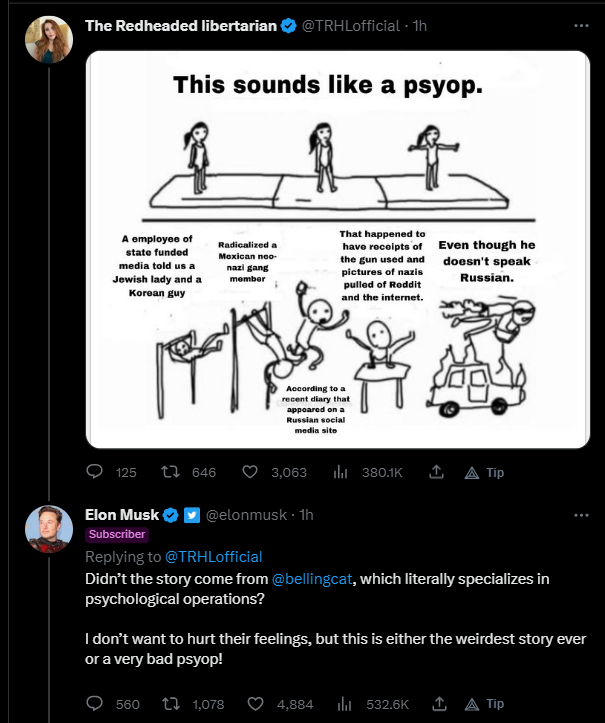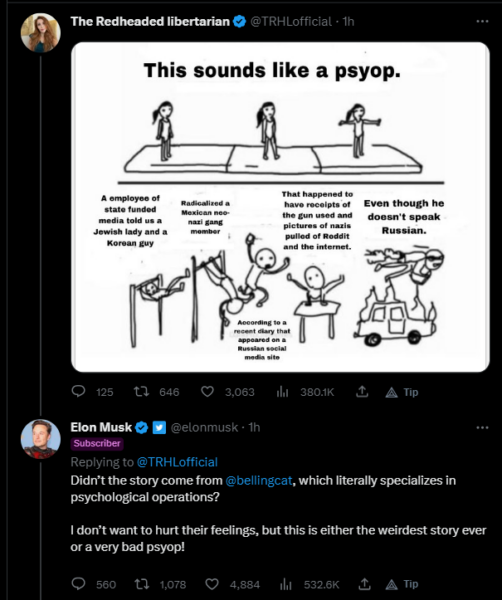 The corporate media narrative of the Allen, Texas mass shooting is far different from the intel reportedly received by Alex Jones, InfoWars, and journalist Pete Santilli, who have reported that the shooting is part of a wider plan by an alliance of Mexican drug cartels to wage narco-terrorism attacks on American soil. The reported plan is multi-faceted and wide-reaching and has the support of the Biden Administration, which will use the mayhem to disarm Americans, according to InfoWars.
Also linked to the narco-terror campaign, according to the reports, was the recent mass casualty event in Brownsville, Texas that killed eight Hispanic victims, including children.
Though corporate media and even police sources initially tried to pin the car killing on a "white supremacist" who was shouting "anti-immigrant slurs," that claim was quickly walked back as the driver was identified as a Hispanic man, and the entire event was suddenly chalked up to being an accident.