Last Updated on March 2, 2021
Six books from the popular children's book author Theodor Seuss "Ted" Geisel, better known under his pen name, Dr. Seuss, were permanently canceled today by the foundation that holds the copyright. Almost immediately, the prices of the books skyrocketed on eBay, as Americans sought to obtain the now-banned reading materials.
Earlier today it was announced that several books by the legendary children's book author, Dr. Seuss, have been canceled effective today, and will no longer be printed due to the alleged racism contained within the tomes. Already, prices of the books have skyrocketed on eBay, the popular internet auction websites, as Americans seek to obtain a copy of the now banned books.
A rare 1937 copy of "And to Think That I Saw It on Mulberry Street", perhaps the most well known of the newly banned books, can be bought for $4,400. The seller, however, will handle the shipping expense. Other options include 1964 copies for $449 and $204.99. All of these are marked "New Listing" by Amazon, indicating they likely entered the market after the ban.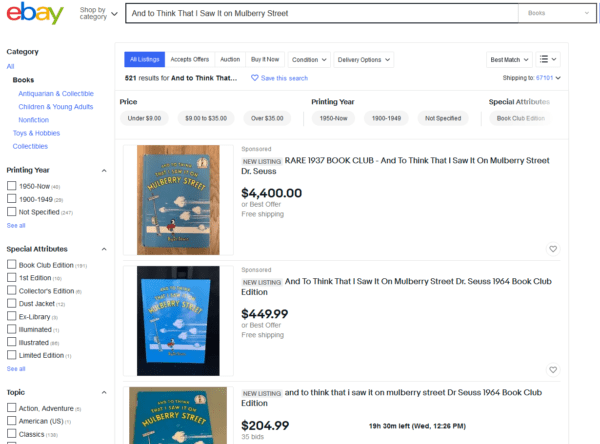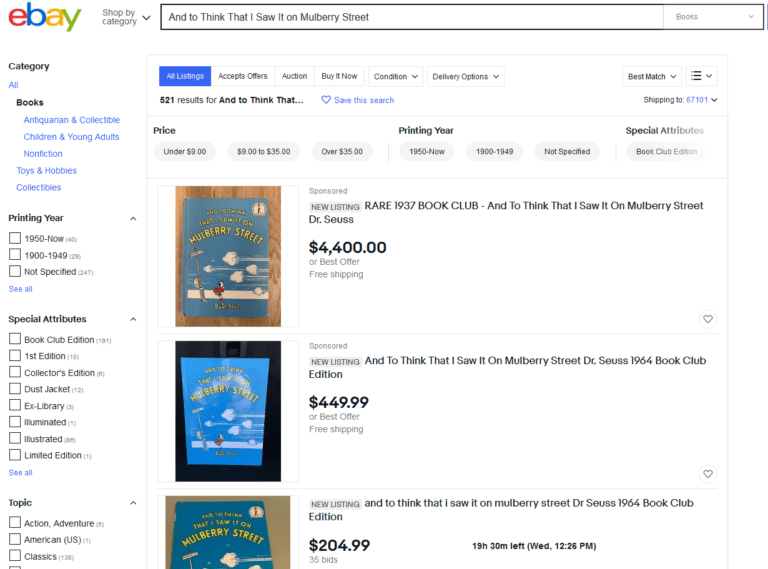 Similarly, "The Cat's Quizzer" now retails for as high as $499.99 on eBay, with other copies of the book hovering in the $200s, one at $203.39 and another at $284.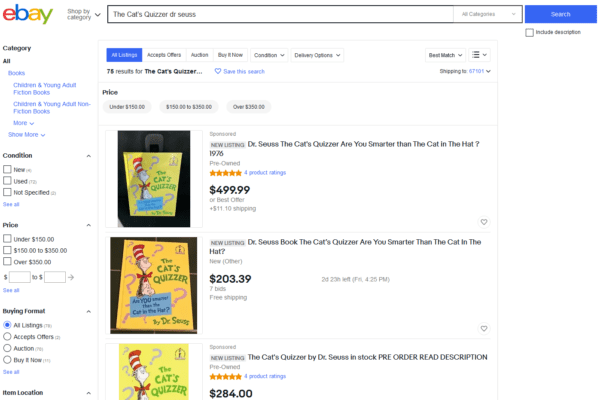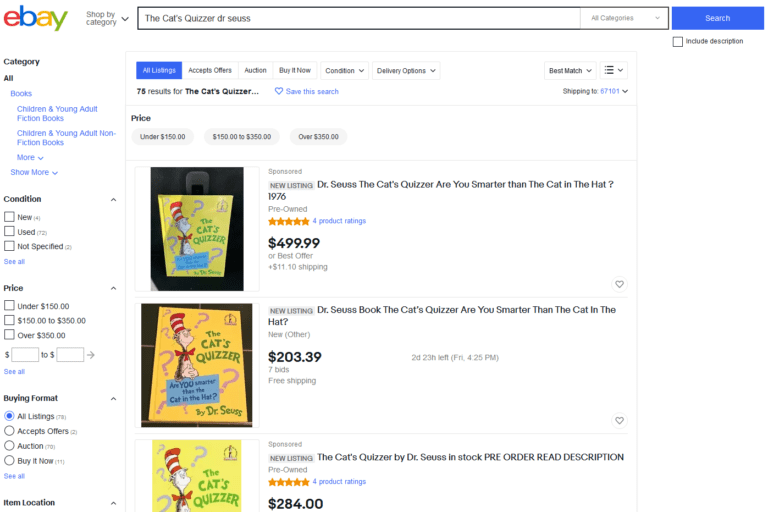 "Scrambled Eggs Super!" sells at an astonishing $4,999.99 for a 1953 hardcover copy, while other items containing the popular children's book retail for $399.00 and $480.00.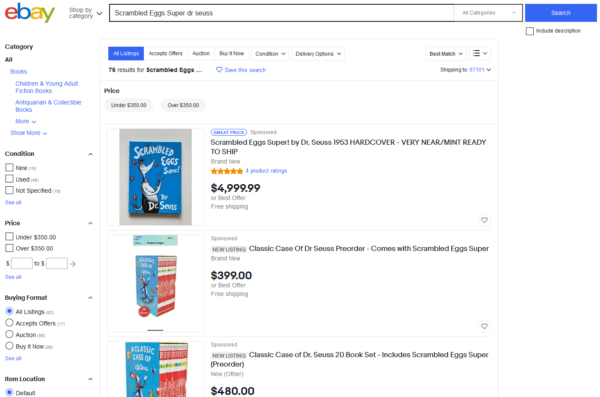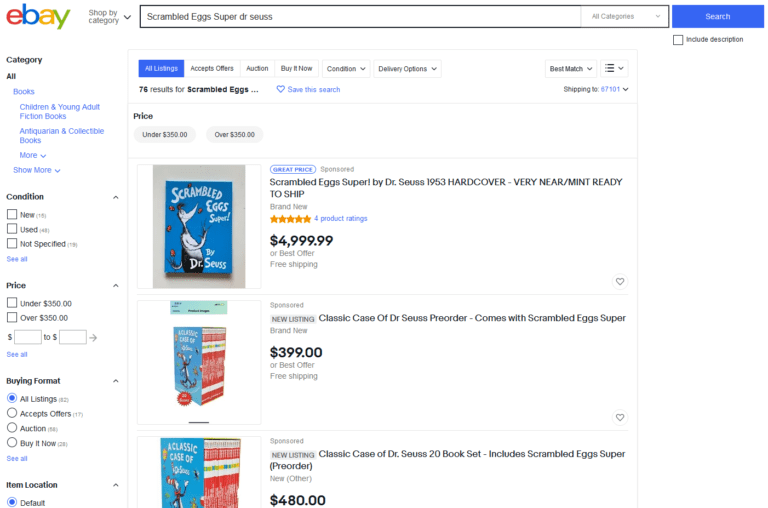 "On Beyond Zebra!" appears to be a bit of an exception, though it may continue to rise. One auction offers this banned book alongside two other vintage editions, and the seller is asking $919.99. Other copies are much lower, however, with one bidding at only $200.50. Another is $91.00.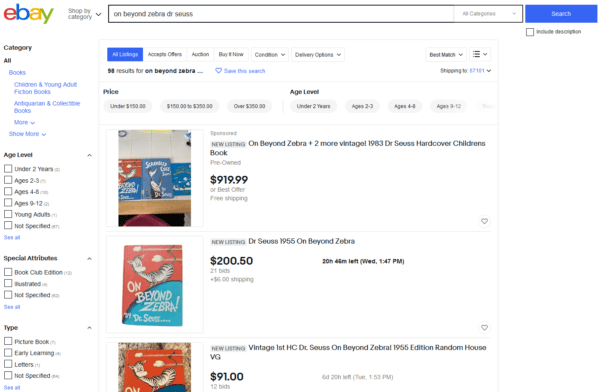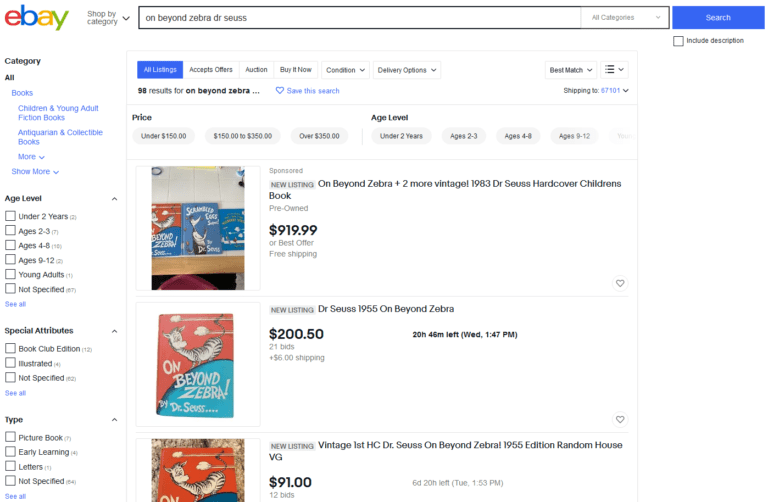 "McEllingot's Pool" also seems to be a good buy for the early Dr. Seuss investor, clocking in at only $200.00, $66.00, and $399.99, compared to the thousands of dollars asked for other banned selections.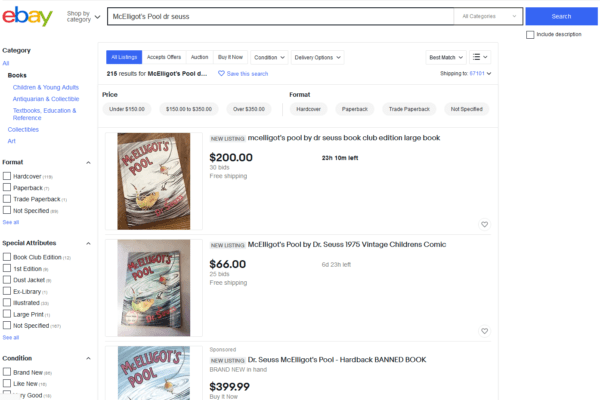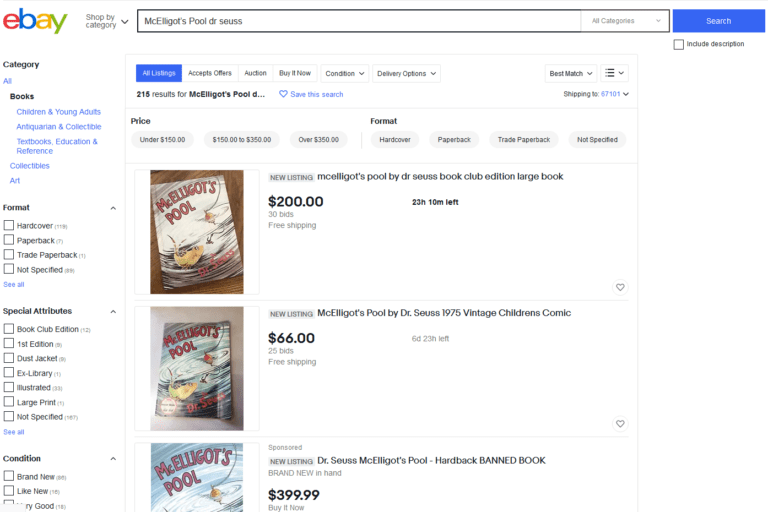 "If I Ran The Zoo", the final banned Dr. Seuss book, clocks in between $161.50 and $349.88.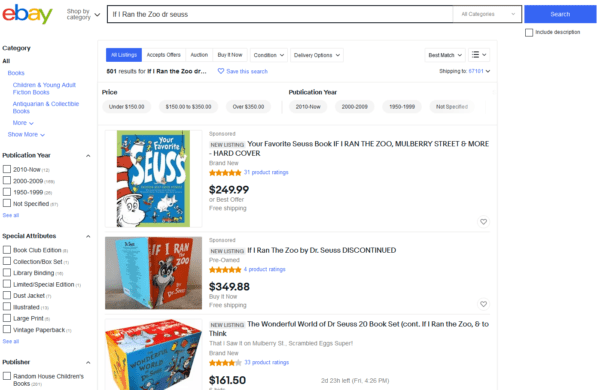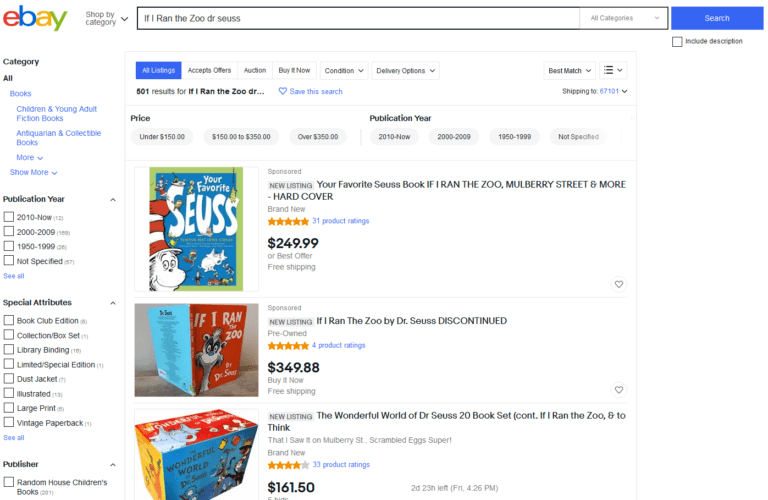 According to the AP, "And to Think That I Saw It on Mulberry Street" is racist against Asians, as "an Asian person is portrayed wearing a conical hat, holding chopsticks, and eating from a bowl." Similarly, "If I Ran the Zoo" is racist against those of African ancestry, as it "includes a drawing of two bare-footed African men wearing what appear to be grass skirts with their hair tied above their heads."