Last Updated on November 3, 2022
Jen Easterly, who heads the Cybersecurity and Infrastructure Security Agency (CISA), said that voters can expect "normal" errors and glitches in the upcoming midterm elections. Easterly, whose agency has repeatedly met with tech and banking executives to discuss ways to combat "misinformation," added that CISA "does not censor information."
"I want to be really clear about what CISA's role is in this. You know, we are not an intel agency. We're not a law enforcement agency," Easterling said during a speech at the Center for Strategic and International Studies, a Washington-based think tank. "We don't work with the platforms on what they do around content. That is entirely their decision. It is their terms of service. And I want to be very clear about this: We do not censor information."
"I want to be very clear," Easterly, a Biden appointee, emphasized. "We do not censor anything. What social media platforms do, what the news does, is entirely their decision."
CISA was formed under the Department of Homeland Security (DHS) in 2018 to "understand, manage, and reduce risk" to critical cyber and physical infrastructure.
According to documents revealed from Missouri Attorney General Eric Schmidt's lawsuit against the Biden Administration alleging collusion between big tech and the federal government; CISA met with executives from numerous companies, including Twitter and Microsoft, since 2018.
"Platforms have got to get comfortable with gov't. It's really interesting how hesitant they remain," Microsoft executive Matt Masterson, a former DHS official, wrote in a text message to Jen Easterly this past February.
In a March meeting of the DHS Cybersecurity Advisory Committee — which includes executives from JP Morgan Chase and Twitter — Laura Dehmlow, an FBI official, warned big tech of "subversive" information that could undermine support for the U.S. government. Dehmlow first brought executives up to speed on the scope of the bureau's counter-foreign influence (FTIF) operation, which was expanded to an 80-person unit within the FBI's counter-intelligence division in 2016. The program was expanded in order to investigate thoroughly debunked and fabricated collusion between then-candidate Trump and the Russian government.
Dehmlow told tech executives that, "we need a media infrastructure that is held accountable; we need to early educate the populace; and that today, critical thinking seems to be a problem currently."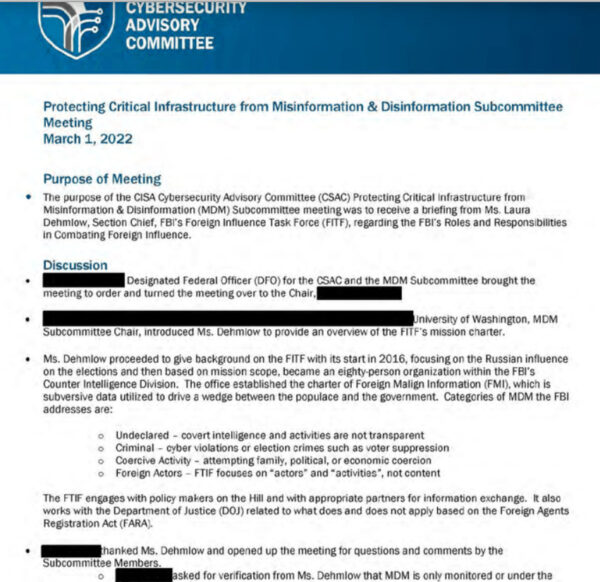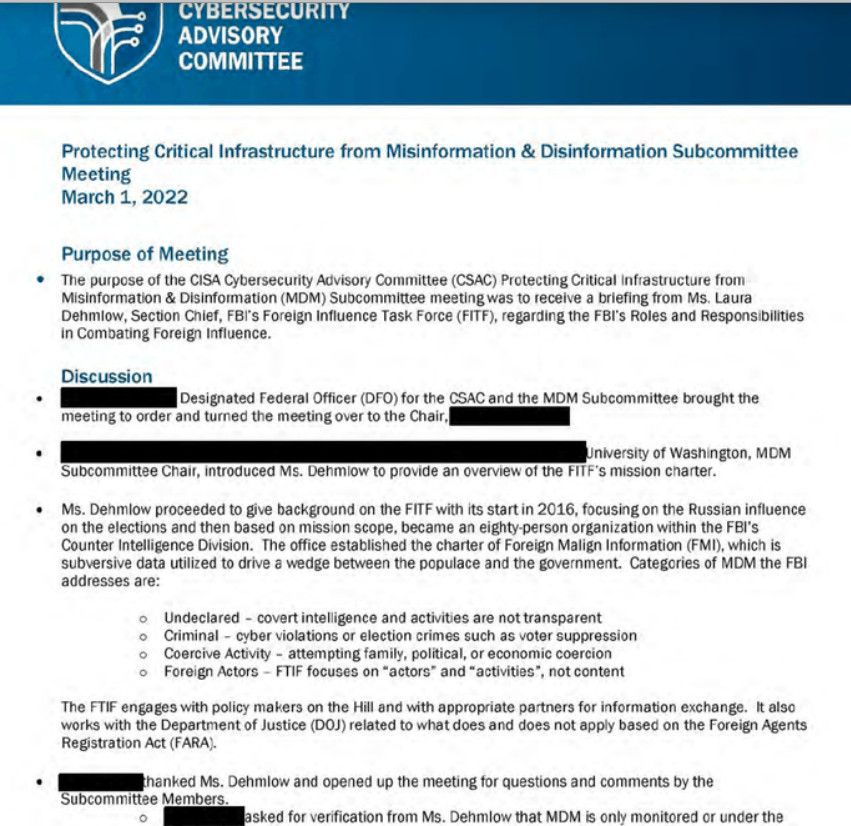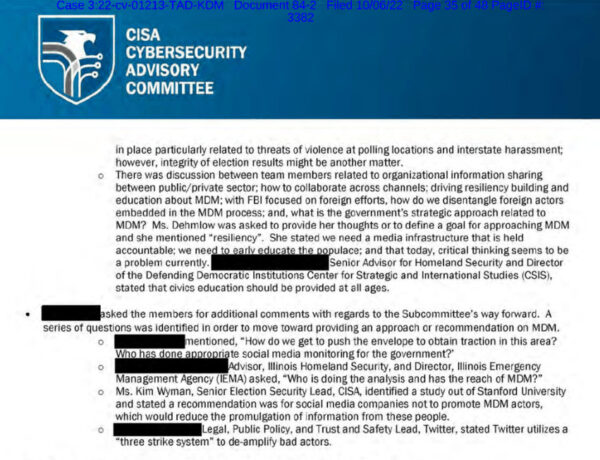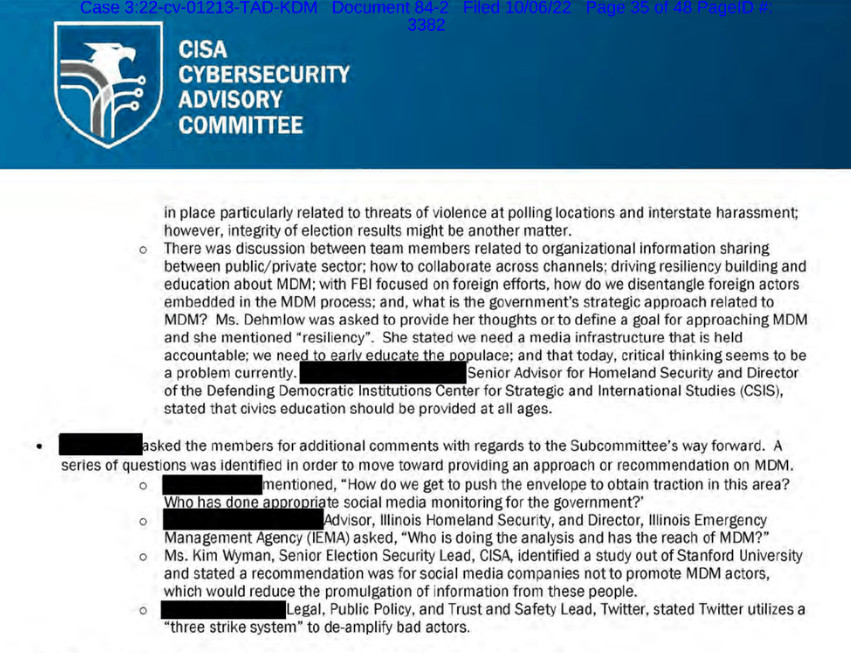 CISA chief Jen Easterly is now telling the public that "normal" glitches and errors should be expected in the upcoming midterm elections.
"There are going to be errors. There are going to be glitches. That happens in every election. But that's why there are multiple layers of security controls and resilience built into the system," she said.
"These things are going to happen … somebody will forget their key to the polling place, a water pipe will burst … [These] are normal things. They're not nefarious," the top cybersecurity official added.
Easterly went on to warn about threats election workers may face from "voter intimidation," which is often amplified by the spread of "misinformation" on social media, she said. While "misinformation" and "disinformation" remain matters of concern for CISA, Easterly said the agency saw no "credible or specific" information about efforts to "disrupt or compromise" election infrastructure this year.
She did warn of ongoing efforts to meddle in the upcoming elections by "foreign adversaries to sow discord among the American people, to undermine confidence in the integration of our elections, and to incite violence against election officials."
"It's a significant concern because you think about these adversaries that are trying to sow discord, that are trying to break us apart, about Americans that are trying to undermine, you know, integrity in our elections," Easterly said. "We are very concerned about this."
Jen Easterly is one of a number of Biden officials who has been ordered to testify under oath as part of Schmidt's lawsuit. The plaintiffs in the case, the attorneys general of Louisiana and Missouri and others, allege that Jen Easterly "supervises the 'nerve center' of federally directed censorship," according to the Epoch Times.
CISA is accused of "directly flagging misinformation to social-media companies for censorship." In addition, Easterly is accused of claiming that social media is a form of "infrastructure" which therefore falls within "her agency's mission to protect 'infrastructure.'" The CISA chief is quoted in a court filing as claiming that "the most critical infrastructure is a cognitive infrastructure."
Jen Easterly's comments about expecting "errors" and "glitches" in the upcoming election came a day before President Biden gave another speech in which he warned of threats posed by "extreme MAGA Republicans" who may object to Tuesday's results.