Last Updated on February 17, 2022
In a stunning reversal, two Republican Board of Elections members in Wayne County (which includes Detroit) have rescinded their votes made just 24 hours before to certify their 2020 election results. The members filed sworn affidavits that their original votes were made under duress, including threats to their families.
This calls into doubt former Vice President Joe Biden's widely-called victory in Michigan, as his current total vote lead in Michigan is roughly 155,000 votes whereas decertification of Wayne County would mean a net loss of over 332,000 Biden votes.
At 11:38 p.m. ET, investigative journalist John Solomon broke the story at JustTheNews.com that the two GOP members of Wayne County's Election Board, William C. Hartmann and Monica Palmer, signed affidavits Wednesday night disputing their previous votes. They cited a Democrat campaign of intimidation, harassment and misinformation.
In her sworn affidavit, GOP Election Official Monica Palmer testified that Wayne County's corporate counsel had misled her as to the Board of Elections' powers, saying "their role is ministerial and they could not use their discretion on matters like the record being incomplete." Palmer added, "We were told that discretion was outside the board's authority."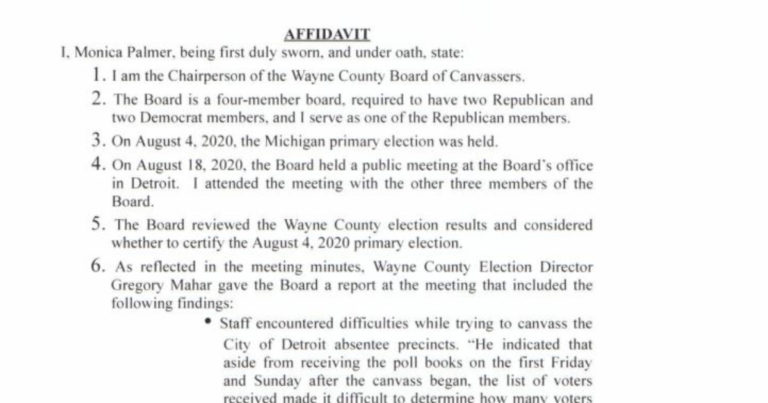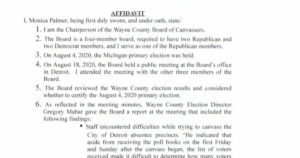 She was then presented with a compromise resolution which she was told "promised a full, independent audit". However, just hours later, she received statements from Michigan Secretary of State Jocelyn Benson "saying that she did not view our audit resolution to be binding."
This took place after over hours of hostile "public comment" which saw dozens of people personally attack Palmer and Hartmann.
As National File previously reported:
On November 17, it was initially reported that Michigan's largest county was unable to certify its election results, noting that in 71 precincts the vote totals exceeded the number of registered voters. Immediately, Democrats began accusing the two Republicans who refused to certify the results of racism, with Democrat Abraham Aiyash suggesting that GOP Election Official Monica Palmer's children will suffer the consequences for her actions.

"What that tells us, is you Ms. Monica Palmer from Gross Point Woods, which has a history of racism, are deciding to enable and continue to perpetuate the racist history of this country," said Aiyash to Palmer, who was at the time refusing to certify Wayne County's election results. "I want you to think about what that means for your kids, who probably go to Gross Point North, and when they see all their black classmates."
If the Wayne County vote is not certified, then Michigan would either flip to President Donald J. Trump or not be certified at all. That would cut Biden's projected Electoral College vote total from 306 to 290, with 270 still needed to win.
In the event that neither candidate reaches 270 votes, the 2020 presidential election will be decided by the House of Representatives in a contingent election. Each state would receive one vote each, with the winners of state votes being decided by a simple majority of their U.S. House Representatives.
President Trump is projected to win a contingent election should one take place.
President Trump's campaign is also challenging results in Pennsylvania (20 votes), Georgia (16 votes), Arizona (11 votes), Wisconsin (10 votes), Minnesota (10 votes) and Nevada (6 votes).
This story is developing and more information will be relayed as National File continues to investigate…