Last Updated on January 26, 2023
Dallas-based tax services company Ryan LLC, of which Kevin McCarthy's ally, Jeff Miller is a principal owner, is reportedly under investigation by the Federal Bureau of Investigation (FBI) for tax refund-related fraud.
"[The FBI] does not confirm or deny the existence of investigations," FBI spokeswoman Brooke Brennan said.
The investigation is alleged to have started in spring of 2021 after Ryan LLC hired three former high-ranking officials from the administration of Arizona Governor Doug Ducey, which happened just months after they left office.
This allegedly happened in order to pressure the Arizona State Department of Revenue to reward some $100 million in tax refunds to mining clients of Ryan LLC's.
North Dakota's deputy tax commissioner, Sandy McMerty, asserted that Ryan LLC draws out the refund claim process in an attempt to boost returns because North Dakota code requires a 10.5% interest payment on tax refunds.
"Some of their requests can take years to get through. In the end, it's costly because the longer it takes us, a 10.5% interest rate is pretty damn good interest in the U.S. It pays well if you can make us take longer, and that's what it feels like," McMerty said.
McCarthy's close confidant, Miller, in addition to being a Principal at Ryan LLC, also worked as an advisor to former California Governor, Arnold Schwarzenegger (R), and Rick Perry's 2016 campaign manager. Miller is also the former Chief Financial Officer (CFO) of the California Republican Party and a member of the U.S. Holocaust Memorial Museum Council and republican Jewish Coalition National Board.
"A lot of people like to think that they're close to Kevin. There are very few people who actually talk to him about stuff or that he reaches out to proactively on stuff…Obviously, Jeff [Miller] is a very key and central figure of that group," a former aide to McCarthy said.
https://twitter.com/LauraLoomer/status/1602486089830350850?s=20&t=Y21FUFRz2hBxPYpHGVFTjQ
John Stipicevic, McCarthy's former deputy chief of staff, who some Republican lobbyists have described as "the second closest McCarthy insider on K Street," testified to the proximity of the relationship between the McCarthy and Miller.
"Jeff has always had Kevin's ear. They grew up together in the world of politics in D.C.," Stipicevic said.
Miller is now a lobbyist for Pfizer after his hiring in April 2019 and the CEO of Miller Strategies ask assigned to lobby on "issues related to cyber security and technology" for Amazon Web Services in July 2019. 
After he was caught for funneling Koch brothers' dark money in the 2012 election, Miller and his then-accomplice were turned into were turned into witnesses for the state and in exchange for immunity from prosecution, the two exposed out-of-state money channels which connected to the Koch network.
UPDATE
As would be expected, Ryan, LLC, disputes the claim that there is an ongoing investigation into Ryan, LLC, being carried out by the Federal Bureau of Investigation.
In a communication sent to National File by attorneys representing Ryan, LLC, the reports carried widely by multiple mainstream media outlets that there is an F.B.I. investigation into former Governor Ducey's connections with and advocacy for Ryan, LLC, was described as "false, defamatory, and damaging."
National File did not claim unequivocally that there was an investigation — just that reports indicated that there was an investigation.
That is a statement of fact.
In an article that is still live at USA Today's website as of this update entitled "FBI examining $100M tax refund push by Arizona Gov. Ducey staffers after Arizona Republic/USA TODAY investigation," Arizona's former Deputy Director of the Department of Revenue reported that an FBI agent had been in contact with him about the alleged scheme.
Grant Nulle, former deputy director at the Department of Revenue, said an FBI agent contacted him in mid-July, shortly after an Arizona Republic and USA TODAY investigation uncovered how the Ducey administration had pushed the department to agree to refund sales taxes on fuel for mining companies, even though that tax had been in place for decades. 

The companies that stood to benefit were represented by Texas tax firm Ryan LLC, founded by Ducey supporter G. Brint Ryan. The top three deputies in Ducey's administration left their government jobs and went to work for Ryan to push for the tax refund.
Then-Gov. Ducey fired Nulle, ostensibly for opposing the tax refund handout to Ryan's clients.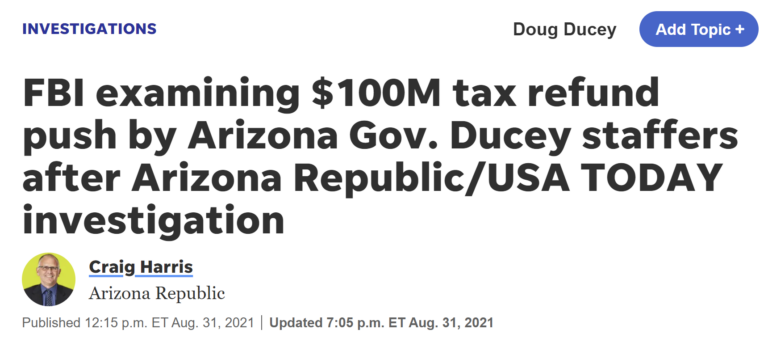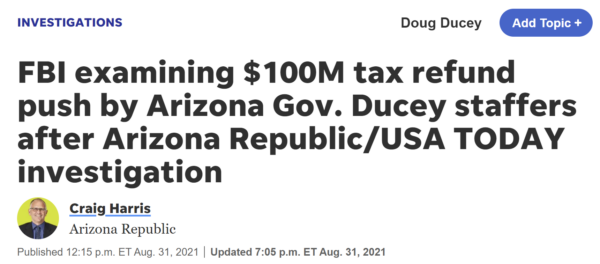 The USA Today articles are still up online, and the paper has not run a retraction or correction, according to sources familiar with the Ryan suit.
Those claims are corroborated by research.
According to sources close to the Gannett litigation – it's a suit that was intended to keep other media companies from reporting on Ryan. Sources close to the litigation contend the USA Today reporting is accurate and true. Just because the FBI didn't contact Ryan doesn't mean there wasn't an FBI investigation, sources claim.
National File is not the only news outlet to report on the alleged F.B.I. investigation.
As recently as September, 2021, All About Arizona News filed a report on the very same alleged scheme.
Ryan points to a press release on page 190 of a PDF they sent to National File as evidence that there is no F.B.I. investigation. But the first paragraph doesn't itself claim that there is no F.B.I. investigation. Instead, Ryan seems more focused on the fact that Gannett, the parent company of USA Today, actually contracted with Ryan's tax refund operation in order to claw back some tax liability.
Nowhere in Ryan's press release does the company deny that there is an F.B.I. investigation into the alleged revenue scheme that was allegedly quarterbacked by former Governor Ducey in Arizona.
You can read Ryan's press release below.
National File will continue to track litigation in connection with Ryan, Jeff Miller, and his boss Kevin McCarthy.