Last Updated on July 18, 2021
According to the Centers for Disease Control, the most important part of hurricane preparedness is making sure you have received one of the controversial COVID-19 vaccines.
The CDC explains that "the Centers for Disease Control and Prevention encourages you to be prepared for hurricane season" and notes that "Planning for hurricane season and other potential disasters may be stressful, and during the coronavirus disease 2019 (COVID-19) pandemic, it may be especially so." The bureaucratic organization adds, "Your planning may be different this year because of the need to protect yourself and others from COVID-19."
Then, the CDC offers a bulleted list of advice for Americans living in an area susceptible to hurricanes. Its first piece of advice is simply, "Prepare for a hurricane," and number two on the list, the first real piece of advice: "Get a COVID-19 vaccine as soon as you can. COVID-19 vaccines help protect you from getting sick or severely ill with COVID-19 and may also help protect people around you." (READ MORE: CDC Advisory Committee Confirms 'Likely Association' Between Vaccine and Myocarditis Heart Condition)
The push for Americans in hurricane prone areas to consent to one of the controversial vaccines now ranks above standard hurricane advice that has been ranked highly important for centuries, including stockpiling emergency supplies, creating a family disaster plan, preparing to evacuate, and protecting older adults and pets. However, the last bullet in the list again reminds individuals of COVID-19: "When you check on neighbors and friends, be sure to follow social distancing recommendations (staying at least 6 feet from others) and other CDC recommendations to protect yourself and others."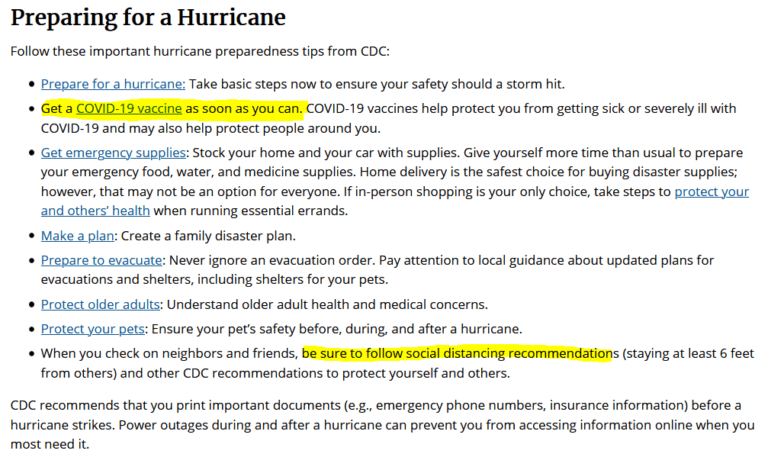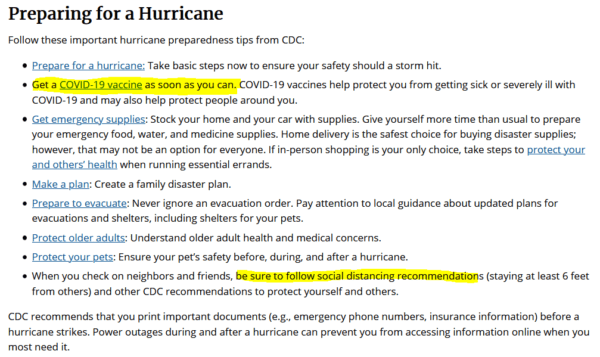 Though experts are objectively spreading fear about the spread of the so-called "Delta Variant" of COVID-19, the same experts also admit that the symptoms of the new variant are identical to the common cold or seasonal allergies.
As National File reported, 'Experts in the United Kingdom have compared the symptoms of the COVID-19 'Delta Variant' to that of hay fever and the common cold, according to various reports. The new strain has reportedly been the cause of 99% of all new COVID-19 cases in the UK. 'The main symptoms of COVID-19 appear to have changed — with headaches and sore throats now more common than fevers and coughs, according to a warning by UK experts,' noted the New York Post." (READ MORE: Top Experts Say COVID-19 'Delta Variant' Symptoms Are Identical To 'Hay Fever', Common Cold)