Last Updated on May 17, 2020
Coronavirus Contact Tracing training materials promoted on the Centers for Disease Control and Prevention (CDC) website advise health professionals to quarantine the children of parents who contract Coronavirus. On the CDC Coronavirus Case Investigation Training Plan website, the CDC promotes a lesson from Maventrainingsite.com prepared by a team from the Massachusetts Department of Health. The "Tools for the Field" lesson "Provides an overview of COVID-19 transmission, testing, and common vocabulary. Describes contact tracing and interview tools," according to the CDC website. On the subject of children whose parents are in isolation, the training materials authoritatively state, "Children should remain quarantined away from the case to prevent exposure. If this is not possible, then the quarantine period of child will restart every time the child is exposed to the case."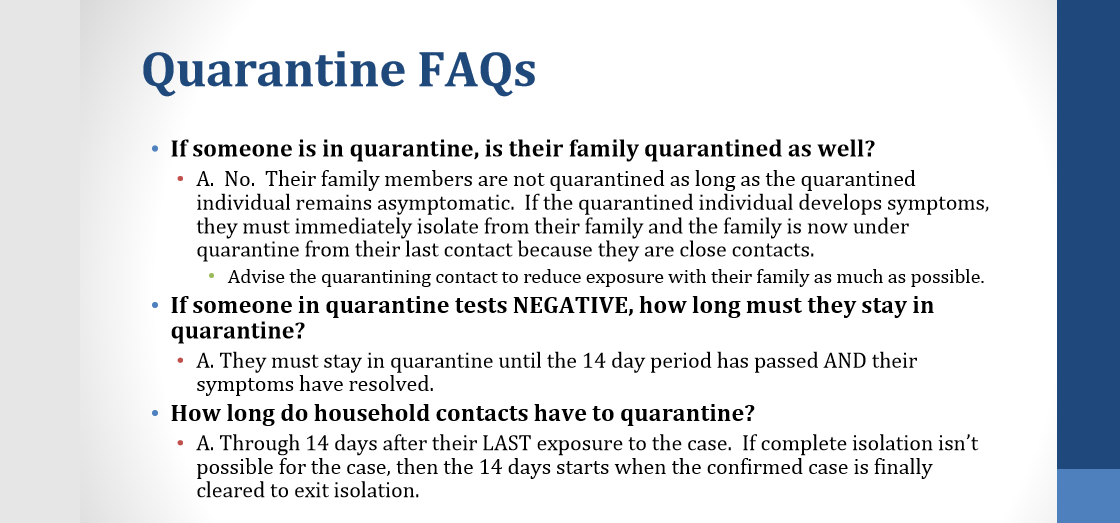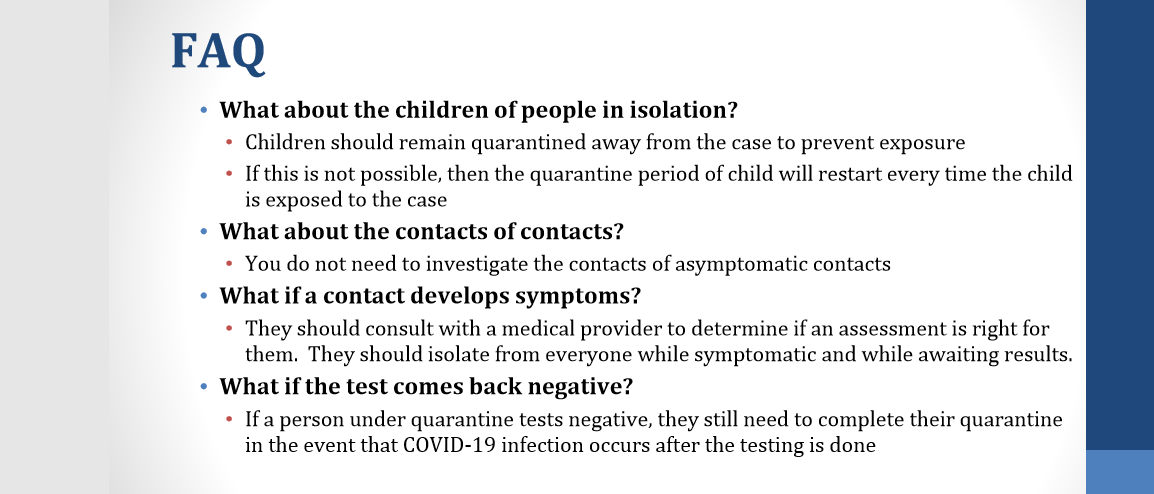 CDC definitions hold that "Isolation separates sick people with a quarantinable communicable disease from people who are not sick" while "Quarantine separates and restricts the movement of people who were exposed to a contagious disease to see if they become sick." The CEO of public NYC Health and Hospitals in New York City said that forced quarantines for people are an option on the table as part of Contact Tracing.
Meanwhile…
Broward County, Florida Administrator Bertha Henry recently discussed a new Coronavirus proposal "that would substantially increase not only the tracing but more testing and case management and isolation, for you, when we have to go into some of these ALF's (assisted living facilities) and move people out or go into family homes like in some of these, where we're going into some of these homes, and we have to separate an individual to isolate them they need, you know, we need to make sure that they get care, that they have food, that they have support to be isolated from their home or their family for that 14-day period." (READ: Contact Tracing Information Can Be Sent to the WHO and Law Enforcement and Used To Quarantine People)
I previously reported that contact tracing data may be given to law enforcement to forcibly enact quarantines:
HHS records show a System of Records Notice (SORN 09-20-0171) in the Federal Register marking the creation of the record system called "Quarantine- and Traveler-Related Activities, Including Records for Contact Tracing Investigation and Notification…" The records pertain to "Individuals subject to quarantine or isolation orders, ill travelers (i.e., passengers and crew), contacts of ill travelers, and/or individuals exposed or suspected of being exposed to serious communicable diseases." The records include: "Passenger and crew manifests from conveyances carrying individuals subject to 42 CFR parts 70 and 71, case reports, illness response forms, medical assessments, medical records (including but not limited to clinical, hospital and laboratory data and data from other relevant tests), name, address, date of birth, and related information and documents collected for the purpose of carrying out agency responsibilities under sections 311 and 361-368 of the Public Health Services Act." The records are being stored at: "Division of Global Migration and Quarantine, National Center for the Preparedness, Detection, and Control of Infectious Disease (NCPDCID), Coordinating Center for Infectious Diseases (CCID), Centers for Disease Control and Prevention, 1600 Clifton Road, NE., Building 16; MS E03, Atlanta, GA 30333. Records may occasionally be stored at Quarantine Stations located at key ports of entry and at contractor sites."
One contact tracing group is funded by George Soros and Bill Gates organizations, with Chelsea Clinton on its board:
Partners in Health was recently selected by Massachusetts governor Charlie Baker to conduct Coronavirus "contact tracing," a process that involves teams of investigators finding out who infected people have come into contact with. The group is already "training and deploying hundreds of contact tracers." Some citizens fear the potential for mass surveillance posed by contact tracing, especially in light of a Democrat-introduced bill in Congress to authorize contact tracing "at individuals' residences." Partners In Health's involvement will not assuage many fears, considering the group has received funding from George Soros and Bill Gates organizations and counts Chelsea Clinton on its board of trustees.

Partners in Health lists George Soros' Open Society Foundations as an official partner, along with the Bill and Melinda Gates Foundation. Partners In Health lists Open Society Foundations on its 2015 annual report as a supporter to the tune of $1 million or above, along with the Gates Foundation. Chelsea Clinton serves on Partners in Health's Board of Trustees, according to its 2019 annual report. 
How Is Coronavirus Affecting Children?
Washington state's Department of Children, Youth and Families (DCFY, also known as "CPS" for "Child Protective Services") posted a job listing for existing CPS workers to volunteer to supervise children in quarantine centers during the Coronavirus outbreak.
The job posting states: "DCYF is seeking current DCYF employees in King, Snohomish, and Benton counties to volunteer to supervise and support children and youth in Emergency Quarantine Centers. While this is a voluntary effort, you will be compensated four ranges (approximately 20%) above you current base salary while performing these duties, and return to your normal position and salary once concluded. We are looking for current DCYF Social Service Specialist 3's to care for children who are either COVID-19 positive, or who may have been exposed to COVID-19. There are three locations…"
One of the listed locations, Cedar Springs Camp, clarified that they were falsely listed by the state of Washington as a quarantine center, and they asked the state to remove them. The job posting closed on May 11.
Responding to social media uproar, the Washington state's DCYF put out a clarifying statement that the ad was only referring to children currently in the system. But their clarifying statement contradicts itself, at first stating that the quarantined children will be kids who have tested positive, and then stating that quarantined children will also be kids who may have been exposed to Coronavirus.
DCYF's clarifying statement reads: "In light of some concerns from the public regarding two recent job postings by the Washington State Department of Children, Youth, and Families (DCYF), the agency would like to clarify the intent of these job listings and address misinformation spreading as a result of the job description.
The job postings targeted current staff interested in Social Service Specialist 3 and Social Service Specialist 5 positions. The post prematurely included sites of potential locations in the community where we could house children in our legal care and authority who've tested positive for COVID-19 in the event that a placement home was not available. The facilities listed are not affiliated with DCYF and had not signed off on this job listing.
The listings have since been taken down to avoid further confusion.
In response to the COVID-19 pandemic, DCYF began internal recruitment of social service specialists to care for foster children who are either COVID-19 positive or may have been exposed to COVID-19 in the event a placement home was not available.
To clarify, those facilities that ultimately open their doors to this effort would only house State-dependent children and youth in out-of-home care who due to being COVID positive or COVID exposed do not currently have a foster home available. These facilities are for this limited scope and not considered quarantine centers or intended for the general public."
Meanwhile…
Multiple mothers have had their children taken away from them as a direct result of working in the medical profession during the Coronavirus outbreak. Will these disturbing cases register with our political leaders, who are voicing public calls to stand with our medical workers during the pandemic?
Additionally, NATIONAL FILE caught a Child Protective Services worker attempting to use the Coronavirus outbreak to suspend all visits for parents of a child in the government system, citing a statewide policy that the state government says does not exist. What is going on?
(UPDATE: Dr. Theresa Greene, profiled below, got her children back after an appeals court ruling)
The Washington Examiner previously reported:
"A divorced emergency room physician temporarily lost custody of her daughter because of the coronavirus pandemic.
Dr. Theresa Greene, a doctor in South Florida, previously shared custody of her 4-year-old daughter with her ex-husband, Eric Greene, but a judge granted an emergency order granting him sole custody until the ordeal is over, according to NBC Miami.
In the court's decision, Circuit Judge Bernard Shapiro wrote, "In order to protect the best interests of the minor child, including but not limited to the minor child's safety and welfare, this Court temporarily suspends the Former Wife's timesharing until further Order of Court. The suspension is solely related to the outbreak of COVID-19."…
…Theresa Greene responded to the judge's ruling by saying that "the family court system now is stressing me almost more than the virus."
"I was just shocked that the judge would take this stance without talking to medical experts and knowing the facts and take it so lightly, take my child from me, and not think of the effect on her, her mental and psychological well-being," she added.
The doctor noted that the custody battle will not stop her from following the "oath" she took to help people."
Washington Examiner passage ends
Greene appealed the decision, and an appeals court ruled in her favor.
Meanwhile, I recently reported:
An Oklahoma medical worker has been stripped of her parental custody at this time because she works in a medical clinic and could possibly be exposed to Coronavirus during the outbreak, according to court documents.
A district judge for the Sac and Fox District Court took medical worker Katherine Spencer's children after the father petitioned the court. "The Petitioner alleged, and submitted documents in support, that the Respondent alleged proximity to Coronavirus," the court order states. Court dockets show no record of a hearing on March 20, the day the court laid down its order to confiscate Spencer's children.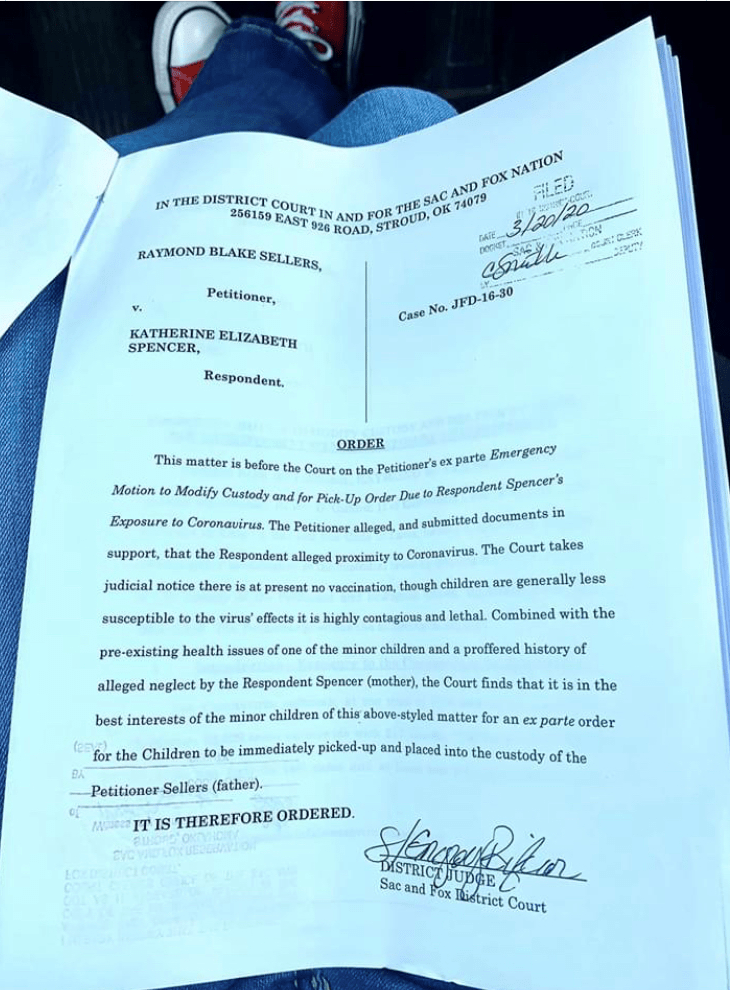 Katherine Spencer told her story on Facebook and denied that she has any history of "neglect" prior to getting hit with a gag order by the judge.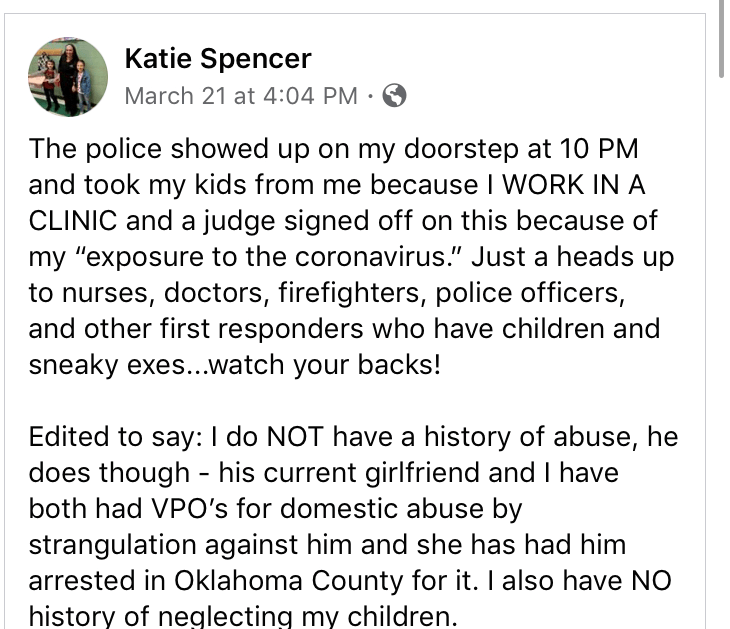 NATIONAL FILE recently reported…
UPDATE: Since NATIONAL FILE broke this story, the parents in question have had multiple short video visits with their daughter)
A Child Protective Services (CPS) worker in Oklahoma used the Coronavirus outbreak to cut off a mother and father's visits with their 20-month old daughter, even though the Department of Human Services, the state agency that oversees CPS, claims to be keeping parental visits open.
"DHS statewide has suspended all visitations due to the virus so after today's visit, we cannot approve any more visitations until it is reinstated," said CPS permanency worker Danelle Dillman in a Friday morning text message to Andrew Ritter regarding his 20-month old daughter, who was seized by the government for "Failure To Thrive" due to low infant birth weight after the girl's mother chose to breastfeed her. Ritter and his wife said they preferred not to place their daughter on a particular appetite enhancer due to perceived conflict with the girl's Zyrtec Antihistemine.
An Oklahoma DHS official told National File in a confusing, defensive interview that the state agency does not have a policy in place to suspend all visitations at this time, but rather to continue visitations using technology like Skype and FaceTime. But the official does not know if visitations are actually still occurring. Ritter and his wife never received an offer to hold a cyber-visit. Here is the text that permanency worker Dillman sent to Ritter: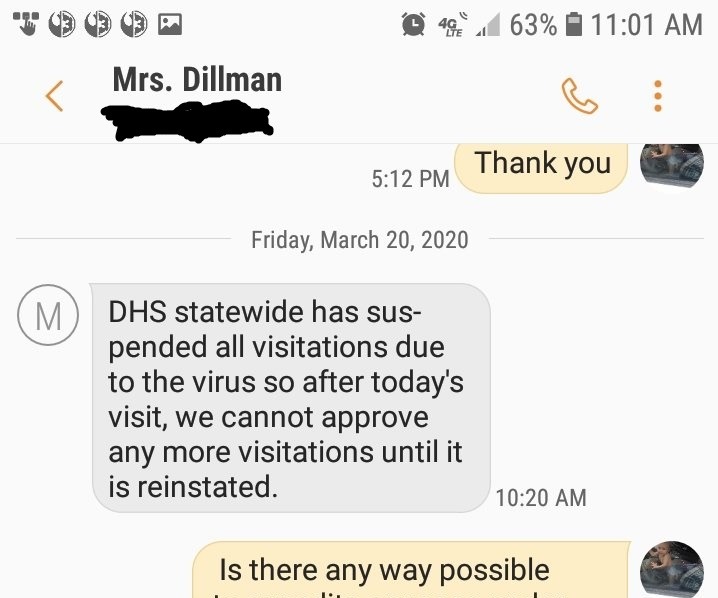 When National File called up the headquarters for Oklahoma DHS, a woman who answered the phone told us that parental visits were indeed "suspended" for the time being, "until they get this virus under control." The woman refused to give us her name.
But Keeley McEwan, head of the Oklahoma DHS communications office, told National File that "We have not suspended visitation across the board in any way." She pointed to the agency's daily guidance for case workers, which she noted is "fluid" and "changes day to day."
"As of today we are highly encouraging continuing visitation" utilizing iphones and programs including Skype and FaceTime. "Whether a visitation is cancelled is on a case by case basis."
She did not know whether any visitations have been recently held since the Coronavirus outbreak using Skype or FaceTime. Permanency worker Danelle Dillman did not respond to repeated requests for comment. McEwan did not confirm whether or not she spoke to Dillman or Dillman's superviser following our conversation.
I have been reporting on the nationwide scourge of CPS removing children from parents' homes for highly disputable reasons or no reason at all, which many parents feel is due to the for-profit nature of the government's child removal industry.