Last Updated on May 2, 2021
According to data made available by states to the CDC, which then publishes the data on its website, over 9,000 people who received one of the controversial COVID-19 vaccines later tested positive for the virus, and over 100 died from the illness.
The latest data shows that 9,245 people tested positive for the China-originated virus after being vaccinated, and almost half – a total of 4,245 – 60 years old or younger, and thus far less likely from experiencing severe symptoms. 2,525 of those who tested positive for the virus experienced no symptoms, 835 were hospitalized due to the illness, and 132 died as a result of contracting COVID-19 while vaccinated.
However, the CDC explains that these numbers are under reported. "It is important to note that reported vaccine breakthrough cases will represent an undercount. This surveillance system is passive and relies on voluntary reporting from state health departments which may not be complete." The CDC explains that not every person is tested for COVID-19 constantly, especially "in instances of asymptomatic or mild illness."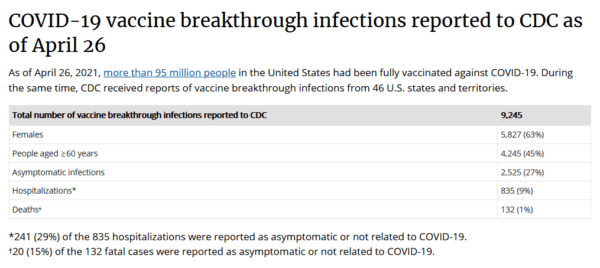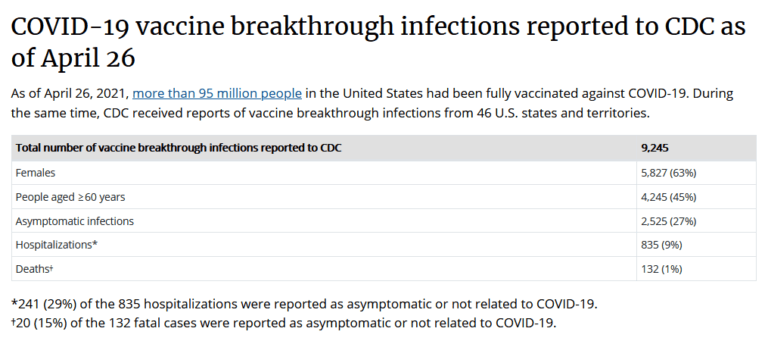 Meanwhile, the Vaccine Adverse Event Reporting System has reached 133,000 reports of adverse reactions. Among them are 3,607 reports of deaths attributed to the vaccine. National File recently reported that a 16-year-old boy with no allergies or preexisting health conditions died of a heart attack exactly two days after being vaccinated with the controversial Pfizer vaccine:
"The case, listed in the database as VAERS ID 1242573, reveals that the 15-year-old boy was 'vaccinated with Pfizer/Biontech' on April 18, 2021. He began to experience adverse reactions to the vaccine on April 19, 2021, and 'died 04/20/2021, 2 days after vaccination.'" National File reported, "The VAERS database also reveals that he had no other illnesses, no preexisting conditions, no known allergies, no birth defects, and no permanent disabilities. He merely died of "cardiac failure" exactly two days after receiving the controversial vaccine."
Current research indicates that young, healthy people are highly unlikely to experience severe COVID-19 symptoms, but may be at greater risk of suffering adverse reactions to the COVID-19 vaccines.