Last Updated on June 12, 2021
The VAERS database now illustrates a massive spike in vaccine deaths, which usually hover around or below 1,000 per year, as almost 6,000 people have now reportedly died after taking one of the controversial COVID-19 vaccines.
As National File has previously reported, the Vaccine Adverse Event Reporting System, or VAERS, is run by the CDC and tracks reports of adverse side effects and deaths caused by vaccines. In the first three months of 2020 alone, VAERS tracked 1,750 deaths reported to be due COVID-19 vaccines. That number has steadily climbed, and is now approaching 6,000, with a total of 5,888 reported deaths after taking one of the controversial COVID-19 vaccines. The chart of this data represents almost completely vertical growth.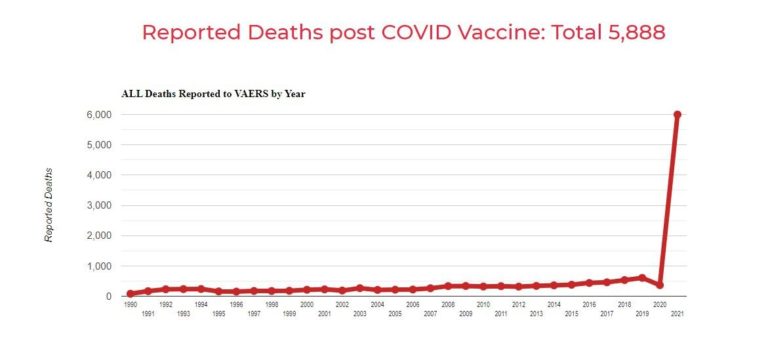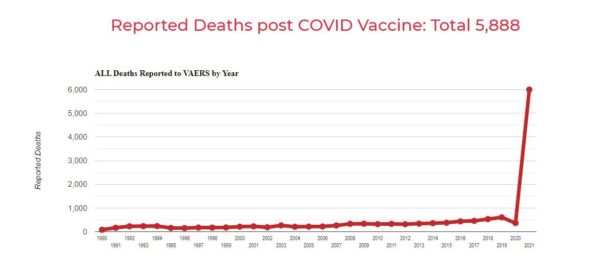 Regardless of potential risks, the Biden administration recently announced its plan to use American tax dollars to buy 500 million doses of the Pfizer COVID-19 vaccine and donate them to "nearly 100 low and lower middle income countries, they will be the beneficiaries," per Joe Biden. The administration leaked information about the plan to the mainstream media on the same day the Biden administration confirmed its earlier plan to end the Trump-era discounts given to low income Americans who are dependent on insulin or epinephrine. (READ MORE: VAERS Database Report Says 15-Year-Old Boy Dies Of Heart Attack Two Days After Taking Pfizer Vaccine, Had No History Of Allergic Reactions)
The decision also came as the CDC announced an emergency meeting to discuss the sharp increase of heart inflammation cases among those who receive one of the controversial vaccines. As National File reported, "The Centers for Disease Control has announced Thursday that it has scheduled an emergency meeting to discuss increasing reports of myocarditis and pericarditis (heart inflammation) in individuals who had recently received the COVID vaccine, specifically the mRNA Pfizer and Moderna COVID  vaccines."

National File was recently censored by Twitter for an article containing information about a CDC investigation into this type of heart inflammation, despite National File's article simply containing information about what the CDC was doing to confront the possibly debilitating side effect.
The CDC has opened an investigation into reports of COVID vaccines causing myocarditis (inflammation of muscles in the heart) in young people and adolescents.https://t.co/QGQKuyEsvK

— National File (@NationalFile) May 24, 2021