Last Updated on March 7, 2023
The family of Capitol cop Brian Sicknick says they are "outraged" and are calling for Tucker Carlson to be "silenced" after he aired J6 security footage from the US Capitol building that shows Officer Sicknick was unharmed by election integrity protestors before dying of a stroke the following day. Initially, The New York Times claimed in a now-retracted and proven false report that Sicknick had been beaten to death with a fire extinguisher. Uni-party politicians and their associated media outlets have continued to regurgitate the false claim in an effort to paint January 6th demonstrators as killers and insurrectionists.
The video footage revealed by Tucker Carlson on his Fox News program, Tucker Carlson Tonight, shows Capitol Police Officer Brian Sicknick, himself a Trump supporter, walking about the Capitol building and waving at demonstrators AFTER he was supposedly killed by "insurrectionists."
The Democrats, together with the Sicknick family, who are calling for Tucker Carlson and other J6 truth-tellers to be "silenced" in the wake of the narrative disruption, have insisted for over two years, along with their corporate media allies, that Sicknick was murdered during the anti-fraud demonstrations. First, they claimed that he was killed after receiving a beating from a fire extinguisher. Then, after a medical examiner ruled that Sicknick died a stroke, they claimed that he died as a result of a fire extinguisher beating, which we now know never happened. 
Though their claims were patently false, the narrative surrounding Officer Sicknick's death played a central role in the formation of Nancy Pelosi's J6 Committee, and in the hunting down of American Citizens for exercising their 1st Amendment rights.
Watch a clip from the J6 security footage and Tucker Carlson's segment on Officer Brian Sicknick below:
https://twitter.com/JackPosobiec/status/1632918878576689152
Despite the revelations proving that Officer Brian Sicknick was not killed by a murderous crowd of fire extinguisher-wielding insurrectionists, a public statement from the US Capitol Police, dated January 7, 2021, is still published on the federal law enforcement organization's website.
In the statement, the US Capitol Police claim that Officer Sicknick "passed away due to injuries sustained while on-duty."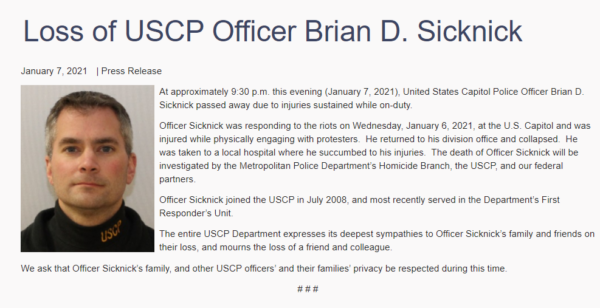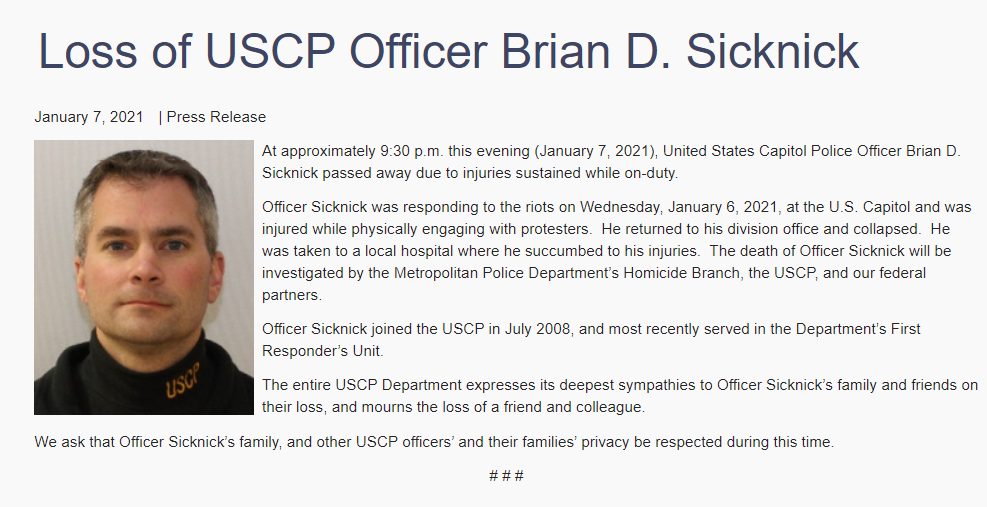 In a public statement of their own, released after the Tucker Carlson Tonight segment exposing the Sicknick hoax aired on Monday evening, the Sicknick family name-called supporters of President Trump (like Brian Sicknick, himself a Trump supporter) and called for Tucker Carlson to be "silenced."
The Sicknick family also cheered the shooting death of unarmed demonstrator Ashli Babbitt as part of their statement, which can be read below, in its entirety.
"The Sicknick family is outraged at the ongoing attack on our family by the unscrupulous and outright sleazy so called 'news' network of Fox News who will do the bidding of Trump or any of his sycophant followers, no matter what damage is done to the families of the fallen, the officers who put their lives on the line, and all who suffered on Jan 6th due to the lies started by Trump and spread by sleaze slinging outlets like Fox. Fox has shown time and time again that they are little more than the propaganda arm of the Republican Party and like Pravda, will do whatever they are told to keep the hatred and the lies flowing while suppressing anything resembling the truth. Fox does this not for any sense of morality as they have none, but for the quest for every penny of advertising money they can get from those who buy airtime from them. It is well past time that we move past Trump, the GOP, and all of the lies which have severely weakened and divided us as a nation and start seeking truth.

Tucker Carlson claims that Fox has been looking over the video feeds from the Capitol, with full access supplied by our disgusting excuse for a House Speaker for the truth. Carlson's 'truth' is to pick and choose footage that supports his delusional views that the Jan 6th Insurrection was peaceful and that Ashley Babbit was some kind of martyr because she was shot in the process of breaking into the Capitol Building. While making a criminal out to be a martyr, he is also downplaying the horrid situation faced by the USC and DC Metro Police who were incredibly outnumbered and were literally fighting for their very lives. One officer, Brian Sicknick, lost that fight the following day and several more officers lost that fight in the following weeks. On video, Officer Sicknick looks like he managed to shake off the chemical irritants and resume his duties. That he did, but his sense of duty and incredible work ethic were the driving force which sent him back in spite of his injuries and no doubt contributed to his succumbing to his injuries the following day.

What will it take to silence the lies from people like Carlson? What will it take to convince people that the Jan 6th Insurrection was very real, was very violent, and that the event was orchestrated by a man who is every bit as corrupt and evil as Vladamir Putin? The Sicknick Family would love nothing more than to have Brian back with us and to resume our normal lives. Fictitious news outlets like Fox and its rabid followers will not allow that. Every time the pain of that day seems to have ebbed a bit, organizations like Fox rip our wounds wide open again and we are frankly sick of it. Leave us the hell alone and instead of spreading more lies from Supreme Leader Trump, why don't you focus on real news?"