Last Updated on August 21, 2022
Former President Donald Trump did not mince words in a statement critical of Senate Minority Leader Mitch McConnell (R-KY). McConnell recently cast doubt on the GOP's chances to flip the Senate in November, prompting Trump to question why a "broken down hack" like the 80-year-old McConnell is still in leadership.
"Why do Republicans Senators allow a broken down hack politician, Mitch McConnell, to openly disparage hard working Republican candidates for the United States Senate," Trump wrote in a Truth Social post on Saturday night.
"This is such an affront to honor and to leadership. He should spend more time (and money!) helping them get elected, and less time helping his crazy wife and family get rich on China!" he continued, referencing McConnell's marriage. The Senate Minority leader is married to Elaine Chao, who previously served as Trump's Transportation Secretary.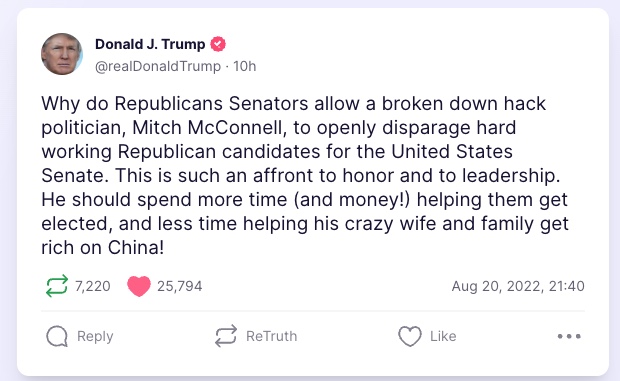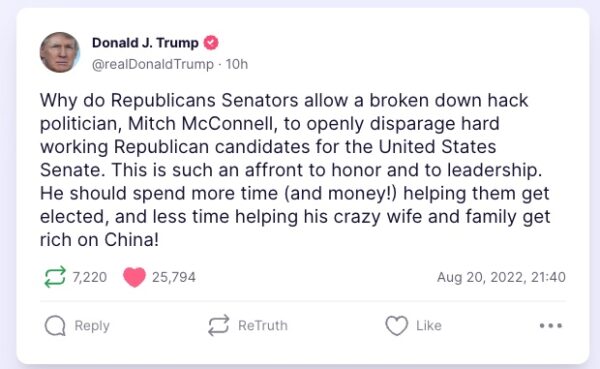 McConnell recently cast doubt on the GOP's ability to flip the Senate in November, arguing that flipping the House only is a far more likely outcome. "I think there's probably a greater likelihood the House flips than the Senate," he told the Northern Kentucky Chamber of Commerce on Thursday. "Senate races are just different. They're statewide. Candidate quality has a lot to do with the outcome​," he continued.
The Minority Leader was speaking in reference to a number of recent polls that spell bad news for Republicans. Former TV doctor Mehmet Oz is lagging far behind John Fetterman in a number of polls. Oz has failed to gain enthusiasm among Trump's base due to his past, socially liberal positions.
Pollsters have also given Raphael Warnock an edge over Herschel Walker in Georgia while a recent Fox News poll had Trump-backed Blake Masters trailing Senator Mark Kelly by eight in Arizona. McConnell did express optimism in J.D. Vance of Ohio, however. Pollsters have given Vance a slight lead over Tim Ryan, which has prompted McConnell to pledge $28 million in ad buys in support of the author/businessman.
President Trump has long been critical of polls, many of which were wildly incorrect in 2020 and 2016.