Last Updated on May 1, 2022
The upcoming 2022 midterm elections are shaping up to be a referendum not just on the Biden Administration, but on Republican candidates who have voted against the interests of their base on key issues. Several fierce primary races are taking place across the nation, including Pennsylvania's 1st Congressional District, which is currently represented by U.S. Rep. Brian Fitzpatrick.
The 2022 midterm elections are projected to be very beneficial for Republicans. Several Republicans who voted with Democrats on key issues are exiting Congress, however. Of the 10 U.S. Representatives who voted to impeach President Trump, four have already announced their retirement, to name just one example. Several additional congressmen who voted in favor of establishing a January 6 commission have also announced early exits.
Leading up to the primary, U.S. Rep. Brian Fitzpatrick (R-PA) is one lawmaker who finds himself under the microscope.
Fitzpatrick represents Pennsylvania's 1st Congressional District, a relatively affluent suburban district located about an hour north of Philadelphia. The district encompasses Bucks County and a small sliver of Montgomery County.
Brian Fitzpatrick has come under fire for a voting record that often mirrors the average Democrat. While Fitzpatrick may side with the bulk of the GOP on many economic issues, he is very much culturally aligned with the left. He voted in favor of establishing a January 6 commission and put forward a motion to censure President Trump shortly after the Capitol protests. Fitzpatrick has also allied with Democrats on Obamacare and gun rights issues.
Where Fitzpatrick deviates from the conservative base the most is the subject of education, however. Polls on Florida's parental rights bill, as well as Glenn Youngkin's election in Virginia, have consistently indicated that parental concern over school curriculum is a growing issue.
Parents are becoming increasingly concerned over issues of gender ideology and same sex education being introduced to preteen children. Pornographic books such as Gender Queer and Out of Darkness have created massive controversy in school districts throughout Brian Fitzpatrick's home turf in Southeastern Pennsylvania, where education concerns project to weigh heavy in November
More conservative and populist leaning Republicans have been battling with teachers unions and Democrats over these issues. Fitzpatrick, however, has been consistently endorsed by both Pennsylvania state and national teacher's unions, including the NEA-linked Pennsylvania State Education Association (PSEA).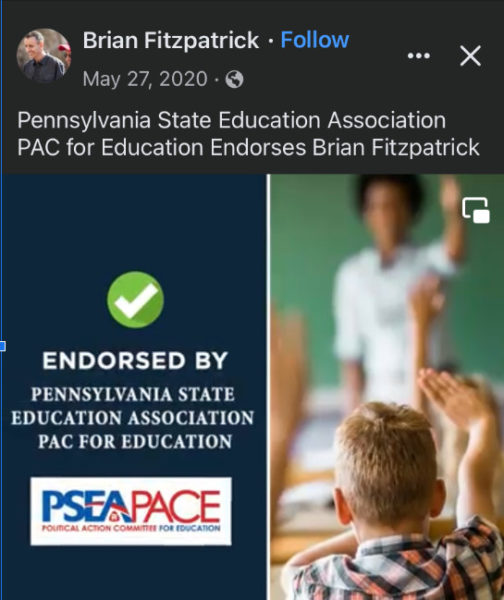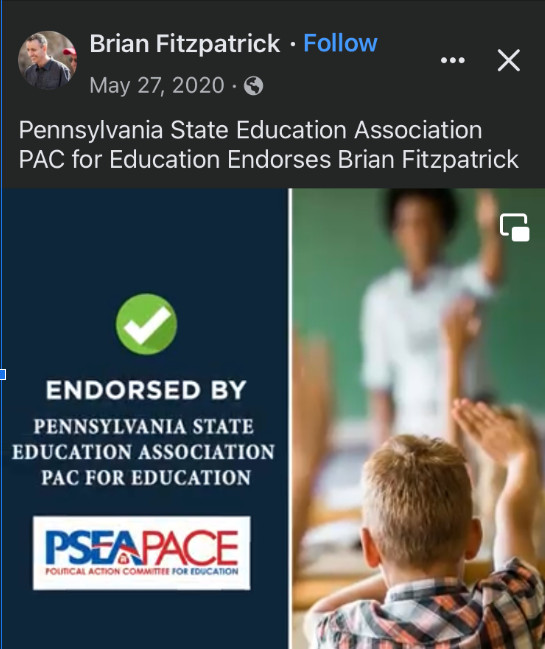 Dating back to 2018, Brian Fitzpatrick has had the support of organized labor, and even outraised his Democrat opponent in that department by a wide margin.
According to a 2018 post from OpenSecrets, Fitzpatrick raised more than $200,000 from labor groups. His Democratic opponent, multimillionaire philanthropist Scott Wallace, had raised just $3,000 from similar organizations at the time.
As for teachers union support, Brian Fitzpatrick is the only Pennsylvania Republican Congressman to have been endorsed by the PSEA.
The PSEA has been a staunch advocate for the continued teaching of leftist ideology on race, gender and other social topics under the guise of "Social Emotional Learning" curriculum. The group's website is filled with partisan leftist ideology, including support for the "John Lewis Voting Rights Bill."
The organization is also a subsidiary of the National Education Association (NEA), which sent a letter to big tech CEO's asking them to censor parents opposed to their ideology last year. The letter accused those opposed to the NEA's ideology of "inciting violence" and spreading "propaganda" about Critical Race Theory.
"We need to have those uncomfortable conversations so people know this is not OK. Even if the class is overwhelmingly white, people should be educated on the plights the Black community has faced." – Jared Dowling, a 2020 Freedom HS grad https://t.co/D5ZVWs3JDg

— PSEA (@PSEA) July 9, 2020
'We're Not Gonna Take It!': Can Trump Country Withstand the Grassroots Teachers Movement Sweeping the Nation? https://t.co/Ygs1gHxz6I

— PSEA (@PSEA) July 13, 2018
Brian Fitzpatrick has also drawn the ire of the Bucks County grassroots for his support of the "Equality Act", which blurs the division between biological males and females in order to add protections for people who do not believe in the two genders.
The "Equality Act" has received intense criticism mainly due to provisions that allow biological males to compete in women's sports.
Brian Fitzpatrick was one of just three House Republicans to vote in support of the bill last year.
UPDATE: Three Republicans voted with Democrats for the pro-abortion "Equality Act"

Brian Fitzpatrick (PA)
John Katko (NY)
Tom Reed (NY)

They should be primaried and defeated in the next election.

— LifeNews.com (@LifeNewsHQ) February 25, 2021
Brian Fitzpatrick, a staunch McCarthy ally, is hoping that his sizable campaign war chest will fend off a grassroots challenge from Bucks County native Alex Entin later this month.