Last Updated on March 19, 2020
The UK government reportedly has asked mobile phone company O2 to hand over anonymous location data to see if people are following social distancing measures.
According to a now-deleted tweet by Sky News, the government asked O2 to "hand over anonymous mobile phone location data," to check if people en masse were following the guidelines regarding social distancing during the coronavirus outbreak.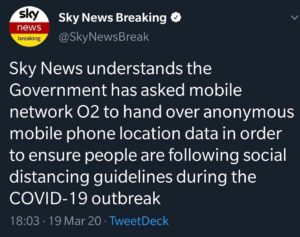 The current government guidelines suggest that people should avoid mass gatherings, pubs, and restaurants. Prime Minister Boris Johnson also announced yesterday that British schools would close on Friday afternoon and remain closed indefinitely during the coronavirus outbreak.
READ MORE: UK: Gov't Gives Police Emergency Powers, May Close Pubs and Ports, Run Crematoriums 24/7
Many people were astounded that the government would request the data, with one Twitter user calling it a "breach of privacy and human rights," and another comparing the decision to the totalitarian government depicted in George Orwell's book "1984," set in a dystopian future United Kingdom.
Isn't that a breach of privacy and human rights?

— Steve Collins (@stevecollins678) March 19, 2020
https://twitter.com/18Andrew72/status/1240700731901894658
One user argued that the decision was totally fine as long as the location data from O2 remained anonymous, as it could "feed into the scientific impact analysis and know if the recommendations are being truly listened to and followed."
The key word is "anonymous" – it means govt can use this data to feed into the scientific impact analysis and know if the recommendations are being truly listened to and followed, or if further measures will be needed to save lives. Calm the fk down selfish people complaining.

— Sentinel (@Sentinelibertas) March 19, 2020
READ MORE: AG Investigates Coronavirus Price Gouging in New York, California, and Washington
It follows a decision by the UK's major mobile networks (EE, O2 and Three) to ensure that users could visit the NHS website without incurring any data costs, in order to stay informed about the coronavirus outbreak.
Currently, 143 people have died in the UK from coronavirus, and there have been 3,269 confirmed cases.
Neither O2 nor the UK government have commented on the story at the time of writing. This is a breaking story, and will be updated as more information becomes available.
VIDEO: Trump Won't Stop Calling Coronavirus "Chinese Virus" Because "It Comes From China"
UPDATE: In an email to National File, O2 said that there is nothing in place yet with the government, only "discussions at early stages," and that despite having the capability to provide modelling support, it would only ever relate to mass movements of people, and not individuals. They claim that this operates completely under GDPR and "existing privacy legislation."
A spokesperson said that O2 are "fully engaged in helping in the fight against COVID-19":
Besides zero rating access to NHS and other support websites, we were asked along with other mobile operators to support those who are working tirelessly to map and control the spread of coronavirus in the UK. Using our mobile technology, we have the potential to build models that help to predict broadly how the virus might move. This would in no way be able to identify or map individuals, and operates within strict privacy guidelines.