Last Updated on February 23, 2023
Fox News and Tucker Carlson don't actually possess any footage from the January 6th, 2021 demonstrations against election fraud at the US Capitol, contrary to previous reports and claims from media outlets and McCarthy's GOP that more than 41,000 hours of security footage that's never been seen by the general public had been released, albeit exclusively to Fox News and Tucker Carlson. McCarthy had repeatedly vowed to release the footage to the American People as he ran for Speaker of the House, and some of his critics are now calling for the motion to vacate to be used against him, after breaking his promise and continuing to cover up video evidence that could exonerate J6 political prisoners and expose the real aggressors.
Despite reports from Axios and CNN claiming that GOP House Speaker Kevin McCarthy (CA-20) had released a "trove" of J6 footage to Fox News and Tucker Carlson, new revelations are showing that Carlson isn't in possession of the footage at all and that Kevin McCarthy hasn't actually released it. Instead, Carlson's Fox News team is viewing some of the footage on a terminal in the US Capitol, and there's been no confirmation that they'll actually be able to release it to the general public.
Considering the tens of thousands of hours of security footage that exists to sift through, it can safely be assumed that, if the current situation stands, it will be impossible for all of the footage to even be viewed by Carlson's team, let alone publicly reported on and released.
"A lot of people are getting one thing wrong," tweeted Politico's Kyle Cheney. "Tucker Carlson doesn't 'have' any Jan. 6 footage. He hasn't 'obtained' it. His people are viewing it on a terminal in the Capitol and it's unclear when he'll get permission to air any of it, let alone lots of it."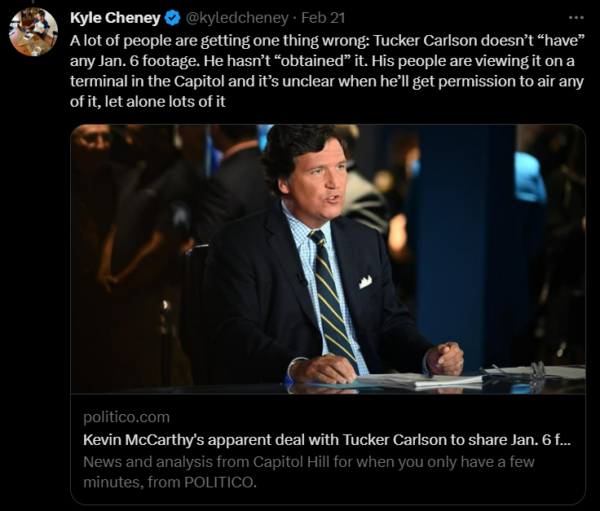 The news that Kevin McCarthy hasn't actually released the J6 footage to Tucker Carlson comes after the new Speaker of the House was ripped for days over his failure to make good on a campaign promise to make the footage available to the general public.
Even when it was believed that McCarthy had handed the footage over to Carlson, the move was widely seen as a measure to ensure that Fox News bosses could oversee the process, and control its release, being careful not to contradict the uni-party narrative too badly.
As McCarthy took heat from the American People, Rep. Marjorie Taylor Greene came rushing to his defense, turning on the America First movement once more and insisting that her close ally McCarthy really was going to release the footage, while gaslighting their critics.
As recently reported by National File, available J6 footage taken by citizens and journalists, as well as official videos that have been made public, show the brutality of the Capitol Police and DC's Metropolitan Police Department on the day of the demonstrations.
In one series of videos taken at the Capitol that blows the lid off of the uni-party narrative, police admit to using "blast munitions" against "innocent" protesters, while also admitting that they'd triggered the day's violence themselves.
In another video, taken from the camera of a bicycle officer, a group of armed men are stopped on their way to the US Capitol, only to show the police officer their federal law enforcement badges and continue on their way.