Last Updated on May 24, 2021
President Donald Trump released a statement on Monday castigating the Republican Party and Minority Leader Mitch McConnell for not acting on rumors that vote tabulation machines in New Hampshire allegedly confirmed an unreliable amount of votes.
"New Hampshire's Election Audit has revealed that large-scale voting machines appear to count NON-EXISTING VOTES," Trump said in the statement for the Save America 45 PAC. "State and local communities are seeking confirmation. It's probably true, but we'll soon know. Why aren't Minority Leader Mitch McConnell and Republicans doing anything about what went on in the 2020 Election? How can the Democrats be allowed to get away with this? It will go down as the Crime of the Century! Other States like Arizona, Georgia (where a Judge just granted a motion to unseal and inspect ballots from the 2020 Election), Michigan, Pennsylvania, and more to follow."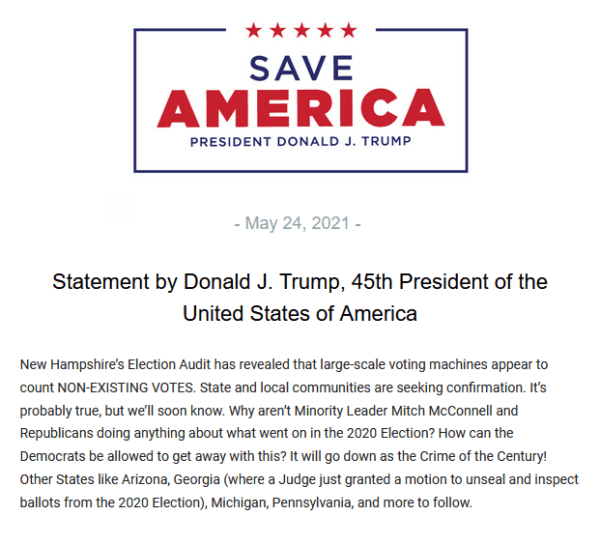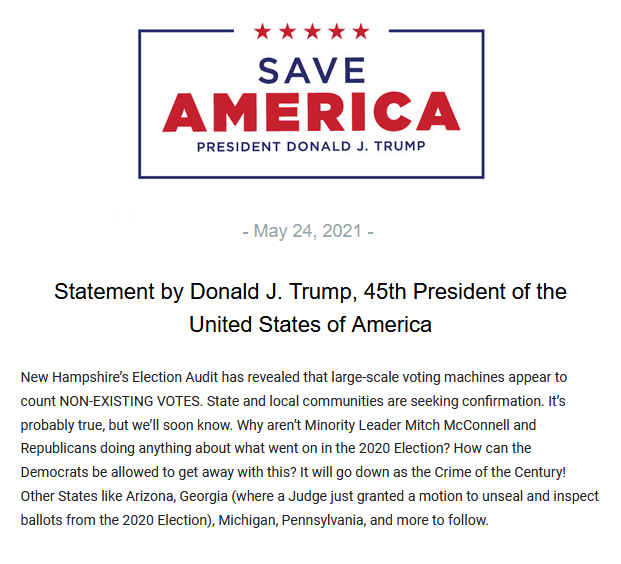 Earlier in May, a hand recount of ballots appeared to reinforce election integrity activists' claims of a discrepancy in the machine totals in Windham.
https://twitter.com/TalkMullins/status/1395829888666554378?ref_src=twsrc%5Etfw%7Ctwcamp%5Etweetembed%7Ctwterm%5E1395829888666554378%7Ctwgr%5E%7Ctwcon%5Es1_&ref_url=https%3A%2F%2Felectionwiz.com%2F2021%2F05%2F21%2Fbreaking-new-hampshire-audit-confirms-voting-machines-results-unreliable%2F
Fewer than 100 ballots to go! Follow the data entry of the last few batches here: https://t.co/UN7MbI5JNK #NHPolitics

— WindhamNHAuditors (@WAuditors) May 21, 2021
According to local news outlet WMUR 9, election auditor Harri Hursti placed the blame for the vote discrepancy on a folding machine borrowed from the DMV:
"They ran short of labor, they were behind schedule and they tried to speed up the process by borrowing a folding machine from the Department of Motor Vehicles," Hursti said.

According to Hursti, the borrowed machine was responsible for the fold lines observed on some ballots, running through the oval next to candidate Kristi St. Laurent's name. Those lines left a bump in her vote target.

"And that bump creates a shadow, and that shadow is the root cause of what has been causing the phantom votes," Hursti said.